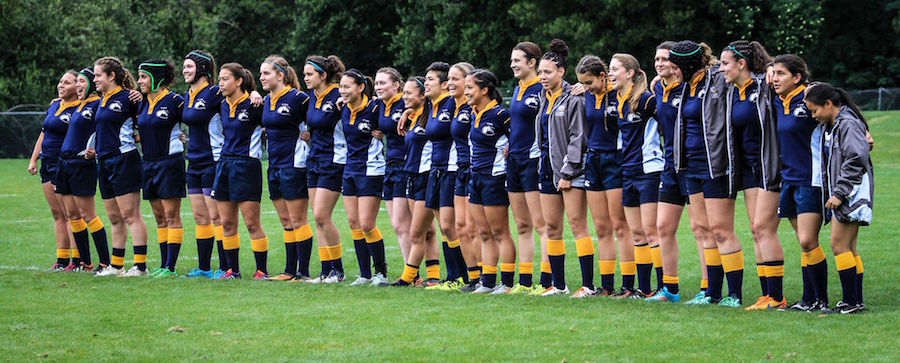 Team named Spring National Champs with last-minute comeback against Virginia
This past Saturday, the day before Mother's Day, some moms spent the weekend cheering on their daughters as the UC Davis women's club rugby team took on the University of Virginia in the Women's Rugby National Championship at Saint Mary's College of California.
Being on a different pitch was nothing for the women from UC Davis, whose consistent practice and conditioning prepared them for the success they saw in the finals.
"The last few weeks we focused on [ …] just perfecting the skills we've been working on all year," wrote Erica "Sunshine" Hipp, a third-year communication and psychology double major, in an e-mail interview. Hipp was awarded the Most Valuable Player for the finals match.
Justine Joya, fourth-year sociology major and back captain, also commented on the season's training and preparation via e-mail interview.
"As captain, I would love to take credit for that, but honestly, it's my girls who create that environment," Joya wrote.
The game was filled with intensity as the Ags nearly saw a loss, trailing Virginia by 13 points at one moment in the game, but there was no backing down. The gut-turning feeling of making it to the finals and losing was not an option for the Aggies; they went to St. Mary's with a victory in mind.
"I would be lying if I said there wasn't any point in the game when I thought we weren't going to win," Joya wrote. "Especially when we were down by 13 points in the last 10 minutes. However, when my teammate Diana Nguyen squeezed in a try, and my co-captain Caroline Sequiera pushed one more in just minutes after her, I knew this was our game. At that point, I realized my team really wanted this more."
Sure enough, the game was there as Hipp went in for a final try, winning the game after a 50-meter run down the pitch with no time left on the clock.
"Honestly, before the game, I was extremely nervous," Hipp wrote. "We haven't played in front of a crowd like that before. My team was ready […] I think we were all nervous, but more so excited to be playing."
The MVP went on to attribute her success not to an easy team, but to her own hard work and drive.
"Virginia was a great team and an awesome competitor for us," Hipp wrote. "I don't think any team we have played against has the heart and team spirit that we have."
Hipp also mentioned the deep chain of support the club had from family, friends, alumni and some men's club rugby players, who were all out there to support them against a team whose skill level they were uncertain of.
"I remember seeing [Erica] run through the defense's gap, and I knew she was off; tears started building right before she touched the ball down," Joya wrote. "That was the most challenging game we've faced all year and to no surprise, my team held their poise, played to the last second, and came out victorious."
Written by: Veronica Vargo — sports@theaggie.org