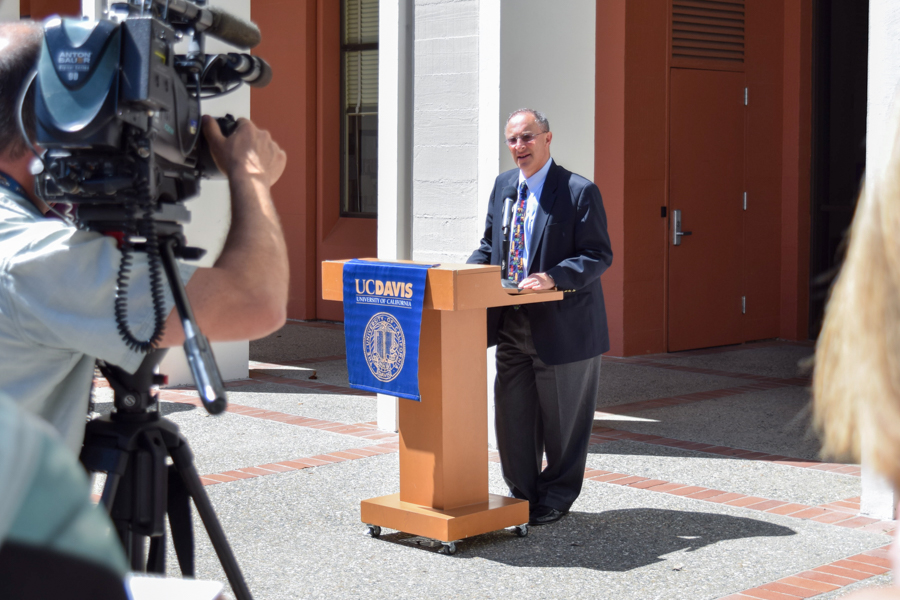 Comparative literature and cultural studies graduate groups call for Hexter's immediate suspension
Recently, graduate groups in the comparative literature and cultural studies departments at UC Davis sent out letters opposing the appointment of Acting Chancellor Ralph J. Hexter. The 21 total signees include graduate students, teaching assistants and doctoral students from all levels.
Both letters specify why Hexter should be immediately suspended and demand a free, democratic election of the new chancellor. The three points detailed in the letters include Hexter's role in the privatization of UC Davis, his involvement in incidents such as the 2011 pepper spray incident and his undemocratic appointment.
The graduates not only accuse Hexter of condoning the violations that Chancellor Linda P.B. Katehi is being investigated for, but also criticize him for encouraging and supporting actions toward the privatization of public universities like UC Davis.
"We call for the immediate suspension of Hexter's appointment as chancellor and demand a free election on the basis of equal undergraduate, graduate, and faculty (both senate and temporary lecturers) participation to determine which figure (or figures) most appropriately represent our public community against the encroachment of private interests whose damage to the university's reputation and public commitment is already so severe," both letters stated.
Amy Riddle, a doctoral student in comparative literature and a parent of two children, said that she has been affected by the reallocation of Orchard Park to Solano Park. She believes the move is an effect of reduced availability of family student housing under the administrations of both Katehi and Hexter. She said that continually attending organized protests and meetings to keep rent from increasing and to prevent the closure of Solano Park has taken a toll on her teaching, studies and children.
"As a parent of two, my life as a graduate student at UC Davis has been extremely difficult under Katehi," Riddle said via email. "Katehi and Hexter are responsible for the increased privatization of this university, including the planned redevelopment of family housing that will lead to a significant increase in rent for student families, and most likely more cuts for childcare support for student families."
Anna Einarsdottir, a graduate student in comparative literature, said that she has not only been financially affected by the closure of family student housing, but also deplores the administration for the direction it is taking toward a less diverse UC Davis student body.
"UC Davis under Katehi's control has cut down childcare support for student families and completely cancelled all support for undergraduate student families," Einarsdottir wrote via email. "Katehi's response to issues raised around the fairness of this has been very negative and she seems simply not to care that this will keep people with children to support away from Davis. This, in turn, will lead to [a] less diverse student population."
Similar to their criticism of Katehi, the graduates accuse Hexter of criminalizing and suppressing resistance on campus through UC Davis' policies and actions. Both letters cite cases, such as the infamous pepper spray incident on Nov. 18, 2011 and the prosecution of the Davis Dozen. The letters also detail the graduates' belief that UC Davis is guilty for failing to address hate crimes and subduing pro-Palestinian speech, while defending university investments to companies that profit from infractions on Palestinian rights.
The comparative literature graduate group also undermined Hexter's statement that he respects the Mrak Hall protesters rights. The group criticized Hexter's patronizing and derogatory attitude, citing an email Hexter sent to the student body in which expressed his disdain for the "odors emanating from the protesters' food and the garbage they leave behind."
"This itself reeks of the classist language used to demonize and criminalize poverty and homelessness, products of the very structures of financial and social inequality plaguing the privatized model of the university and intensified under Katehi's leadership," the letter stated.
The two graduate groups heavily criticized UC Davis for appointing Hexter as acting chancellor without an open and democratic election, which therefore disregarded one of the Mrak Hall protesters' primary demands.
"I feel that changing Katehi for Hexter is no change at all. Hexter has worked closely with Katehi and so I don't see how him replacing her changes anything," Einarsdottir said.
James Straub, a graduate in comparative literature, disapproved of Hexter's support of the 2020 Initiative.
"The acting chancellor holds an appointment in our department and his support of former chancellor Katehi's policies, especially the 2020 Initiative — which strikes me as an especially foul document for a comparatist because it shamelessly and boldly declares its intentions to exploit international students — are incompatible with the cosmopolitan and egalitarian values of our discipline," Straub said via email.
Straub goes on to criticize the UC Davis administration's treatment of the student body.
"I can understand the need, in an administrative position, to make difficult choices and to not have any satisfactory options. But I could never support an administration that not only accepts the conditions which make all choices bad choices, insofar as they affect the lives of students, but then even congratulates [the administration] on its ingenuity," Straub said. "Administrative success and student success are no longer complementary goals."
Carmine Morrow, a doctorate student in comparative literature, expressed the importance and objective of these letters.
"Students have demonstrated their power to affect change on campus," Morrow said. "To influence broader systemic problems affecting the university system, we must create and maintain communicative infrastructure and use it to look closely at how the actions of individuals in our leadership reflect broader issues."
Representatives from the University of California Office of the President did not provide a response regarding the graduate students' letters.
Written by: Yvonne Leong – campus@theaggie.org