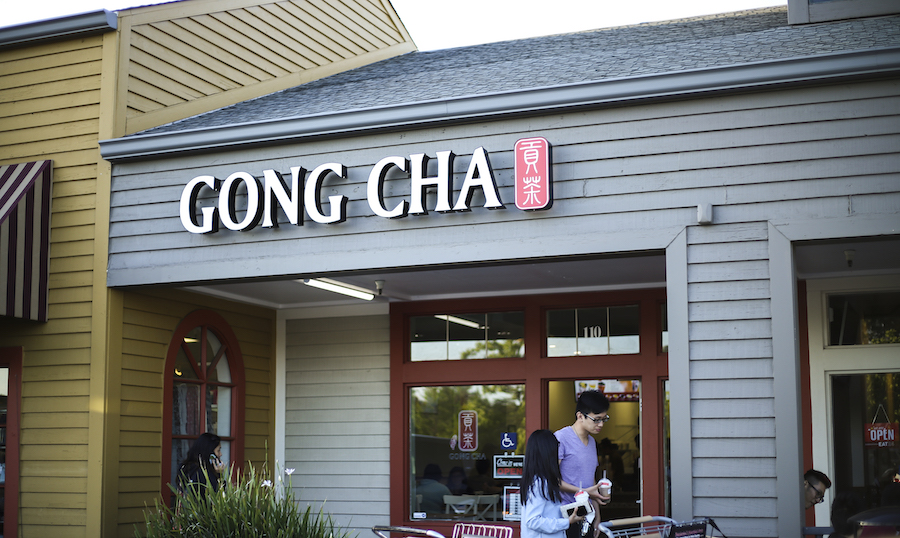 A Review of Gong Cha
Getting boba at a new place can be terrifying, especially for someone who isn't all that familiar with the drink. One of the best things about boba restaurants is the customizability — choosing the type of tea, flavors and toppings as well as sweetness and ice levels. However, all of these choices can be hugely overwhelming for someone who is relatively new to boba (a.k.a. me).
During my first few months of drinking boba, I stuck to things that were familiar: peach green tea and mango black tea.  Basically the same thing I got at Starbucks, but with sweet, chewy balls at the bottom. I had just started to get away from these 'safety drinks', but when I went to Gong Cha, located in the Davis Marketplace on West Covell, and saw yet another menu set up for customization, I got overwhelmed and reverted to my comfort zone, mango black tea with pearls.
Yet, somehow, Gong Cha managed to make my boring drink anything but. The tea was strong, the mango flavoring wasn't overwhelming (I got 70% sweetness) and served as a deliciously sweet accent to the tea, and there were chunks of mango mixed in with the pearls at the bottom. It was fantastic and made me feel like I could trust Gong Cha; whatever I ordered, it was probably going to be really good. So during that week I went three more times (for the sake of this review, obviously, not because I have no self control when it comes to boba) and decided to branch out.
Thankfully, Gong Cha has a "Dream Top Ten" menu, so I wasn't fumbling around in the dark trying to figure out where to start. From that menu I picked the QQ passionfruit green tea and the earl grey milk tea with 3J. The QQ passionfruit green tea came with coconut jelly, which I was a tad nervous about. But it was really good and the mix of passionfruit and coconut gave the tea a tropical, piña colada feel. The earl grey milk tea with 3J was very sweet, with an interesting, indescribable flavor that I didn't quite like. I figured out that I didn't like the herbal jelly, because when I got plain earl grey milk tea with pearls I absolutely loved the drink. It was creamy, sweet but not overly so, and really satisfied my craving for a milky tea.
Having found both a fruity and a milky tea that I liked, I decided to branch out even further and try the one thing I had heard friends raving about — the milk foam — so I ordered wintermelon tea with milk foam. The milk foam drinks come with a lid, not the usual plastic seal, and instructions to first take a sip of the tea through the milk foam, and then to mix it in. Since I had no idea what I was doing, I decided to play it safe and follow the directions. The milk foam was sweet and light with an interesting salty flavor. It's hard to describe but, trust me, it's delicious. Also, fun fact, wintermelon tea doesn't taste like wintry mint or melon. It's delicious, but difficult to describe because I've never had anything like wintermelon tea with milk foam, so, I guess you'll just have to trust me that it's good.
Thanks to Gong Cha's easy "Dream Top Ten" menu, my fear of unusual drinks is gone. Everything I ordered, no matter how odd it seemed at first, was utterly amazing. All of the drinks have really nice flavors that pair nicely with the flavor of the tea. Their bobas and jellies are chewy and flavorful without detracting from the flavor of the tea, and their milk foam is fantastic. The Davis boba scene has a strong new competitor, and it's Gong Cha.
WRITTEN BY: Sofie Bates — arts@theaggie.org