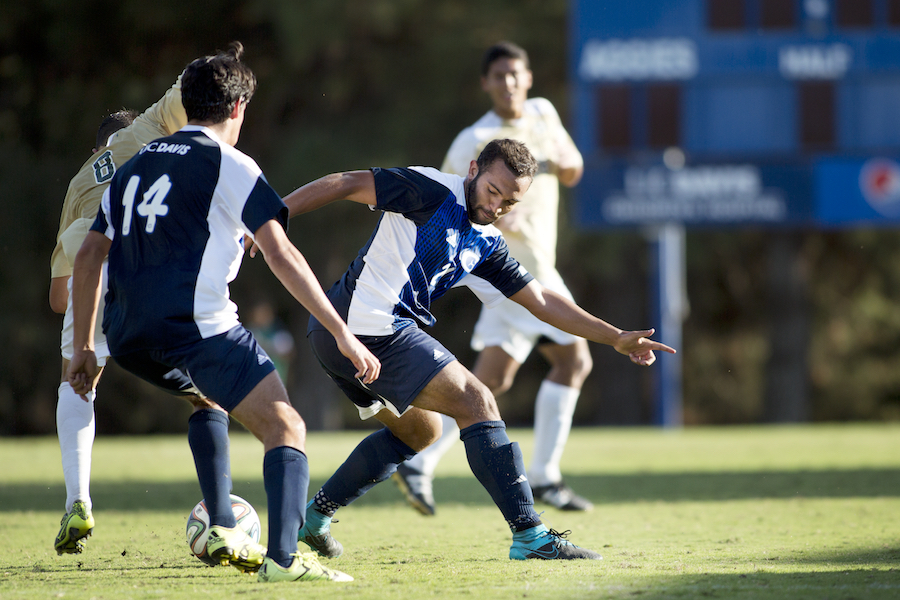 Exhibition game excites students in May 14 matchup against Stanford
The sun wasn't as hot in the full stands, where parents, students, friends and young athletes alike cheered on the Aggies in their exhibition battle against Stanford University. The field, however, was like black tar for the Aggies, who played an extraordinarily fast paced game against the Cardinal.
With the first point scored in the first five minutes of the match, it would be a long 90 minutes for both teams and the coaches, whose voices carried in the wind to the ears of their players.
"I got you coach, yeah I heard!" said one Aggie on the defensive line, signaling a high thumbs up to the men's soccer coach Dwayne Shaffer. Shaffer still kept yelling, emphasizing the need for players to stay in their positions.
The Aggies played wide and kept the ball fairly on the opponent's side of the field, taking multiple shots on goal that were stopped by the waiting goalie or the defenders who stayed on their toes at all times. Despite the Aggies keeping the ball on Stanford's half, when the Cardinal got to the other side of the field, they too were a powerful force.
The Cardinal came out ahead, putting in one goal and winning the game 1-0, not making a single shot after that.
The crowd echoed a series of "oohs" and "aahs" as the ball went back and forth, in and out of possession, and referee calls were scarce on the physical play.
Redshirt junior forward Dashiell MacNamara was in an intense defensive position on a throw in, going head to head in shirt tugging and shoulder pulling as he and his mark awaited the throw. Neither got the ball and the ref made no reach for his whistle.
In the end, the pace that had sophomore midfielder Evan Barrett demonstrating his immense speed died down as he was subbed out of the game and the breath of each player grew heavier and heavier.
The announcer lead a 10 second countdown and every member in the stand followed as the Aggies and the Cardinal watched the ball roll out of the field with no intention of following after it. By the time the air was filled with the melody of "one," both teams were making their way to the bench.
Written by Veronica Vargo – sports@theaggie.org