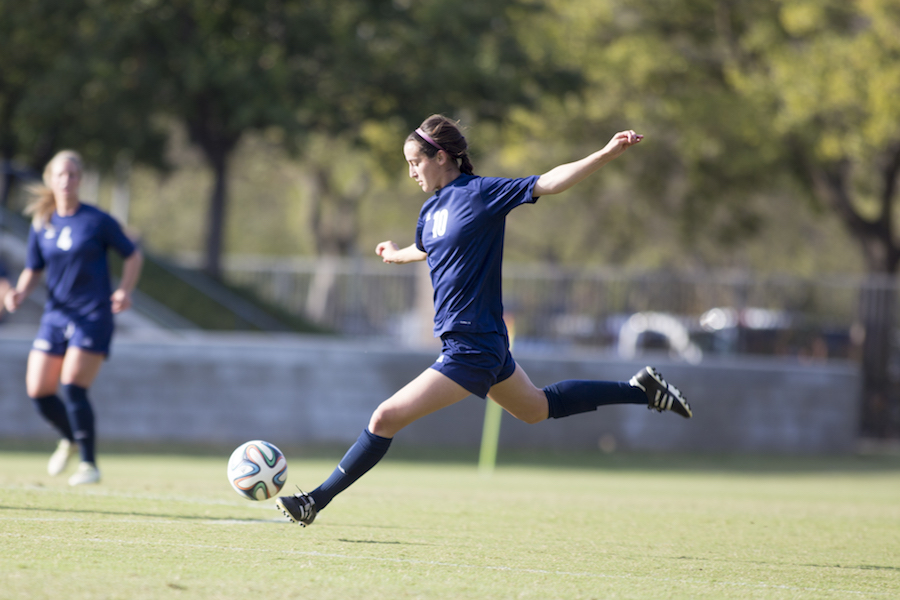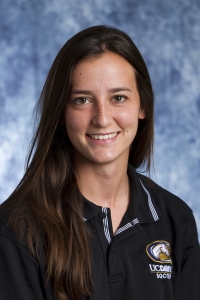 UC Davis soccer standout Ana Marija Sola graduates this year with impressive list of athletic, academic achievements
The question everyone seems to wonder before coming to college: how will it be possible to get good grades while also maintaining a strict and busy schedule? Just when finding this balance seemed impossible, Ana Marija Sola, a senior midfielder and defender for the UC Davis women's soccer team, shows that anything is possible. Sola has set multiple career rankings in her years here at UC Davis, including this season's records of number five in game-winning goals, number eight in assists and number two in games started. Her total for game-winning goals is the sixth-highest total in the program's Division I history. Sola has achieved these career records all while maintaining a cumulative 3.985 GPA. So who is Ana Marija Sola?
Sola is a first-generation U.S. citizen born to Croatian parents. She came to UC Davis with one goal in mind: to play soccer. Not only has she succeeded in being a standout athlete, but she has also made her mark academically. Sola is a double major in English and neurobiology, physiology and behavior, and is graduating this spring with honors, with an impressive 3.985 GPA. She has earned recognition on the Dean's List for 10 consecutive quarters, is ranked in the top one percent of all seniors in the College of Biological Sciences and is in the top one-half percent of seniors in the College of Letters and Science.
Because of her vast academic accomplishments, she is the first member of the UC Davis women's soccer program in 12 years named to the College Sports Information Directors of America Academic All-District 8 Team. Sola is also the first student-athlete at UC Davis in 20 years to become a Fulbright Scholar semifinalist.
Outside of school and athletics, Sola volunteers at the Willow Clinic, a student-run organization that provides medical care to the homeless population in Sacramento. In the last three years, she has also participated in research under Dr. Hwai-Jong Cheng, a professor in the UC Davis Center for Neuroscience.
Sola has been a team captain for two years on the women's soccer team, a three-time Big West All-Academic and a two-time All-Big West honoree, and she has started all but two of the 69 games she has competed with UC Davis.
The California Aggie sat down and spoke with Sola, who shared experiences of her years here at Davis, along with the way she has carried herself throughout her impressive athletic and academic college career.
How long have you been playing soccer?
I started playing when I was very young, around 4 years old. My parents are from Croatia and soccer is a big national sport over there. It was kind of weird for a girl to be playing soccer, so when I told my parents I wanted to play they were a little weirded out but they accepted it and I ended up having the greatest experience.
Do you think being a first generation U.S. citizen affected the way you went through these four years at Davis? Did you face any challenges as a first generation U.S. citizen?
Not so much challenges, as much of what I learned was motivating. In Croatia, girls playing soccer isn't as accepted. Sophomore year, I was invited to go back there and play. I was shocked that the girls there weren't getting the same opportunities as here in the U.S. Seeing that during my time in college really made me think about having so many opportunities to pursue in college.
How do you balance school and sports while also excelling in research and volunteer work?
Just time management. The important thing to mention is that so many girls on the team are also doing similar things, so when you have all of them around you, it makes it so much easier. It was normal for me because a majority of my team were doing these things. UC Davis athletics is unique in that way: academic excellence in addition to athletic excellence is not unordinary, it makes up what a UC Davis athlete is. I can't separate it from that "culture."
While having this busy life, are there any days when you get so stressed that you question anything? What did you do to persevere through those stressful times?
There were a number of those days. Me and teammate were talking about all the times we sat down together and thought we couldn't do it. Each of those times, all that it really took was a phone call to my mom. Having that base of supporting parents, teammates and friends is the number one thing that motivated me to pursue whatever I was doing at the time.
What has been your favorite moment at UC Davis these past years?
There is nothing like the feeling of your team coming together and beating your opponent in the best way possible. I don't know that I can point to a huge moment, but it would be those little moments chatting with teammates before practice or in the training room laughing.  
What are the plans, if any, after you graduate this year?
I will be applying to medical school this cycle and we will see where that takes me.
On a scale of 1 to 10 on how you think these four years went, what would you give your experiences and why?
Probably a 10. I have nothing to complain about. Davis is definitely a community you want to be in, which is the reason I would give it a 10. The sense of community here is unbeatable.
What is the feeling like when you see all the things you have accomplished academically and athletically, while captaining the team for two years?
I am just motivated to continue to do good things that help other people. I am proud of myself and I am glad that my family, teammates, and coaches can be proud of me. It motivates me to continue to be myself.
Sola attributed her comfort in being herself on and off of the field to the coaching staff that has encouraged her throughout her years at UC Davis.
The California Aggie also had the opportunity to sit down with women's soccer head coach Twila Kaufmanhas, who has watched Sola's progress on and off the field throughout her years at UC Davis.
What do you look for when choosing a captain for the team and why did you choose Ana this past season?
I prefer to empower the team by having players nominate and vote for their captains. We do a lot of talking before hand about what qualities a captain should have; the whole team picked her, [and] I believe they chose the right person.
Does anything about Ana stand out to you that you don't normally see in players?
Ana has an amazingly high standards for herself. If you spend enough time with her — coaching staff included — you will challenge yourself to meet those standards.
Why do you think Ana has been so successful both academically and athletically?
In addition to the level of accountability she applies to herself, and others, it would be her grit and compassion for others. I have no doubt that when Ana studies, she is thinking about how she will apply that information later to help others and I believe that is a driving force in her life.
After Ana graduates, what are you going to miss most about not having her on the field?
Ana is one of the smartest soccer players I have ever coached. Her ability to solve problems on the pitch is exceptional. She deserves to be recognized for her athletic achievements just as much as her academic accomplishments.
This spring is the first time the team competed without Ana since I arrived to UC Davis, and it's still hard to picture soccer here without her. The way she trained and played had a lasting affect on the people around her. Ana does everything with the intention of making a difference in the lives of others in a way that is sustainable even when she is not present. This is a mark of true leadership and it is very very rare.
No matter what happens for the UC Davis women's soccer team or for Sola in the future, one thing is certain: Ana Marija Sola will be a name that will be engraved both athletically and academically in the UC Davis record books for many years to come.
Written by: Ryan Bugsch – sports@theaggie.org