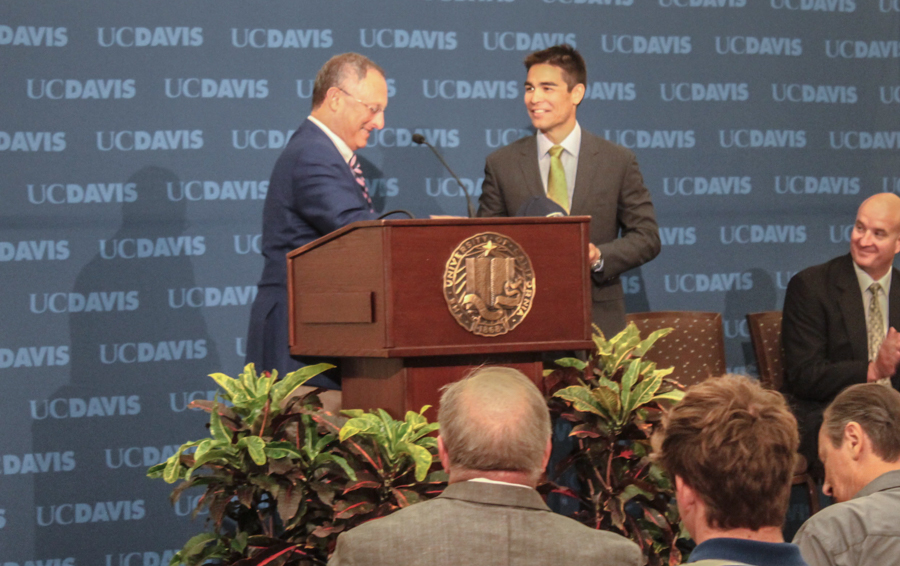 Introductory press conference held for Acting Chancellor Hexter's appointee to lead Athletics Department
On May 17, UC Davis Acting Chancellor Ralph J. Hexter and Scott Carrell, faculty athletics representative and recruitment advisory committee chair, held a press conference introducing Dr. Kevin Blue as the new UC Davis director of athletics.
This announcement is the fruit of a months-long search by a recruitment advisory committee dedicated to filling the vacant athletics director position, which is currently run by interim athletics director Teresa Gould. Blue, a rising star among intercollegiate athletics and sports-business circles, begins his appointment on June 21.
The conference, which was held at 11 a.m. at the UC Davis Conference Center, featured an introduction of Blue and his accomplishments, a short discussion on the vetting process the selection committee went through and ended with Blue sharing his thoughts and answering questions.
"Our objective was to deliver a pool of no less than three candidates to the chancellor to consider," Carrell said. "We had a very deep pool of candidates and we are very excited about Kevin."
Before introducing Blue's professional accomplishments as senior associate athletics director at Stanford and his personal achievements before that, Acting Chancellor Hexter's opening remarks covered the athletic tradition found at UC Davis.
"I've been very impressed by Kevin's vision for UC Davis," Hexter said. "He is clearly committed to our student athletes, to propelling our Aggies to new heights."
Before Blue took the podium, Acting Chancellor Hexter presented the new athletics director with a UC Davis snapback, a sign of the new home he will occupy at Davis.
"I am humbled and honored to serve UC Davis in the capacity of athletics director, and I really can't wait to get started," Blue said.
Blue cites the philosophical outlook present in the student-athletes, administration and coaching staff at UC Davis as what attracted him to the position. The pursuit of academic rigor coupled with championship competitiveness fuels the fundamental value of UC Davis' scholar-athlete ideal.
"In the period of time where I was reflecting on this transition and this opportunity, it occurred to me and it [was] reinforced to me that what we do in intercollegiate athletics is really fundamentally educational in nature," Blue said.
Not only is education a major aspect of Blue's athletics philosophy, he is also a proponent of competition.
"I personally believe there is a very significant difference between competition and mere participation," Blue said. "As we go forward, it is our aspiration to compete, not just to play."
After his introductory comments, Blue took questions about the possible reinstatement of sports programs cut under budget constraints  and about galvanizing the student populations into increased athletics participation. After the conference, Blue entertained one-on-one media questions.
"The philosophy of our organization is based on the scholar-athlete ideal, and we're committed to having student athletes that will be successful academically as well as athletically," Blue said.
One of Blue's prominent professional qualities is his affinity for external business units in athletics. At Stanford, Blue provided savvy executive insight into sales, marketing, communications, business strategy, relationships and branding. Branding of UC Davis Athletics and the UC Davis name has been a key feature of Blue's vision.
"Our intent is to be proactive and consistent in describing what we're all about," Blue said.
Written by: Aaron Sellers – sports@theaggie.org