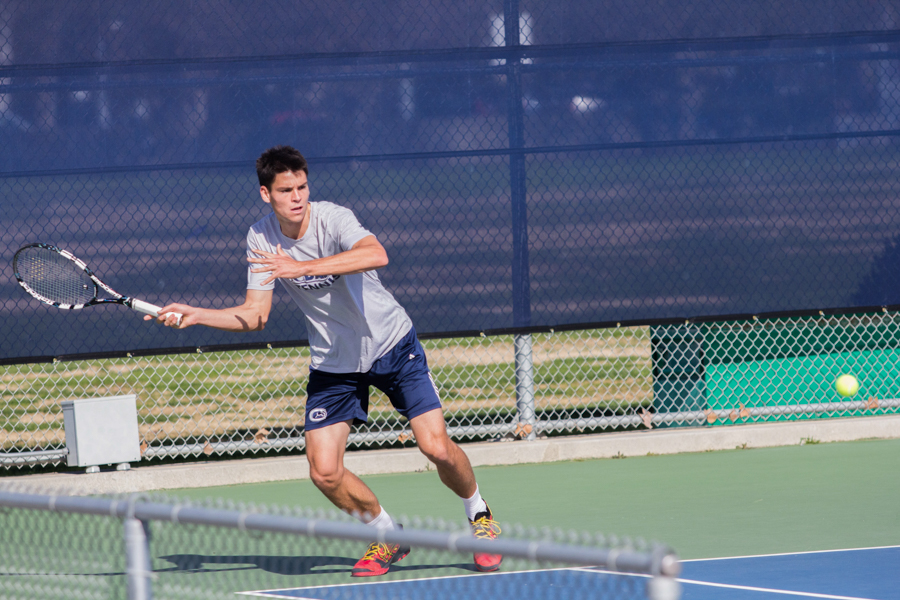 Three recruits, David Goulak, Mitchell Iwahiro and Max Pham, to join UC Davis men's tennis
After ending their season with a 17-7 record, the UC Davis men's tennis team looks to build on its legacy with three new recruits: David Goulak, Mitchell Iwahiro and Max Pham.
The new recruits will technically not be considered UC Davis athletes until they start scheool in the fall, so The California Aggie sat down with men's tennis coach Eric Steidlmayer and junior Alec Adamson to gain some perspective on the recruitment process for the UC Davis men's tennis program.
According to Steidlmayer, UC Davis recruiters look for the best players who would do well not only on the court, but also in the classroom.
"We try to get know who in California might be a good fit for UC Davis both athletically and academically," Steidlmayer said. "Are they talented enough to play on our team and academically, are they going to be suitable to do well given the rigors of the academic program here?"
The process starts as early a player's junior year of high school, according to Steidlmayer, though it varies from player to player. For example, Adamson — who was just named Big West Player of the Year — was not recruited until well into his senior year.
"Before my senior year, I wasn't heavily recruited," Adamson said. "I started to improve during the end of my junior year […] so it wasn't until the beginning of my senior year when I started getting [contacted]."
Adamson committed to UC Davis during the first signing period in the fall of his senior year of high school.
So who is set to join men's tennis on the court for next season? The Aggies signed three new players who met all the UC Davis standards.
David Goulak is a three-year varsity letter winner at Oak Park High School and is from Thousand Oaks, Calif. He led his team to a league title as a junior and helped them reach the California Interscholastic Federation Southern Section Playoffs three times. Goulak committed to UC Davis back in November 2015.
Joining him is Sacramento area local Mitchell Iwahiro, who has set records since his freshman year. Iwahiro built his resume even outside of high school tennis, participating in the United States Tennis Association Winter, Spring and National Championships. He was the Sierra Foothill League champion at Granite Bay High School and simultaneously posted an undefeated season as a freshman.
Rounding out the three new Aggies is Max Pham from Newport Beach, Calif.
"I knew Max from growing up," Adamson said. "I played tournaments with him growing up so I know him well."
Hailing from the same area as Adamson, Pham is a three-time team most valuable player at Fairmont Preparatory Academy in Anaheim and is undefeated in the regular season. He was ranked as high as No. 19 in the nation in 2013 and made it to the round of 32 in both singles and doubles at the Easter Bowl. He signed his Letter of Intent in April of this year.
Steidlmayer is hopeful that the new recruits will be a big factor in the seasons to come.
"All are good players, good guys," he said. "And they should add to our team if not next year, then the years to come."
Written by: Nicolette Sarmiento — sports@theaggie.org