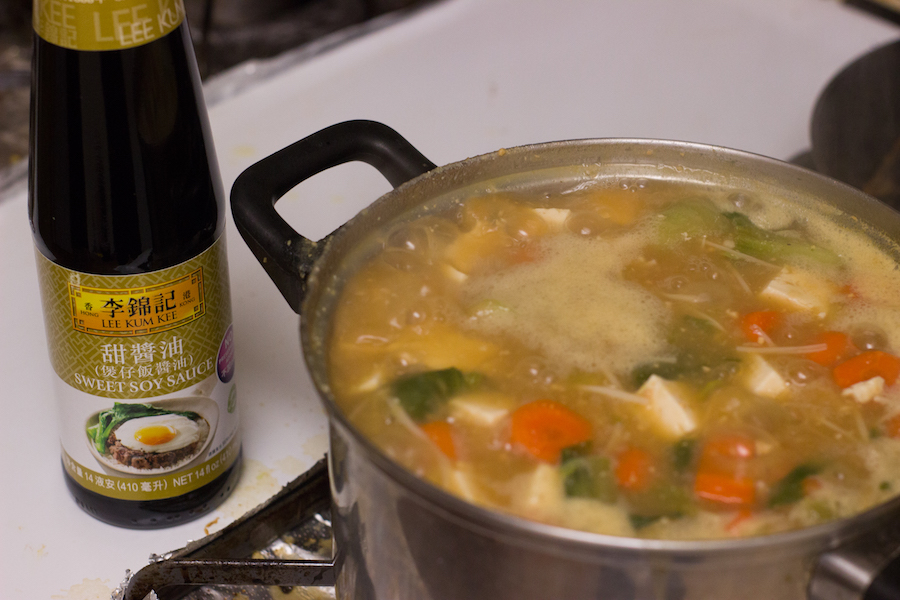 Entrants tasked with incorporating Lee Kum Kee sauces into their own unique Chinese cuisine-inspired dishes
A live cooking demonstration, featuring both amateur and professional chefs, will be hosted at the Davis Veterans Memorial Center on June 18. The event will serve as the second round of the Innovative Cooking Competition organized by the Confucius Institute at UC Davis.
The competition, open to anyone age 18 and above, invites amateur chefs of any level to submit original recipes that in some way incorporate innovative elements, such as a fusion of cultural styles or unique ingredients, into their dishes. The competition also requires the use of any Lee Kum Kee sauce, a brand of Chinese sauces based out of Hong Kong that is sponsoring the contest.
Submissions for the competition will be accepted until May 21. The submitted recipes will be judged by a committee. Selected entrants will be invited to make their dishes on-site at the Veterans Memorial Center and compete among other participants before a panel of judges.
The competition is a continuation of an ongoing effort by the Confucius Institute at UC Davis to promote more widespread knowledge of Chinese cooking and cooking customs for both the university and the surrounding Sacramento area.
"We want to provide opportunities to people who may be interested in learning about Chinese culture. Everyone loves food, so our focus on Chinese food culture doesn't require any explanation," said Dr. Michelle Yeh, a professor within the East Asian Language and Culture department as well as director of the Confucius Institute at UC Davis. "Those who attend get to actually taste and make Chinese food and [it] serves as sort of a fun way to promote a cultural exchange."
The competition encourages participants to creatively explore Chinese cuisine in their own ways.
"The name of the competition is Innovative Cooking. If you copied some recipe without enhancing it in your own way, you aren't innovating," said Sally Wu, an instructor in the food department. "It must be original in some way, like a combination of cultural styles or special flavors. For the second round, the dishes will be cooked on site, and we will have judges taste them there for cash prizes."
Winners will be awarded $1,000 for first place, $500 for second place, $100 for two third-place finishers and gift cards to honorable mentions. According to Dr. Yeh, the Confucius Institute plans to host future competitions as well as offer larger prizes. She continued that the Institute hopes to broaden the scope of the programs offered in the near future to include a variety of Chinese-based food cultures.
Sophie Xu, an alumna of UC Davis and a language instructor at the Davis Chinese School, was motivated to enter the competition to promote vegan Chinese cooking, which she believes has become a difficult task for those facing the dietary restriction.
"I am very interested in cooking Chinese food. However, after I started to practice a vegan diet, I started to notice how hard it was to order at local restaurants because very few Chinese restaurants offer many vegan or vegetarian options," Xu said.  "I thought the options they had tasted boring so I wanted to try to, in my own home, start to create my own recipes that featured the Chinese cuisine but were vegan and vegetarian friendly."
Confucius Institutes, non-profit entities established in over 100 American universities and nearly 500 educational institutions worldwide, are organized by Hanban, a branch of the Chinese Ministry of Education. Nearly all are established to promote the education of the Chinese language and culture. However, in 2013, UC Davis, in partnership with the Jiangnan University in China, opened the first and so far only Confucius Institute that focuses solely on Chinese culinary study.
"The great majority of Confucius Institutes around the world focus on Chinese language teaching. However from the very beginning at UC Davis, we felt we had a more important opportunity to take advantage of the strength of its food science and technology departments," Dr. Yeh said. "Our partner university at Jiangnan in Eastern China is also consistently ranked highly in those departments. That is why between the two universities there were a lot of areas for collaboration. It made a lot of sense that we would build a Confucius Institute benefiting off of the strength of both universities."
Dr. Yeh added that she hopes the competition will encourage participation in the Institute's programs and serve as an introductory point for individuals who may be interested in learning more about China and its customs.
"Those who attend get to actually taste and make the Chinese food and it serves as sort of a fun way to promote a cultural exchange. It's a satisfying way to learn something about the lives of other people and cultures," said Dr. Yeh. "At the very least, they can enjoy the food and hopefully they can learn how to cook some food and take that skill with them home. It can enrich their life even at a basic level. Enlarge the range of their culinary tastes."
She continued that the significance of Chinese food and culture extends beyond traditional mainland Chinese cuisine.
"This can go beyond just China though, this idea of a broadened food culture can be extended to the entire Chinese speaking world, which includes Hong Kong, Taiwan, Singapore or Chinese communities in other parts of the world," said Dr. Yeh. "Each of these communities outside China has been developing its own styles of Chinese food. Every Chinese community develops its own type of cuisine, and eventually we want to offer a whole range of different cultures."
The Confucius Institute at UC Davis features three unique departments, each focusing respectively on Chinese food, wine and tea cultures. In turn, each of the departments hosts workshops, demonstrations from Chinese culinary experts as well as lectures describing the history or significance behind Chinese food and beverage culture. Wu believes the subject of food is a good way to stimulate a better understanding of a society's culture.
"Food is just a good way to connect people and facilitate an appreciation of one another's culture," Wu said. "Food is a universal concept and yet each country has their own unique food and beverage culture. Our mission is to help people understand Chinese culture. To achieve this mission we have to try to choose a sort of cultural mixing point. Since nobody can live without eating and drinking, in that sense choosing food and beverage culture serves as that crossing point."
Written by: Jack Raineri – campus@theaggie.org