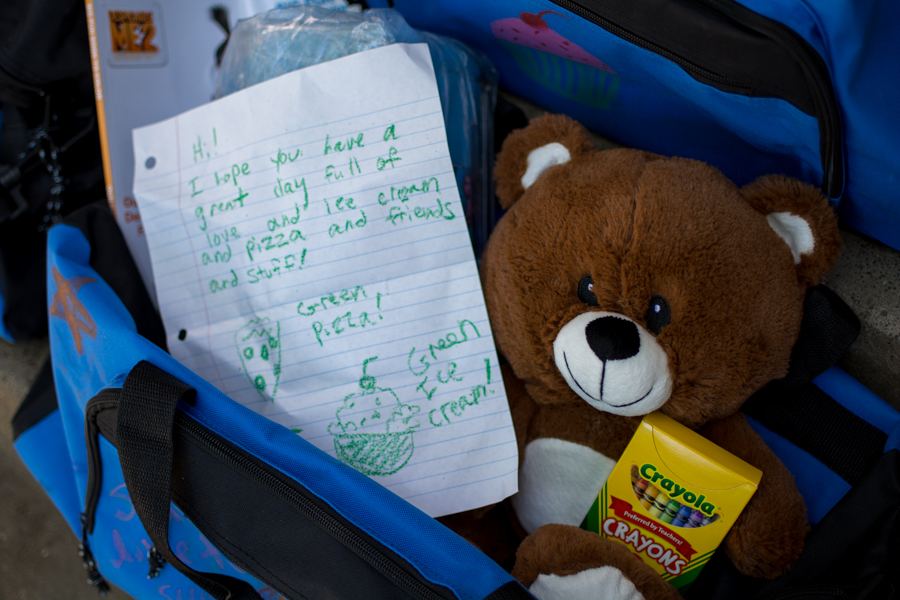 Fundraiser coincides with Foster Care Awareness Month in May
Student organizations Guardian Scholars and the Davis chapter of California Youth Connection raised $2,000 in a little over two months to purchase and fill 80 duffel bags from the foster organization Together We Rise to give to foster youth in Yolo County.
According to the organizations, when foster youth are either initially put into foster care or have to move between facilities, they are often given trash bags to put their belongings in. To help comfort the youth during this transition, third-year community and regional development major Ariella Grozbord organized the fundraiser with Together We Rise to purchase duffel bags, called Sweet Cases, to give to the kids.
"By giving children entering foster care Sweet Cases, we are impacting them in what could be the most traumatic time of the their life. When entering foster care, most children receive a trash bag to put their belongings in or arrive at their new placement with nothing at all. These children are already going through a stressful time and then have to suffer the added indignity of living out of a trash bag," said Gianna Dahlia, administrative officer of Together We Rise via email. "The Sweet Cases ensure kids that they are more than just a number in the system and that they too matter."
The fundraiser reached out to Greek organizations and the Davis community to ask for contributions. Donations were made online, and the $2,000 raised went entirely to purchasing the Sweet Cases. Each bag was additionally filled with a soft blanket, a teddy bear, a hygiene kit, a coloring book and a handwritten note.
"The club California Youth Connection put some of its own money into [the fundraiser], but the community [contributed] as well," Grozbord said. "It was really just a team effort with all the volunteers from Guardian Scholars program, [California Youth Connection] and ASUCD […] It really shows how nice the Davis community is."
On May 10, the Guardian Scholars ambassadors set up the duffel bags on the Quad, and let students decorate the exteriors and write encouraging notes to place inside.
"Having a duffel bag that is decorated or has inspirational messages makes it a little bit easier," said Guardian Scholars program coordinator Valeri Garcia.
All members of the Guardian Scholar group have experienced foster care in their childhood. The organization reaches out to help youth going through similar experiences. Garcia explained that the program, along with California Youth Connection, allows members to give back to the foster community.
"There [are] a lot of [students] that want to give back. They're in a position where they feel they can inspire, they can help, they can make changes. They participate in California Youth Connection to do all of that," Garcia said. "Many students are involved because they came from foster care and it's their way to give back and do something positive for current foster children."
The upcoming distribution of the duffel bags coincides with May, which is Foster Care Awareness Month. The bags will be sent to foster youth in Yolo County, Solano County and Sacramento County.
In addition to the Sweet Cases, Together We Rise also fundraises for scholarships, bikes, holiday gifts and opportunities for foster youth to reunite with siblings at Disneyland. The organization distributed 31,000 Sweet Cases in 2015 and has already distributed 18,564 in 2016 with a goal to reach over 60,000 children.
Written by: Lindsay Floyd – campus@theaggie.com