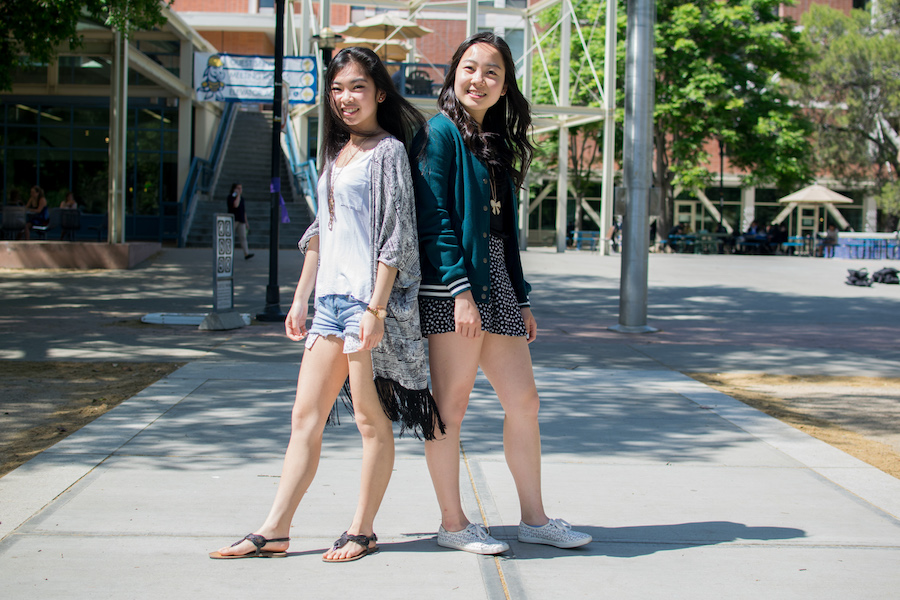 Student Fashion Association members talk style and inspiration
Beijo Lee, a second-year cinema and digital media major, and Jane Zhang, a first-year managerial economics and textiles and clothing double major, are both part of the UC Davis Student Fashion Association (SFA), which had its annual fashion show on April 30. Both were excited to contribute to the event, with Jane modeling in the fashion show and Beijo working as a photographer and a member of the decoration committee. We caught up and talked about their different styles and their various influences. 
ASW: How would you describe your style?
Zhang: Classy and chic — or at least, I hope to be.
Lee: I jump around a lot in styles. I've been very girly lately, and sometimes bohemian, but it just depends. 
ASW: What is your favorite outfit?
Zhang: I'd pick out something that I can look good in, but that's also comfortable. So nothing super form fitting, but something that has a sleek cut to it that will flatter my body.
Lee: I think it just depends on how I feel like dressing, and the weather.
ASW: Are there any recent trends that you like, or dislike?
Zhang: I recently got into off-the-shoulder tops, because the neckline is really pretty, and I've been trying to find tops that I can invest in, but the search is still in progress.
Lee: I've noticed that halter and high neck tops are in, and I've never liked that style before, but when a trend comes back again, they re-do it somehow, and it's like 'Oh, that doesn't look half as bad as I thought before!'
ASW: Who is your style inspiration?
Zhang: I don't have a specific inspiration, but I tend to observe what people wear daily, and if I see someone who's' wearing a really cool outfit, I make a mental note and try to find similar items in my closet to recreate the outfit for myself.
Lee: I feel the same way; there's isn't a specific person that I look for, because I feel that my style is very unique. I like how other people put together things, but their style isn't specifically for me. 
ASW: How has being in the SFA influenced your style?
Zhang: For me, I just noticed a lot more different styles and got more exposed, especially by Cindy [Suzuki] and Miguel [Bagsit] (SFA president and vice president) because they're both prominent on social media. 
Lee: Being in the [SFA] exposes you to different fashions. We see them a lot in their own styles, and that influences me to explore what kind of style I would like to do.
ASW: Do you think that your style has changed over the years?
Zhang: I switched more from layering to summer clothing because I'm from San Francisco, where it's always windy and cold. 
Lee: I think that I've become more girly. I didn't realize that until my middle sister said 'You've grown to like pink a lot,' and I found that pink is a good color that matches me. It looks good on me, so that's the thing — it's not my favorite color, but it looks good.
ASW: Do you have any last fashion advice?
Zhang: Fake it till you make it. If you're confident enough, you'll look good.
Lee: Exactly! if you say you can work it, then you can work it. That's the mentality that you should have. 
Written by: Pari Sagafi – arts@theaggie.org