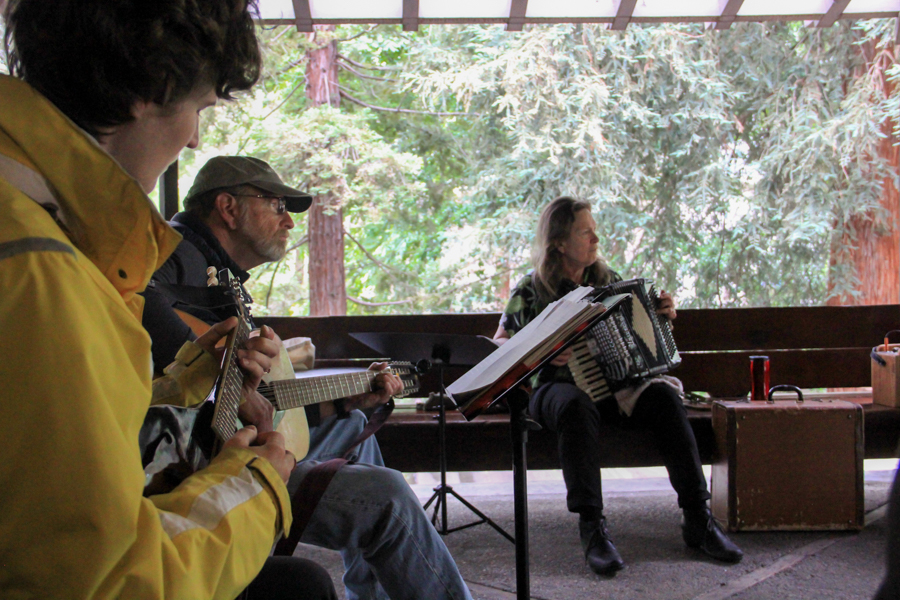 The Arboretum Ambassadors organize engaging, educational public events for the Davis community.
The UC Davis Arboretum is well-known for its breathtaking natural scenery and peaceful environment, and is a popular destination among the Davis community for hiking, picnicking or just simply relaxing in between classes. However, there is much more to this area along Putah Creek than just rest and relaxation.
The Arboretum is also home to many unique educational and cultural events hosted by the Arboretum Ambassadors. The Arboretum Ambassadors are a group of UC Davis student interns who work together to plan and organize community events that take place at the Arboretum. The interns hold weekly meetings to plan these events, which aim to increase public engagement with the Arboretum.
"The Arboretum Ambassadors are the environmental leadership interns here at the Arboretum and Public Garden," said Elaine Fingerett, academic coordinator of the UC Davis Arboretum and Public Garden. "Sustainability is very much a part of our mission, as well as conservation, and they do a lot of community outreach and education to work with the public to learn about a whole variety of issues. I do think that education is certainly a big focus."
Throughout this school year, the Arboretum Ambassadors have coordinated a wide variety of events, including a Native Californian elderberry flute-making workshop with cultural interpreter Antonio Florez and, more recently, the first-ever Arboretum Photo Scavenger Hunt from April 25 to May 9.
"One feasible goal [of these events] is helping people in the community realize how valuable the Arboretum is. It's like a free park [or] a plant zoo," said Kaili Brande, a fourth-year environmental science and management major and Arboretum Ambassador intern. "It's also educational, too — just learning more in a fun way."
The ambassadors often collaborate with other student organizations as well. Last month, the interns worked with Birdstrike Theatre comedy improv group to host an improv workshop at the Arboretum's Wyatt Deck. A couple of weeks ago, a nighttime stargazing event was organized in collaboration with the UC Davis Astronomy Club, and was held in the Arboretum gazebo.
"This is our second year doing the stargazing event. A lot of people are really excited to be in the Arboretum at night time," said Sukhmani Brar, a third-year environmental policy analysis and planning major and Arboretum Ambassadors co-coordinator. "And it's nice because it's one of our events that brings out all ages, so you'll see professors, [teaching assistants and] graduate students there; you'll also see families and a lot of students come out."
Last Winter Quarter, the Arboretum Ambassadors hosted a cultural event in January in celebration of Lunar New Year, titled "Climbing the Gingko Tree." The interns invited students from the Taiwanese American Organization, the Japanese American Student Society and the Golden Turtle Lion Dance Association of UC Davis to share information about the cultures of Asia through various activities and performances.
"It was really cool to see the network of a bunch of different student groups for that event," said Vanessa Martinez, a second-year environmental policy analysis and planning major and Arboretum Ambassadors intern. "All the organizations were able to come together in the Arboretum for the same cause, and everyone had a really great time, from kids to students."
All events organized by the interns are original ideas developed during weekly meetings. Through their volunteer work, the interns are able to share their creativity and passions with the Davis community as they coordinate and host public events.
"This is my first year being a co-coordinator. Last year I was an intern, [and] I got to experience more creativity — you get to come up with your own events and implement them," Brar said. "But I also like the co-coordinator aspect. It's cool encouraging others to come up with their own events and helping bring all their ideas together."
This is the third year that the Arboretum Ambassadors team has received the Gold-Level Community Service Award by the UC Davis Community Service Resource Center. For the last two years, the team also received the federal President's Volunteer Service Award. Together, the Arboretum Ambassadors continue to successfully accomplish their goal of connecting with and educating the public about environmental issues.
"I come […] feeling energized that I get to work with a wonderful group of really bright and talented young people who really want to make a difference in the world," Fingerett said. "I am never surprised by their creativity and innovation, and it gives me a lot of hope for the future. I'm working with young people who really want to be part of a solution."
Written by: Jennie Chang — features@theaggie.org