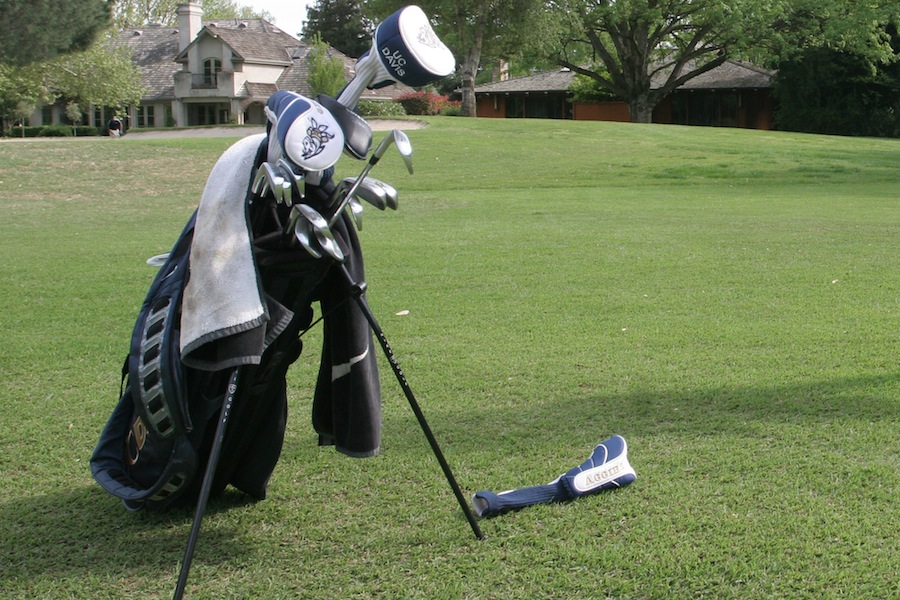 Two athletes who have left an outstanding mark on the UC Davis golf program
Andrea Wong and Paige Lee of the UC Davis women's golf team have been making their mark on the program the past couple of years. They share a passion for golf that has led to many accomplishments at the Division I level, including six Big West first team honors between the two of them and one Big West Champion title apiece. No matter how much they accomplish, both student-athletes are always putting in long hours at the El Macero Country Club, a 10 minute drive outside of Davis, to work on improving their strokes and keeping their skills sharp.
Wong, a senior majoring in American Studies, started playing golf when she was six years old. Her father owned a custom-fitting golf shop in Concord, and would allow her and her twin sister to play with their clubs while he was practicing on the range. She started entering tournaments at 11 years old, and had to choose between golf and dance at 12. She decided to pursue golf full on, and has not looked back since.
Recruited to play for UC Davis in 2012, Wong was third on the team in scoring with a 74.9 average and was named Big West Freshman of the Year in 2013. She then placed second in her first Big West Championship ever with a 1-over 219 score. She went on to win the Big West Championship her junior year with an 8-under 208 at El Macero Country Club.
This season, Wong qualified for the 2016 NCAA Division I Women's Golf Stanford Regional as an individual along with teammate Lee. On the third and final day of competition, she shot eight birdies and scored a 6-under 65, which gave her a tie for first place in the tournament and also secured her spot in the NCAA Finals in Eugene, Oregon, held later this month.
"I thought that Andrea hit the ball really well the entire week and was very committed to her shot selections," said head coach Anna Temple. "This was probably her best ever tournament, from the first hole to the last hole."
Wong hopes to keep improving her technique leading up to the finals.
"I am working on some sand shots, continuing to hone in on my swing and paying attention to the details in my game," Wong said.
On the first day of competition at the NCAA finals, Wong scored a 5-over-77 and tied for 101st place. The second day saw her move up to 94th place with a score of 2-over 74. A great performance on the third round of competition increased her standing in the competition by almost 70 spots. She had a round of 67 and moved into the top 30 spot, allowing her to compete in the final round of competition.
She finished off her golf career as an Aggie with a 4-over 76 on Monday and tied for 49th placed by the end of the competition.
To top off her 2016 season, she was named All-Region Team by the Women's Golf Coach Association for her first place finish at regionals.
Lee, a junior psychology major, first held a golf club around the age of three. A San Jose native for nine years, she moved to Folsom in 2004. During her time in San Jose, she travelled to Sacramento in the summer and played golf with her grandfather. Soon, her mother was entering her into local tournaments. At the age of twelve, she started to play in junior tournaments and went on to have a successful career at Granite Bay High School, where she played in the California Interscholastic Federation NorCal Championship and the CIF Championship three times.
After being recruited by UC Davis, Lee made big waves the summer after her first year by qualifying for the 2014 U.S. Women's Open. The following season, Lee was Big West Player of the Year, made All-Big West first team and was named All-America Honorable Mention by the Women's Golf Coaches Association. Lee also placed first in the Peg Barnard Invitational at Stanford, beating out 62 players in the process.
This year, Lee won her first Big West Championship with 4-over 220 and helped the Aggies place third overall. On her last shot, she made an uphill, 15-16 foot putt that went into the hole and won her the title.
"I just told myself: 'just trust yourself and whatever happens happens.' Fortunately I made [the putt] and that got me to win the Big West," she said.
Both Wong and Lee have their sights set on turning professional in the future. Wong, who graduates this year, plans on pursuing a professional at the end of the summer and attending qualifying school for the LPGA tour in August.
"First stage is at the end of August, and stage two and three are in the following three months," she said.
Lee, on the other hand, has one more year of college left but is also planning on going on the LPGA tour.
"The plan has always been to join the tour," she said.
"Our team and student athletes aspire to really big goals," Temple said. "These are all players who are competing at the highest level of the sport and demand excellence from themselves."
With their work ethics and determination to succeed, it is clear that for Wong and Lee, their careers in golf have only just begun.
Written by: Julia Wu – sports@theaggie.org