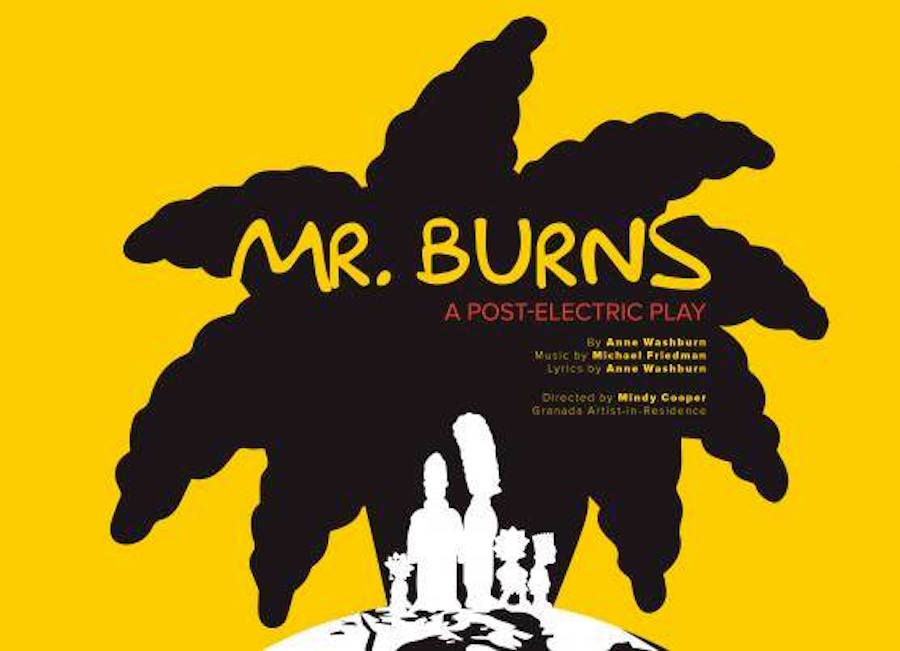 Survival, storytelling and overconsumption create the foundation for this dark humored, post-apocalyptic play
A story about a group of survivors after an apocalyptic event may seem familiar and cliché, but the UC Davis production of Mr. Burns, A Post-Electric Play intends to introduce a unique twist to this plot with dynamic characters, dark humor and thoughtful themes.
In the play, a global catastrophe leads to a group of survivors gathering together and recalling the classic 1993 episode of The Simpsons, "Cape Feare." Their recollections of this episode serve as the foundation for the rest of the play, as they assemble an acting troupe where they reenact The Simpsons episodes. However, the play is not about The Simpsons, but rather how these survivors and society in general cope with the loss of everyday luxuries. New York-based playwright Anne Washburn created and wrote the play, which premiered in May 2012 at the Woolly Mammoth Theater Company in Washington D.C. It went on to become an off-Broadway hit from August 2013 through October 2013 at Playwrights Horizon in New York City.
Mindy Cooper is the one making this production possible here on campus. She has an extensive repertoire, having directed, choreographed and performed in a number of Broadway and off-Broadway shows. She believes the messages from this play are messages students can deeply relate to.
"How society is changing, how we carry stories forward in time, how communication informs — we need stories. [They] makes us feel human and connect us deeply to one another," Cooper said.
One of the main characters, Matt, is a Simpsons fan who plays Homer in the third act of the play. Third-year dramatic arts major Matt Skinner, who plays Matt and Homer, acknowledges the seemingly peculiar storyline.
"I've never done a show like this. It's a very strange show in the best possible way […] The first two acts are set seven years apart and the third act takes place 75 years later," Skinner said. "I've never done a show that so heavily references pop culture, let alone a cartoon like The Simpsons […] It's funny and sad at the same time, the way real life is."
Fourth-year theatre and dance major Rose Kim, who plays Maria in the first two acts and Marge in the third, explains that this format allows for certain themes to be poignantly displayed.
"This play is set in the aftermath of our over consumption and over-exhaustion of the thing we as a species have decided to rely on for human advancement, electricity. This play grapples with not only what's in us that made such a future possible, but also what's in us that gives us strength, hope, and the ability to live on without giving up," Kim said.
Both Kim and Skinner mention that storytelling is a prominent theme throughout the play. At the beginning, the survivors utilize storytelling as a means to cope with their lose of everyday luxuries. Toward the end, the play shows how stories can become altered and adjusted over time.
Cooper affirms that this production (and art as a whole) has great importance in our world.
"I believe the arts are an integral part of society, the need for being transported, being entertained, being enlightened and this play embraces this deeply," Cooper said.
Both actors, as well as the rest of the cast and crew, have been working tirelessly with Cooper, to perfect their roles so that the show is presented with the brilliance it is widely known for. That being said, this production will offer much in comedy and drama and will present a host of themes that will force audiences to contemplate about human nature, storytelling and society's impact on our artistic expressions.  
Though the concept of Mr. Burns may seem a bit confusing, all those involved reassure that it is not a production to be missed.
"It's not all rainbows and unicorns but it's life and life is never all bad, all good — it's why living is interesting and worth staying alive for, I think. That's what this play says to me anyway," Kim said.
The production started May 19 and will run until May 29 at the Wright Hall Main Stage Theater. Tickets are now on sale with general admission costing $15 and student/senior tickets $10. Tickets can be purchased at the box office. For more information please visit the theatre and dance department website or the Facebook event page.
Written by: Krishan Mithal – arts@theaggie.org