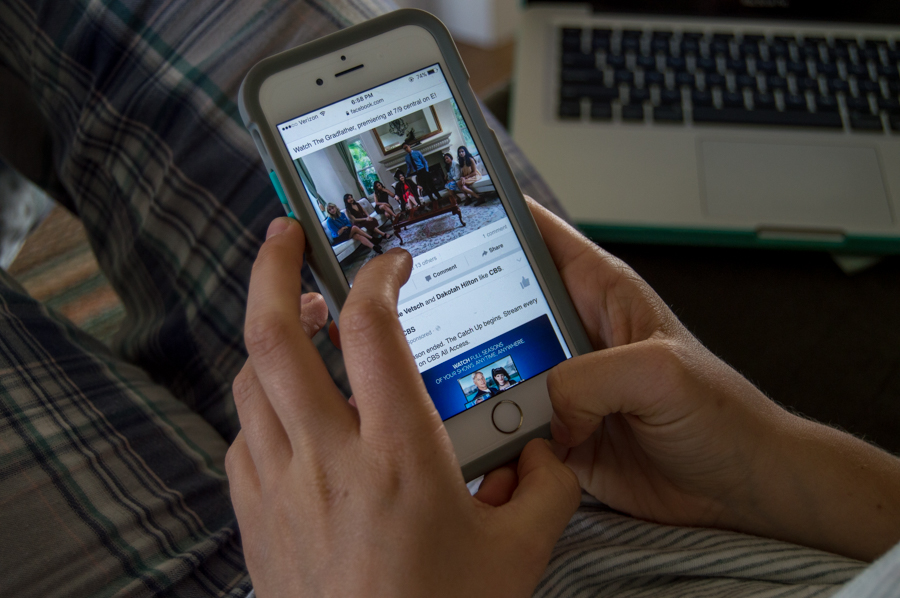 Students discuss the positive and negative aspects of smartphones.
Smartphones have the power to be everything from a morning alarm to a worldwide navigational system, and for most college students, they're never farther than an arm's reach away. As the ownership of smartphones has spread to an entire generation, students are becoming increasingly more reliant on these tiny technological devices.
"[With a smartphone], you're essentially connected to most people around the world in some way through social media," said Alonso Medina, a first-year sociology major. "[Also], an unlimited array of information is available at your fingertips."
In particular, the constant Internet access is a helpful resource that many use for school-related work.
"It's like having a computer you can hold in your hand," said Joseph Melkonian, a first-year international relations major. "There's a lot of really useful apps — weather, news, that kind of thing."
Melkonian currently owns a flip phone, or "dumbphone," which he acquired this year as his first phone.
"I chose to have a […] 'dumbphone' as opposed to a smartphone because I've seen the amount of distraction that smartphones have on people," Melkonian said. "I see there's a lot of benefits with [having a smartphone], but […] I'd prefer to hinder [myself] so that all I can do is text and call people as opposed to [having] the internet at my fingertips at any instant."
As an observer of people who do have such immediate internet access, Melkonian is no stranger to the common scenario of phones at the dinner table.
"There's […] definitely a lot of good things [about smartphones], but I think it does kind of hinder relationships […] or even just talking," Melkonian said. "I'm at a table with three of my friends, and one of them [is] looking at Tumblr and then showing [it] to other people at the table. Everyone's on their phone, as opposed to actually talking."
However, according to Melkonian, this kind of attachment is prevalent even with non-smartphone owners.
"There's still an attachment, even though this is just a 'dumbphone,'" Melkonian said. "I'll find myself putting my hand in my pocket, just around it, which is weird. It's as if it's like […] Linus and his blanket [from Charlie Brown]. It almost becomes a reflex."
Ashley Nola, a fourth-year neurobiology, physiology and behavior major, also owned a "dumbphone" up until her second-year of college, when she finally made the switch to a smartphone.
"I had to plan things a lot more because I didn't have things readily at my disposal with my non-smartphone," Nola said. "[Unlike a smartphone], I could leave it in my backpack at school and it wouldn't run out of battery for a couple days."
Despite the prevalent usage of smartphones amongst young adults, most seem to believe that while it may have its benefits, the constant usage is often detrimental.
"Even though you can essentially talk to anybody […], it alienates you from the […] environment you're in physically," Medina said. "It's a very harmful distraction."
Nola agrees that smartphones can be unhealthy in terms of lifestyle.
"I think that it's really cool that we have this technology [because] in a lot of ways, these advances really help us," Nola said. "But I also feel like people need to pay attention. More people are getting depressed, [and] people are not truly being in the moment."
Despite acknowledging the distraction of smartphones, students still struggle to disconnect from the virtual world.
"I do notice that people spend a whole lot of time on their phones," Melkonian said. "It's kind of discouraging, that what's on a [small] screen is more important than everything else around you. Even if it's just five seconds [on your phone], it's five seconds every minute."
Because of the quick Internet access, smartphones often act as classroom tools. With apps for anything ranging from calculators to flashcards, smartphones provide students with a simple way to keep everything they need in one convenient, portable device.
"I think society is getting to a point where people expect you to have a smartphone," Nola said. "Even professors assume you have ready Internet access. I think that might be a requirement of being a student."
Although smartphones in the classroom can act as a resource, they can also be a distraction.
"What's interesting is how there's not really any limit to where cell phones can be used or can't be used," Melkonian said. "Even in the classroom, people are still using it [for recreation]."
Some students seem hard-pressed to find a solution for the cell phone attachment that smartphone culture embodies.
"On the one hand, you [could] say just get rid of cell phones," Melkonian said. "But I don't think that's very realistic right now, given […] how many smartphones everyone has. I'd say if you're not going to go to a 'dumbphone,' […] it's just [about] making a conscious decision [to engage in] the people that you're around or the situation you're in over whatever's going on in the digital world."
Both Medina and Nola agree that acknowledging the prevalence of smartphone attachment is an important step towards fixing the issue.
"I don't think we'll ever find a foolproof solution to the downsides that technology can bring, but regardless, the most logical thing [to do] is to be educated on the negative aspects and work on an individual level to fix these problems," Medina said.
Despite the unavoidable future of advancing technology, students remain hopeful that progress can bring beneficial change if treated with the right attitude.
"[Self-control] means a little less communication with people outside of face-to-face communication," Melkonian said. "When it's a face-to-face conversation, I love that."
Written by: Allyson Tsuji — features@theaggie.org