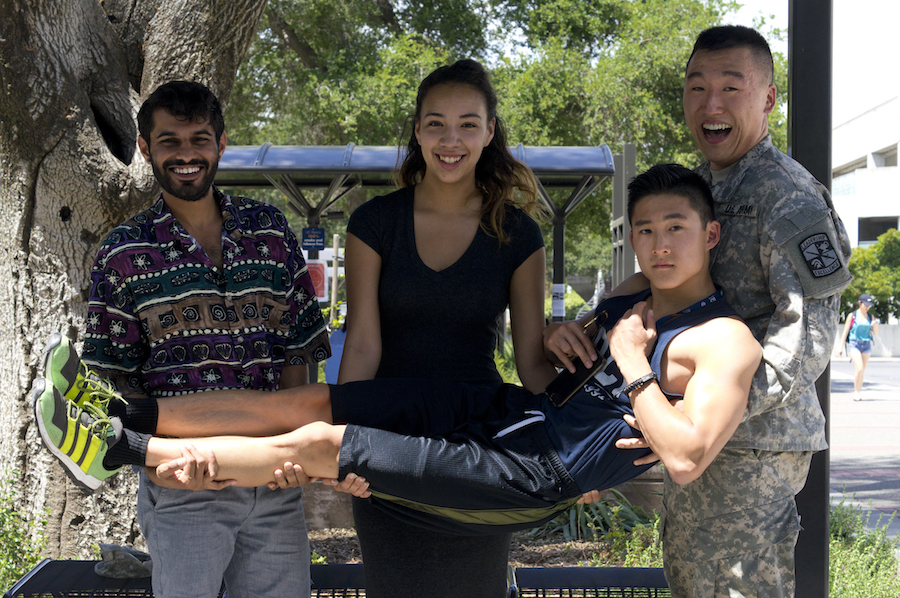 UC Davis students work to share stories of people in Davis through "Humans of Davis" Facebook page.
On Picnic Day in 2014, UC Davis alumna Jen Nguyen saw an opportunity in the thousands of diverse people traipsing around Davis. She roamed around campus, took some photos and created a Facebook page full of people's portraits, along with their stories. She called it "Humans of Davis," after the well-known photographer Brandon Stanton's Humans of New York (HONY).
Currently, Humans of Davis (HOD) is run by third-year managerial economics major Parteek Singh, who took over the page during Fall Quarter when he noticed it was becoming stagnant.
"[Jen Nguyen] actually interviewed me for the page, and we ended up becoming really good friends," Singh said. "I think it plays a great role in our Davis community. I saw what it could do, what it has done and where it could go."
Along with Singh, three photographers help run the HOD page: fourth-year managerial economics major Ed Ju, second-year undeclared major Emily Loredo and third-year microbiology major Charles Miin. Each member takes a different approach on the photos they post to the page.
"My goal with [HOD] is to bring light to social justice and start the conversation on issues that people don't really usually talk about, and [also] bring light to a side of people that they don't see," Singh said. "Each editor of the page has a different perspective of the page."
Ju started working for HOD a couple months ago, after being asked by a page administrator to showcase some pictures from one of his photo projects, 100 Strangers, on the page.
The project is a very similar to HOD, with his goal being to approach 100 Strangers and gather their stories. Ju has been working on 100 Strangers for four years, and now has dozens more portraits than his initial 100 people mark. Ju initially started the project because "it challenged [him] to do something he was terrified of."
"Picking someone [to take a photo of involves] a lot of waiting until I get enough courage. I'm not really looking for a particular look, it just happens," Ju said. "The most powerful moments for me are when I'm just a fellow human asking them questions and it becomes less of a project and more of a conversation."
The page often collaborates with other organizations on campus that hope to use HOD as a platform for outreach. Currently, Miin, who started working for HOD in 2015, is shooting photos for the Student Health and Wellness Center. During interviews, Miin has participants write out what they want featured under their photo.
Loredo, who joined the team this quarter, collaborated with members of the "Let's Talk about Sex" campaign on campus to release an album of photos posted on HOD to broadcast sexual assault awareness.
"[Doing the sexual assault campaign pictures] was very interesting to me because I've been a photographer for a few years and I was always drawn to the idea of taking pictures of people and having them present their stories," Loredo said.  "Being able to take a picture of someone and really capture the essence of who they are […] is something that — if you can do it, and do it well — is really a gift."
In the future, the HOD team hopes to start taking videos in which people tell their stories verbally, rather than in pictures.
"[HOD] makes people realize that they do have a voice in this community and they're being noticed," Loredo said. "It opens the door for a conversation."
Written by: Fatima Siddiqui — features@theaggie.org