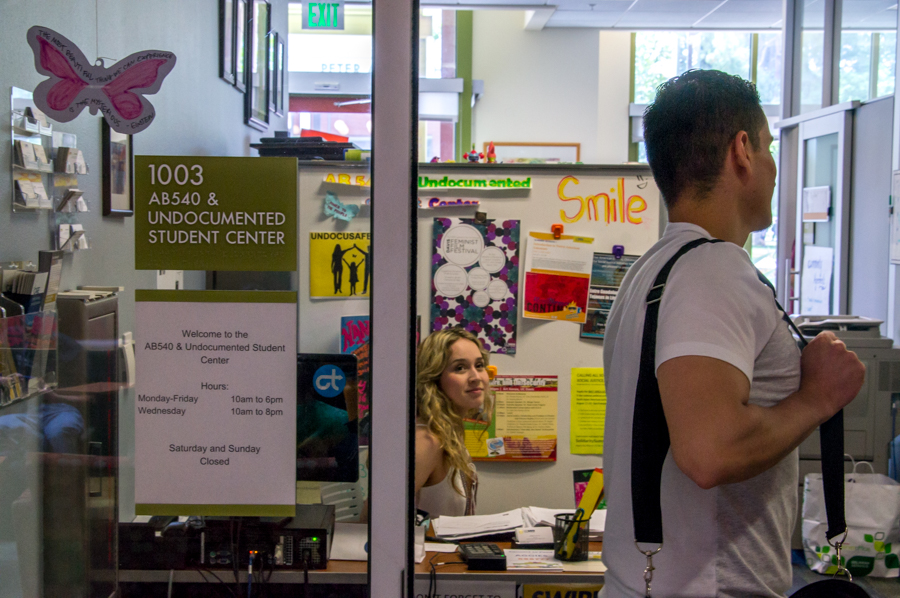 Money to go toward loans, legal support, student services for undocumented students
On May 11, UC President Janet Napolitano released details on a plan to provide $8.4 million in funding each year through the 2018-19 school year to support services for undocumented students in the UC system.
The money, which is to be split three ways, will be used to further the Undocumented Students Initiative that President Napolitano had previously launched.
"The initiative that President Napolitano launched provided momentum for an umbrella of programs, including DREAM Loans and UC's Undocumented Legal Services Center," said Claire Doan, UC spokesperson, via email.
The aforementioned DREAM Loans will receive $5 million per year in funding for at least three years. The Undocumented Legal Services Center, which is part of the UC Davis School of Law, will receive $900,000 per year. Remaining funds in the amount of $2.5 million per year will go toward other student support services, such as support staff and monetary aid for textbooks.
"This funding will further strengthen the university's undocumented student initiative, and help ensure that these students receive the support and resources they need to succeed," Napolitano said in a statement.
Andrea Gaytan, director of the AB540 and Undocumented Student Center at UC Davis, spoke about how the money that UC Davis will receive is not delegated yet.
"Each campus that receives funds will be able to designate how the funds will be used," Gaytan said. "Here at Davis, since we don't have an exact amount yet of those big pools of money, I cannot start really making too many plans. I am thinking that if it were similar to previous years, the funding that we would use for the center would go directly to students."
Gaytan stressed that any money the center received will be used to benefit students and outlined what services the center currently provides.
"Right now, we have several programs. We have some scholarships for AB540 students that are merit-based," Gaytan said. "We also have travel grants to support students who are studying abroad who are AB540 as well as an emergency grant, maximum $500 per year, available same day, for any sort of emergency situation. […] We also have stipend for students who participate in our mentorship program and in our speaker's bureau."
The largest allocation of the funding is toward DREAM Loans. This program is designed to fill some of the gap in financial aid that undocumented students face.
"These loans are very important to undocumented students," Doan said. "Their status disqualifies them from receiving financial aid, which severely limits their access to student loans. And they have difficulty accessing private loans. This is one way UC is reducing barriers for undocumented students, so they can focus on pursuing their college degree."
However, there is some controversy about the loan program.
"The one component that is semi-controversial in the funding is that many undocumented students are not precisely happy about having a loan program," Gaytan said. "Students are still reluctant to take out loans if they do not have work authorization because they do not know how they are supposed to pay them back after graduation. For many of our students, even though loans are available, they are not choosing to take it."
The meaning behind the program is what excites ASUCD Senator Ricardo Martinez. He does worry, though, about the permanency of the program.
"[The program] is a good thing for undocumented students on campus who often do not have the resources that traditional students do have," Martinez said. "Yet I am worried though that it is only going to be a temporary amount — it's only going to be given for three years. Maybe making it permanent would be beneficial for the UC system as a whole."
Written by: Kenton Goldsby – campus@theaggie.org