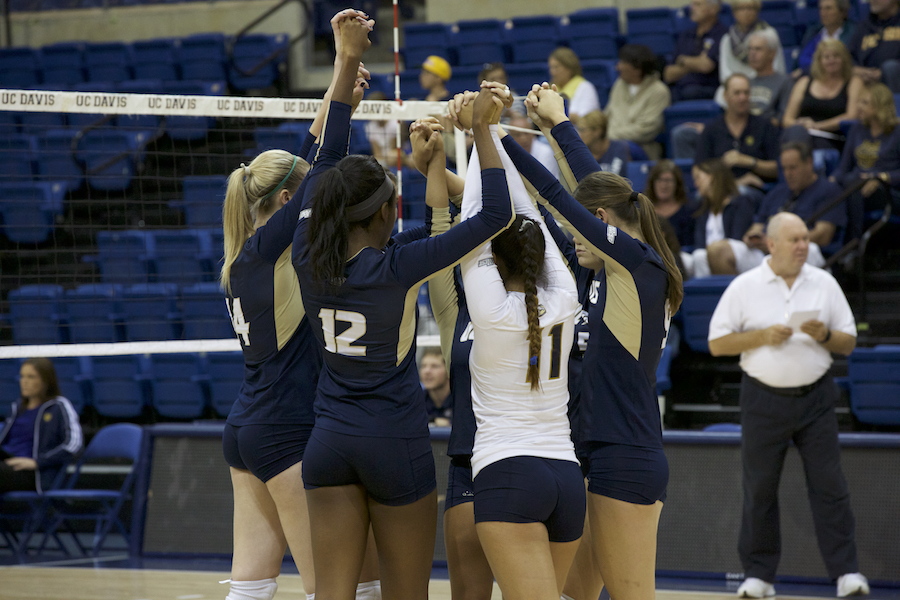 Explore the ins and outs of the recruitment process for incoming Aggies
Inside the UC Davis' Athletics Annex is a room dedicated to women's volleyball. On a wall hangs a dry-erase board fit for a classroom. Lists of names dominate this board, with each list under a heading from 2016 to 2019. Under the leftmost column, marked 2016, are four names: Kristen Johansson, Lauren Matias, Jackie Graves and Ally Reyes.
There are about 432,000 high school women's volleyball athletes. Only 1.2 percent of these players will continue on to play at the National Collegiate Athletics Association (NCAA) Division I level. Next year, those four names will be within that 1.2 percent, newly recruited to the Aggie women's volleyball team.
This board, and the names on it, represents a new trend in the high-velocity sport of volleyball.
"In volleyball, it's gone to early recruiting," said Dan Conners, head coach of the UC Davis women's volleyball team. "Minnesota right now has a verbal commitment from an eighth grader."
Conners and his staff are similarly forced to hunt down potential recruits early, lest other schools get there first.
"If you're not early recruiting, then you are missing out on opportunity to recruit a kid, because they have gone somewhere else," Conners said.
Recruiters are actively targeting younger and younger players in a cycle that pushes all DI programs out of fear of losing out to competitors. This cycle poses hard questions regarding how and when coaches should be reaching out to players, questions that often lack answers.
"This [early recruiting] is totally an arms race," Conners said.
This race starts in January, after the regular collegiate volleyball season ends, pursuant to NCAA guidelines. The whole affair lasts until May, with intermittent quiet periods and dead periods throughout. During quiet periods, players cannot be invited to schools, nor can coaches go out and visit.
Division I volleyball coaches rely on Amateur Athletic Union (AAU) tournaments and traveling volleyball club teams as sources for potential athletes. These coaches need to go to all of these tournaments simply to be competitive with all of the other coaches.
"These are three day tournaments over a weekend," Conners said. "Basically, there are never under 4,000 kids at one of these tournaments."
The locations of these tournaments along with early recruiting practices have severely regionalized the sport of volleyball in the United States. The Midwest is a region that stresses early recruitment, and has seen massive gains in popularity and skill level within its demographics.
Being an athlete at the Division I level takes serious commitment and requires a lot of hard work. Furthermore, most programs look for a mixture of both athletically gifted players and good sportsmen. There is a specific culture that pervades Aggie Athletics, and often times academic strengths go hand-in-hand with what UC Davis looks for. Furthermore, these recruiting practices have made it so any high school players with the skill required to play will be recruited, making walk-ons rare. But with the encroachment of early recruitment comes the possibility of burnout.
"What I tell our kids is that it is a lot, and it's going to be overwhelming, and there are going to be times where you want to quit," Conners said. "Because it is really hard, and that's just the nature of what it is."
Conners and his staff seek to bridge the issue of early recruitment while still doing justice to potential recruits via transparency.
"If I wasn't transparent about what we are, in the recruiting process, then it's not fair for me to hold them to something that we didn't agree to," Conners said.
Part of this transparency is a long sit-down where recruits spend time with the current members of the Aggie team. The coaching staff encourages their players to tell their stories and share their experiences with the recruits, in the hopes that the recruits learn more about what they want.
"I tell my players, 'I want you guys to be completely honest with the good and the bad of what this is,'" Conners said.
The main focus of Conners and his staff is to expose the athletes to the processes that they should be experiencing at other schools. Coaches face a fine moral line between providing what is best for the players and generating results to keep their jobs. Currently, NCAA and the athletics community as a whole do not have the answers for how recruitment should go.
Regardless of the results of the conversation between players, coaches and the NCAA, Conners and his staff are doing exactly what they feel is right: providing possible recruits all of the information they can.
Written by: Aaron Sellers – sports@theaggie.org