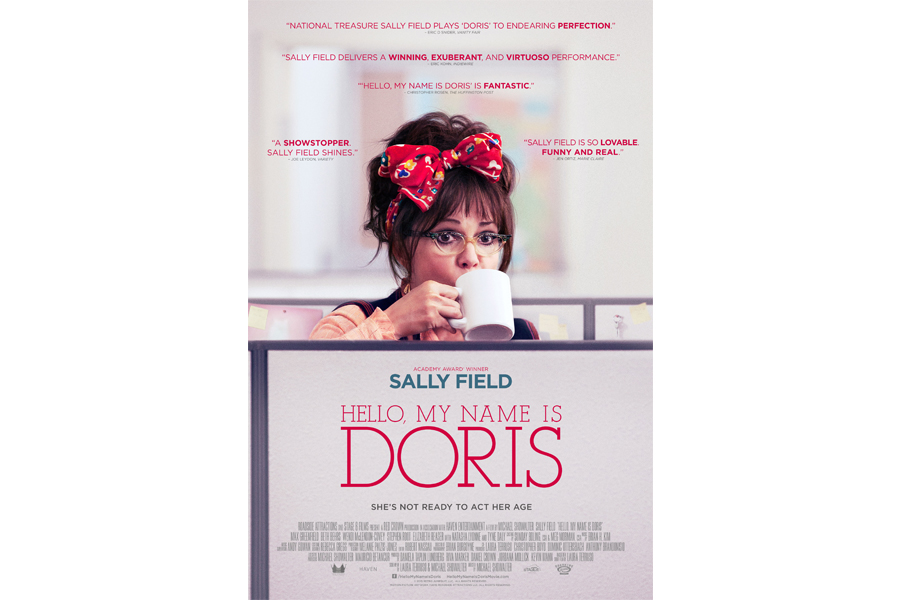 'Hello, My Name is Doris': A 60 year-old woman's coming-of-age story
Everyone agrees that Sally Field can do no wrong, and she proves this once again in the romantic comedy Hello, My Name Is Doris, where she plays a 60-something-year-old woman who develops a huge crush on her handsome (and much younger) 30-something-year-old coworker John (Max Greenfield). The two meet in a tightly packed elevator, where John is trying to diffuse the awkwardness that comes with being an inch away from a stranger's face, and compliments her crooked glasses, sweetly re-adjusts them for her and walks out like nothing has happened. But a lot has happened for Doris — someone has noticed her, and her life turns upside down as she falls out of her usual routine to pursue him.
Sally Field plays Doris as "quirky" to say the least; not the kind of Zooey Deschanel, ukulele-playing, vintage-loving quirky that people fawn over, but the kind that usually leaves the people in Doris' life believing that she is strange, and  better off left alone. And that is exactly how Doris has lived her life. Having grown up very sheltered after becoming the sole caretaker of her elderly hoarder mother, she has had few experiences and this new, exciting person in her life is now driving her to take risks and live a little. This leads to many hilarious scenes, like making a fake Facebook account with her friend's 13-year-old granddaughter, and going to an electronic music concert wearing a neon jumpsuit.
Nothing is overdone here, and Sally Field as a big bow-sporting, daydreaming, older woman is entirely lovable and believable. The rest of the cast delivers as well, with Max Greenfield playing the young and charming John with sincerity and kindness. Tyne Daly, who plays Roz, Doris' best friend, provides a witty and bold contrast to Doris' sweet and innocent character. 
You may be wondering if this is a story about a "cougar" pursuing a younger man with her sexual prowess and charm — the film is anything but that. This low-budget indie movie tells the story of an older woman falling crazy in love, a topic that is very rarely touched on in Hollywood, and it does so beautifully. And as funny as this romantic comedy is, it also has many moving and tender scenes. One of the most powerful scenes comes when Doris has an emotional confrontation with her brother, and opens up to him about her complicated feelings toward having supported their mentally ill mother all by herself. This scene is just one of many that explores the pain of being an outsider and feeling like one has "missed out" on life.  Director Michael Showalter said in an interview that he "wanted to tell a funny story that also had really sad moments, and sweet moments, and moments that moved you in a different way."
Hello, My Name Is Doris does just that that with the help of a talented cast and a great script. It's up to you to watch this movie, but just know that Sally Field would want you to do it.
Written by: Pari Sagafi – arts@theaggie.org