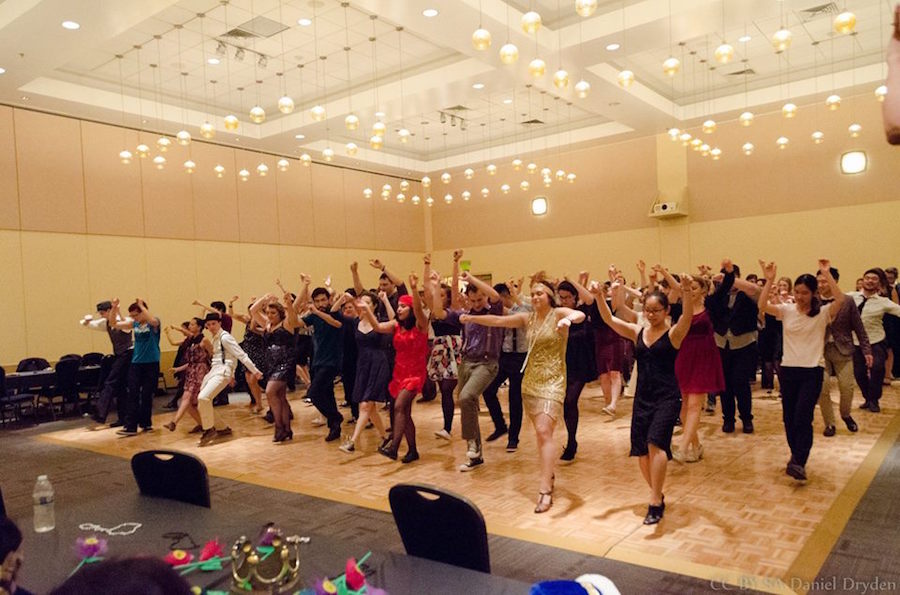 Davis Swing Dancers keep the beat on campus
The Davis Swing Dancers (DSD) have spent many afternoons over the past ten years dancing into the hearts and minds of passing students on the Quad.
"I was drawn to swing dancing because of YouTube," said Michele Daniele, third-year clinical nutrition major and DSD event coordinator. "I saw a video of a swing dance competition and thought it looked like a lot of fun, […] so when I saw a flier for DSD my freshman year, I jumped at the chance."
Every week, the group takes over a room in Giedt Hall and teaches swing dancing skills to new and experienced dancers. While not everyone has the time to devote to regular swing dancing, the group makes sure that students can always pick up from where they left off.
There are two classes: the drop-in introductory class and the intermediate class, which teaches Lindy hop and line dancing.
Once students build skills and confidence throughout the classes, they can join the rest of the team on the Quad. DSD refers to their dance moves on the Quad as their "Lindy Bombs."
"We do it to help promote our club and events," Daniele said. "We hope to draw people's attention and make them think 'Oh! That looks cool and fun' and want to join us."
Laurel Spack, fourth-year neurobiology, physiology and behavior major and DSD president said she looks forward to the Lindy Bombs on the Quad. Spack loves to see how members change from when they first start out to feeling good about their dancing.
"I think people normally consider the dancing [on the Quad] to be a bit intimidating, [but] we find [that it] attracts a lot of attention, " Spack said. " We like being very visible and talking about [how] everyone can try out and love it as much we do."
While it can be a rarity to find students so interested in a dance that spans decades, the swing dancing lifestyle has expanded its reach throughout California, faring well in places like Davis and Sacramento, where Midtown Stomp helps host events for groups such as DSD.
"College Lindy hop and swing dancing here in California is actually well and alive," said Teresa Gonzalez, third-year biological sciences major and publicity coordinator for the group. "There's big programs in Berkeley and San Luis Obispo."
Every student has a reason for why they were drawn to the intricacies and standout moves of swing dancing. Whether it's to learn a new dancing style, get ready for a big dance, or even just try to meet new people, DSD has seen it all.
"As to why [I joined DSD], I feel there's this vintage, hipster part of me that thinks […] it's the cool thing not a lot of people do," Gonzalez said. "But once you're intrigued and do it, you fall in love. It seems kind of nerdy on the outside, but once you dance, you stick with it."
For those like Daniele, swing dancing allowed her to open up and share an experience with people that no other kind of performing could.
"I think what draws people to swing dancing is that it looks so freeing," Daniele said. "It's not a sexy dance by a long shot, so they're no expectation when you ask someone to dance.  You also get to have a connection with someone — even complete strangers — for three to four minutes and make some really great friends before you even know their name. It's strange, but it really is a fun way to make friends."
After the end of a year full of new moves, new people and new experiences, DSD members look back to moments of dancing that they shared, and can only help but smile.
"It has that kind connection that not only is it a dance that encourages smiling and having a lot of fun — it has a whole bunch of different tie-ins with history," Spack said. "It doesn't take itself too seriously; the better you get, the more you learn to goof around."
Written by: Alan Castillo —  features@theaggie.org