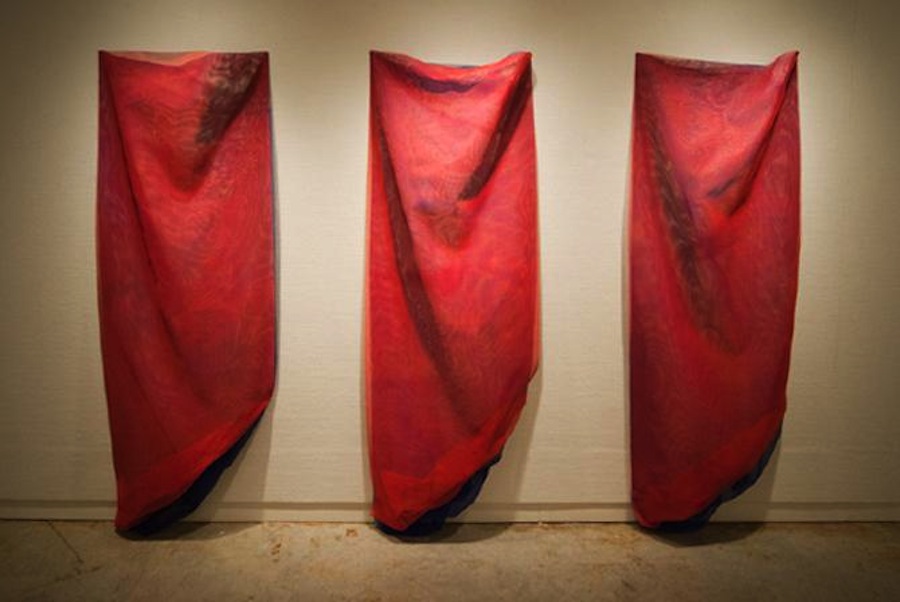 MFA students experiment with sculpture, photography, other visual arts
UC Davis is best known for its excellence in science, but people sometimes overlook its artistic side. This year, the Master of Fine Art (MFA) in Art Studio program will be exhibiting student work in Sacramento, providing an incomparable opportunity to learn more about our artists and the nationally-acclaimed MFA program. The MFA exhibition is an end-of-year art show that displays the work that students in the program have created over the past academic year.
"[This exhibition] marks the culmination of one year worth of study at UC Davis. I see all my work as journal entries. And I'm sure that I'll be able to look back to the work and identify exactly who I was, where I was at the time of creation, for me, this is what work represents: what a year of my life look[s] like at UC Davis," said Vincent Pacheco, a first-year student in the MFA program.
Pacheco was an undergraduate student at UC Davis and graduated in 2003 with a degree in graphic design. Following graduation, he worked in large corporations, design studios and ad agencies. However, the once seemingly perfect jobs soon became exhausting for him.  
"There was a moment when I was working at Yahoo and I was in my cubicle hiding from my boss doing collage work at my desk, making sure that nobody saw me," Pacheco said. "And at that moment, I realized I had to make art a reality because it was just so obvious what I wanted to do with my days. So I quit and [attempted] to make art a primary focus of my life. It's taken awhile but [I'm] slowly getting there."
Pacheco has been doing collage work for about ten years and a collection of his collage work is on display in the exhibition. He is also experimenting with new forms of art. Having recently moved to Tahoe National Forest, he is surrounded by thousands of acres of wilderness and this experience has blended into his work. As part of his project, he is building shelters both outdoor and indoor. He would spend one night in the shelter and record his experience. One of the shelters he built is on display.
The MFA program at UC Davis seeks to inspire creativity by encouraging students to experiment with different materials using various methods.
"This program really encourages experimentations. It's not really about techniques. Get lost, and rediscover yourself," said Muzi Li Rowe, a first-year MFA student. "I would've never thought of doing this a year ago."
Li was born and raised in China. After receiving a degree in film media in Sydney, Australia, she worked in her home country for a while. Then she moved to Hawaii and finally joined UC Davis' MFA program. Li believes her international experience has influenced her personal character and the way she approaches her art. However, as a result of constantly moving, she also finds herself losing her sense of identity. She explores themes such as alienation in her work.
"I think in a sense it sort of mess[ed] up my sense of who I am, it's like an ongoing search for my identity," Li Rowe said.
For Arielle Rebek, a first-year MFA student, photography is a way to capture moments and solidify memories.  
"I focus on ways of using photography, ways of thinking [about] the passage of time. I think about memory and how photos act as a replacement for memory," Rebek said.
Rebek will be displaying a series of photographs, including some taken at her great-aunt's house. She distorted the images to create a dream-like sense of wonder.
"I like [the distortion] because they are in line with my memory of the space," Rebek said. "The more time goes by, I am forgetting [more] parts of the house. My memories are formed by the old photographs of the house, and I am losing sight of my actual experiences that I once had there. I thought the photos convey that the dizziness that happens over time."
Angela Willetts, a second-year MFA student, is grateful for this program for giving her a chance to grow into a better practicing artist. Originally from the United Kingdom, Willetts has been living in Bay Area for the past 15 years, where she taught painting in elementary school and middle school.
"I was an art teacher, so I was teaching everybody how to make art, and how to be a better artist, and realized I want time for myself to be able to think about how to [develop as] an artist," Willetts said. "Then I decided it was time [to join the MFA program] —  almost 20 years after I got my bachelor's degree."
Willetts is interested in exploring the interactions between human bodies and the outside world, and her art, which engages with materials like dough and paper, is not easily classified into one genre.
"There's not really a way to categorize what I do easily, it's kind of videos, kind of performances, kind of sculptures," Willetts said. "The idea is I stand on [the dough] and push it. It's about my body interacting with the material and causing it to do something. The same with the paper; I was capturing what my body was doing as my body is trying to move through the paper. So all the marks are from my body pushing."
This exhibition marks the end of her two years of studying at the UC Davis MFA program. During the past two years, she dedicated her time to figuring out what kind of artist she is, trying different materials and experimenting with different methods. For Willetts, this exhibition will also benefit her future career as an artist.
"It's a defining moment for me in terms of my identity as an artist," she said.
The first-year MFA exhibition, entitled "Ruminant Ground," is displayed at Beatnik Studio in Sacramento, from May 6 to May 26. The second-year exhibition, "having happened," will be displayed at Verge Center in Sacramento, from June 3 to June 18. For more information about the exhibition, please visit the event page and for more information about the MFA program, please visit the department page.
Written by: Betty Wu — arts@theaggie.org