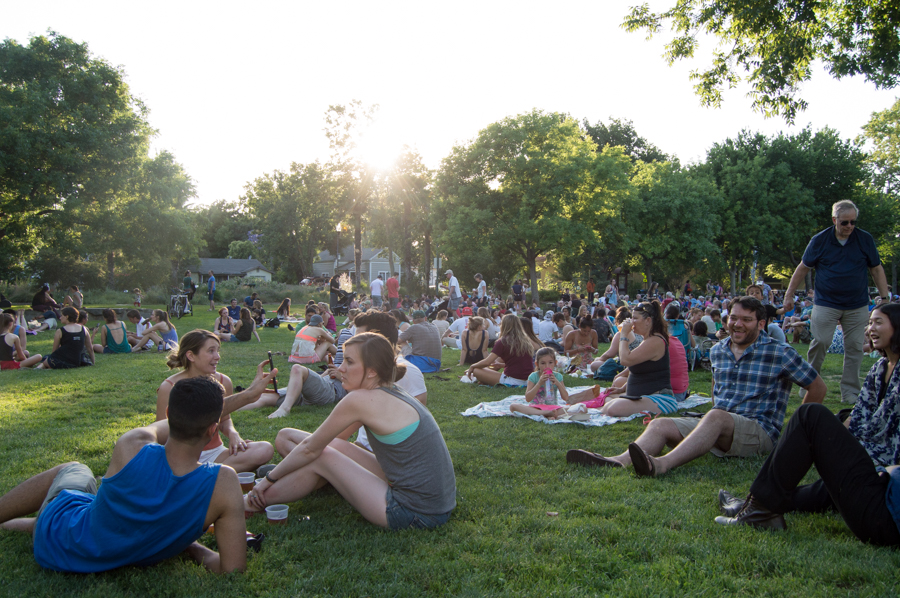 Davis residents enjoy food, entertainment at weekly Picnic in the Park event hosted by Davis Farmers Market.
What can possibly be better than visiting Davis' widely acclaimed farmers market to shop for fresh fruits and vegetables, and eat delightful snacks? Not much, besides enjoying all of these along with live music and a picnic on the grass with family and friends. Davis residents are given the opportunity to experience this at Picnic in the Park.
Picnic in the Park is a weekly event that takes place at the Davis Farmers Market in Central Park for 33 weeks out of the year.
Occurring every Wednesday from 4:30 to 8:30 p.m., the event features free performances by local bands, family entertainment and an International Food Faire, along with the fresh farm produce that the Farmers Market has to offer.
This year's first Picnic in the Park took place on March 16, and the event will continue to occur every Wednesday until Oct. 26.
"I love the atmosphere here [at the event]," said Samantha Okabe, a first-year political science major. "The food, music and people make it incredible."
The farmers market is one of the most notable community events in the city of Davis, taking place every Saturday and Wednesday at Central Park in Downtown Davis. An estimated 3,000 visitors attend the market every Wednesday, and around 7,000 attend every Saturday. With the addition of Picnic in the Park, the market's Wednesday hours have been extended, giving visitors a longer time to enjoy one of Davis' most popular events.
"The market's been in business for 40 years. We were originally open on Wednesday afternoons from 2 to 6 p.m.," said Randii MacNear, market manager and executive director of the Davis Farmers Market Association. "As the farmers market industry developed in California, the concept of having a more relaxed atmosphere where families can eat and stay a little longer, and the fact that we have this beautiful park, [led us to] turn every small afternoon market into this extravaganza."
Each Picnic in the Park this year will feature a unique local band to perform live music during the event. These bands demonstrate various music genres, ranging from bluegrass to rock 'n' roll. Community music groups are also invited to perform, including local Davis high school bands.
"We're looking for character music that goes along with the values of the event," MacNear said. "Music where people can sit and have a conversation, where sellers can talk to their customers."
A distinctive characteristic of Picnic in the Park is its International Food Faire, which is comprised of numerous vendors from local businesses that serve diverse cultural foods. Food vendors include Osteria Fasulo, East West Gourmet, Kathmandu Kitchen and Raja's Tandoor.
In addition to food and music, children can enjoy entertainment ranging from carousel rides to face-painting. Overall, Picnic in the Park radiates a very family-friendly atmosphere, and also promotes zero waste.
"This is my second time coming [to the event]," said Miya Schevle, a first-year environmental science and management major. "The first time I came here I was really surprised; I didn't expect this kind of community feel. I really like coming here."
With a wide variety of food, music and entertainment, Picnic in the Park aims to provide a pleasant environment for Davis residents and visitors.
"We call it a 'festival market.' It's a combination of so many things," MacNear said. "Everything is organized in a very comfortable way and I think people are just comfortable at the market. Where you turn, there's something that makes you happy — even just looking at people enjoying themselves and smiling."
Aside from Central Park, the Davis Farmers Market also hosts weekly markets in several other locations, including the UC Davis Quad every Wednesday and the Sutter Davis Hospital every Thursday. The Davis Farmers Market's 40th anniversary will be celebrated on Aug. 13 this year.
Written by Jennie Chang — features@theaggie.org