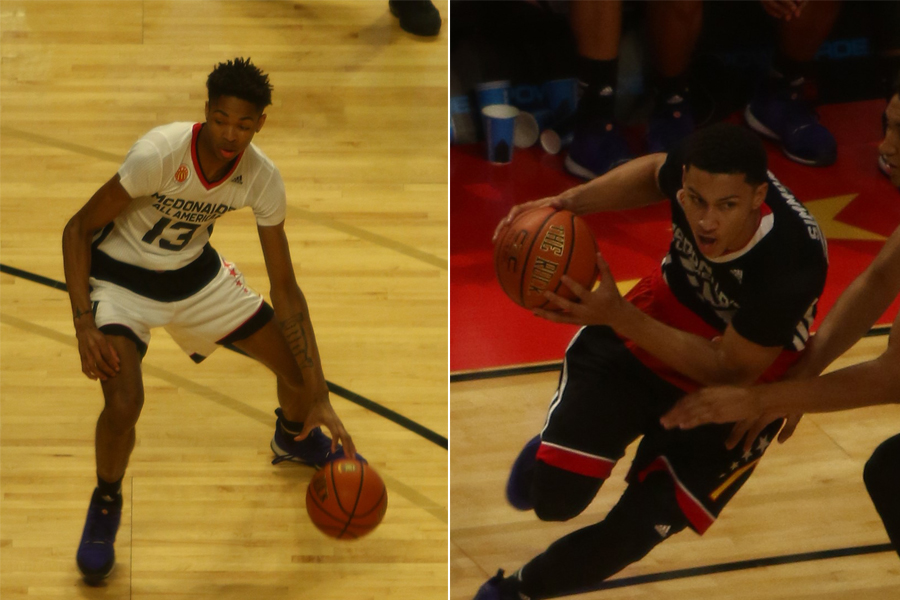 With the draft lottery completed, the first two picks in the 2016 NBA Draft will be held by the Philadelphia 76ers and Los Angeles Lakers in that order. The clear cut choices for the top two selections in the draft are Louisiana State University's Ben Simmons and Duke's Brandon Ingram. Both of these young guns are clearly elite prospects, and to make matters more interesting is the fact that they play the same position. So who is a better fit for each team? Who will Philadelphia ultimately choose (leaving the Lakers to take the other)?
Simmons, the freshman out of LSU, is regarded as the prospect with the higher ceiling for NBA Stardom. An Australian native, Simmons has widely been compared to the likes of LeBron James for his elite combination of size and playmaking ability. At 6-foot-10 he has the court vision, ball handling skills, and instincts of a point guard, and that unique blend of size and skill is nothing to scoff at. Simmons is also tauted for his rebounding ability as he averaged 11.8 rebounds in his first and lone season in the SEC.
Is Simmons a good fit with Philadelphia? It definitely doesn't seem like he wants to land there. Rumors have run rampant that Simmons would love to join the Lakers, as the big market would help him gain leverage for his shoe deal with Nike. This kind of mindset already makes me wonder if he'd bolt the city at the first chance to pursue an opportunity in a bigger market. In terms of on the court, I believe he'd be a fit if he were given room to grow into a LeBron-like role. Philadelphia is loaded with front court talent, but they need a playmaker to help round out their roster. If Simmons is allowed to assume the point-forward position he was born to play then he could be the ball-controlling presence that Philadelphia has desperately needed.
Simmons would be less of a fit with the Lakers simply due to the questions of ball distribution. D'Angelo Russell and Jordan Clarkson, both ball-dominant guards, have learned to coexist with each other, and because this is a staple of Simmons game, sharing the handling duties could be a huge issue. The Lakers need a wing who can complement both Russell and Clarkson by stretching the floor, and Duke's Ingram can fulfill this role. Ingram, like Simmons, can dominate a game with the rock in his hands, but he is different in that he has the mentality of a pure scorer. Ingram's game mirrors Kevin Durant's and Carmelo Anthony's, and despite his ability to create on his own, he is a great catch-and-shoot option and is a wonderful 3-point shooter, shooting 41 percent from beyond the arc in his freshman season. The Lakers are in desperate need of a lethal scorer who can spread the floor, so Ingram is their man.
A lot of hype has also surrounded Dragan Bender, the Croatian mystery man playing for Maccabi Tel Aviv, but I believe that ultimately the first two picks on June 23 will come down to Simmons and Ingram. Neither Philadelphia nor Los Angeles is in a position where they have the luxury of drafting an international unknown at this point. The risk is just too heavy. Ultimately, Philadelphia should go with playmaker in Simmons and hope he taps into his LeBron-like potential and let the better-fitting Ingram fall into the lap of the Lakers.
Written by: Michael Wexler — sports@theaggie.org