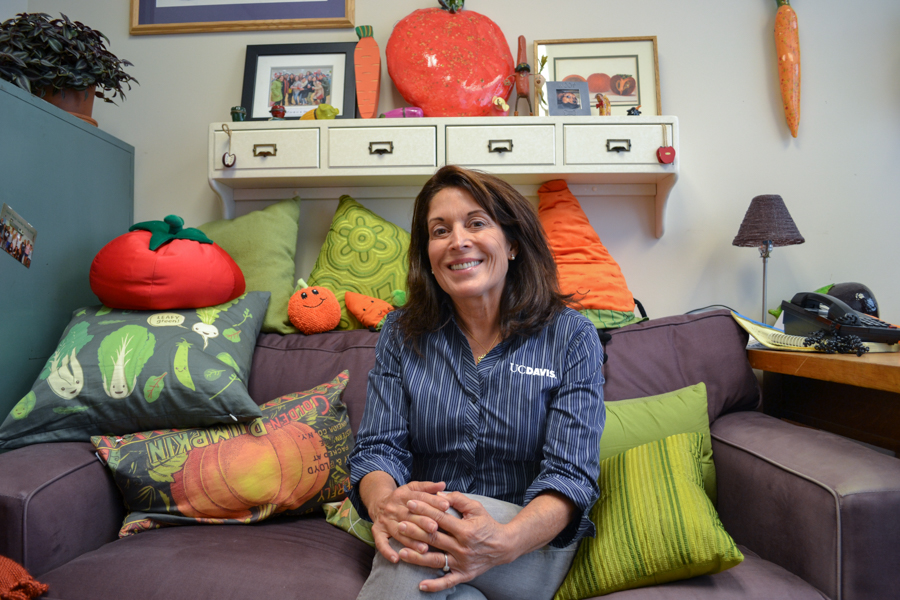 The California Aggie sits down with the UC Davis director of sports nutrition to talk about sports, NUT 10, internships and cinnamon rolls
As the professor of Nutrition 10: Discoveries and Concepts in Nutrition (NUT 10) and director of sports nutrition for Intercollegiate Athletics (ICA), Department of Nutrition senior lecturer Dr. Liz Applegate educates a broad spectrum of UC Davis students. Not only does Applegate's NUT 10 course boast over one thousand students from varying majors and backgrounds, she also works with all 23 UC Davis ICA teams. When factoring in the 31 years in which she has been teaching at UC Davis, it is clear that Dr. Applegate has made a huge impact on-campus.
Applegate's current work in sports and science reflect her educational background. She was accepted into UC Davis as an undergraduate biochemistry major in 1974, where she competed on the field hockey and track and field teams. She stayed in Davis to pursue a Ph.D. in nutrition and swam on the local swimming team when her undergraduate eligibility in athletics ended. She also raced in triathlons for a number of years.
After accepting an offer to teach NUT 10 following graduation, Applegate's knowledge of sports and nutrition made her the go-to expert in nutrition for UC Davis athletes. She was frequently asked by coaches to speak with the sports teams and was a resource for nutrition information for athletes. Eventually, her role in the athletics department became official when she was appointed the director of sports nutrition.
"I have very specific job duties now, but before it would be whatever anybody asked me to do," Applegate said.
Nowadays, her duties include giving presentations about sports nutrition to every sports team before the start of each season and meeting with people in the athletics department, including coaches, athletic trainers, the sports medicine team physician and strength and conditioning coaches. She assists athletes in improving their diets and expands their knowledge of nutrition with informational handouts. She and her team of interns also run YouTube, Instagram, and Twitter accounts that provide accessible tips for healthy eating and nutritional facts.
For Applegate, having good nutrition is as important as having a good night's sleep. However, having been a student-athlete herself, she understands that the commitment of being a student-athlete, which entails 20 or more hours a week of training, amounts to a busy schedule which can make maintaining a healthy diet difficult.
"Nutrition has a very big role [in performance], and I think that for a lot of these athletes it gives them that extra edge," Applegate said. "That's why I try to give them as much background as possible."
Adam Levie, a senior on the men's tennis team, has been meeting with Applegate regularly the past four years to go over his nutrition. Each meeting resulted in a slight change in what he ate, and the process has helped him transition to a healthier diet
"We've tweaked my diet for four years," Levie said. "The first big thing that she changed was she switched me to whole wheat. Everything whole wheat. Whole wheat tortillas, whole wheat bread, whole wheat pita chips, anything, as long as it was whole wheat it was okay."
These shifts in diet over a longer period of time allow the athletes to adjust to and enjoy the changes.
"Pretty soon, [the student-athletes are] not eating junky sweets and fast food, [they're] reaching for other foods because [they] like how they taste and [they] enjoy the way it makes [them] feel as opposed to foods that don't have good nutrition," Applegate said.
Her experience with student-athletes coupled with her extensive knowledge about nutrition has also led to a ripple effect.
"[Dr. Applegate] is completely the reason why I got so interested in nutrition," Levie said. "I love to talk to anyone about it and spread what she tells me, so that everyone that I know can learn from her."
Aside from her work with UC Davis athletics, Applegate also educates an audience of 1000 or more students each quarter in NUT 10, an introductory nutrition course taught in an online and in-class hybrid format. The course covers the basics of nutrition science and tackles topics relevant to college students, such as food labels, nutritional effects of alcohol, chronic disease risks and dietary supplements. The class also incorporates activities such as Instagram challenges and a food log project, some of which have food-related prizes attached to them like In-n-Out and Dos Coyotes gift cards. She has also given out onions to vitamin-C deficient students after the food-log project.
Like her work with student-athletes, NUT 10 has been an opportunity for her to educate students on the importance of nutrition and make better decisions based on the information they are taught.
"One of the best things for me is at the end of the quarter, after [students have] taken the final, they walk up to me and shake my hands and say 'I've lost thirty pounds because of this class' or 'I've now started exercising' or 'I never liked vegetables but now I do,'" Applegate said.
This is Applegate's last quarter teaching NUT 10 because she has been asked to develop an online NUT 10 course for all of the University of California campuses. Many of the other UC's do not have a nutrition department and their nutrition classes are taught by professors from other departments, so Applegate is making her own course virtual. While it is a great opportunity, the current workload of NUT 10, which requires her and a team of thirty others to handle, means that she can only do one or the other.
"They had asked me three years ago [to create the online course] and I said, 'Are you kidding me?' I'm 24/7 as it is," she said.
In her 31 years of teaching, Applegate has received the Excellence in Education Award, the Excellence in Teaching Award, Distinguished Undergraduate Teaching Award and the Distinguished Scholarly Public Service Award from the University of California in 2012.
Lastly, Dr. Applegate runs two internships: the Sports Nutrition Internship and the Team Davis Internship. For the Sports Nutrition Internship, she recruits 10 to 14 senior and occasionally junior nutrition majors during Fall Quarter to help with her work with the many student-athletes at UC Davis. The interns create informational handouts, maintain Instagram and Twitter accounts, create videos, give student-athletes tours of the dining commons, and some even have the opportunity to meet sports teams with Applegate and give talks about nutrition.
Third year clinical nutrition transfer student Elsa Esparza was a sports nutrition intern and often educated student-athletes on nutrition, created handouts, conducted nutrition analysis for the volleyball team and helped run the social media handles. She found the internship to be a good way to apply her knowledge on nutrition and develop her leadership skills, as well as an opportunity to learn more about nutrition from Applegate.
"I love hearing her talk about nutrition because I know that everything she says is backed up by so many years of knowledge, experience, and wisdom, so personally I really value those moments," Esparza said.
The two-quarter Team Davis Internship works with a group of special-needs individuals to improve their nutrition and increase their physical activity level through gardening. Gardening serves as an alternative activity to sports that can be used to get the participants outside and execute lessons that encourage dietary changes, such as increasing fruit and vegetable intake. Working with individuals from Team Davis, a nonprofit group that helps disabled individuals in the Davis community, Applegate and her interns gather around four plots of land in the Experimental Gardens every Saturday to garden and conduct lessons.
"It's just a great experience," Applegate said. "From the beginning when the interns started, they were quiet, they didn't know how to interact with this population and now you would think they were their kids or something!"
In her limited free time, Applegate enjoys swimming, cycling and gardening. She also writes the column "Fridge Wisdom" for Runner's World Magazine, has contributed to several nutrition related-publications and has appeared on "MythBusters", "Good Morning America", CNN and ESPN as a nutrition consultant. Also, she was also a nutrition consultant for the U.S. Olympic Teams.
Her indulgent food of choice is cinnamon rolls, and she hopes to go on her own bike tour named "On the Roll" in the future. During the bike tour she plans on visiting small town cafes around the U.S. in search of the best cinnamon roll. She has asked for recommendations from students every quarter and thus accumulated a varied list of places to go.
With her involvement in athletics, science, education and cycling, it seems that Applegate embodies some of the best things about UC Davis. While her enthusiasm for nutrition has inspired students for years, she will undoubtedly continue to do so through her new endeavors while continuing to be an invaluable asset to UC Davis athletics.
Written by: Julia Wu – sports@theaggie.org