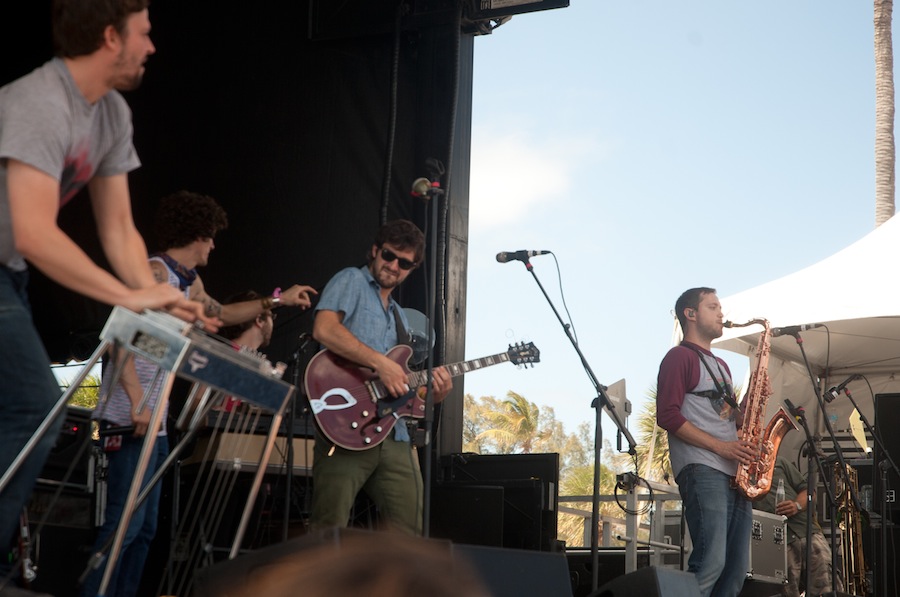 A short collection of musicians at the forefront of soul
There's a name for the genre of toe-tapping, horn dominant, on-point back-up vocals that comprise a feel good sound, and it's even aptly titled. Soul music — a well-pieced mosaic of guitar-backed blues, jazz and funky rhythms — formulates a distinct flavor of sound, and it tastes a bit like open windows, an unbearable heat and road trips kept sane by a bag of sweet cherries from the vendor down the street.
And so, in lieu of the encroaching summer, here's a few tracks that are bound to make you taste something.
"Bada Boom, Bada Bling" by Caleb Hawley
With references to both Beyonce and Hillary Clinton, a feminist message and an ironic music video to match, it's hard to pinpoint just where this song goes right. The video, shot and recorded in one take, consists of Hawley — wearing nothing but a robe and a can of beer between his legs — and a room of only guys singing, "you're gonna be my sugar mama if you wanna be my honey/Don't want no woman with empty pockets."
In an interview with CBS Minnesota, Hawley comments that "the song was very much about women running the world, you know, and so I thought what I wanted to do was have a bunch of musician dudes just hanging out…we're not doing anything, but just playing music." And that, in fact, might be where he went right.
But most of Hawley's videos withhold the same energy and hilarity; check out his rendition of "Say My Name" by Destiny's Child, featuring him mostly naked in a bathtub — guitar, bubble bath, shower cap and all.
"Come Home" by Ben L'Oncle Soul
Hailing from France, Benjamin Duterte has developed a sound that mimics his multi-language name; his songs, some in English, some in French and some in both, are solely determined by what he is feeling during the writing process. His first album, 2010's self-titled Ben L'Oncle Soul, starts off with an intoxicating cover of The White Stripes' "Seven Nation Army." Off to a great start, he has since released one other album, Walk the Line, which includes highlights like his original track, "Come Home," and cover of classic "Feeling Good."
Besides, who's more soulful than the artist whose name translates to "Ben The Uncle Soul"?
"Ain't Necessary (The Prince)" by The Dip
        This nine-piece soul group from Seattle — who released their first EP on BandCamp, Won't Be Coming Back, and also a more recent full-length, self-titled album in 2015 — have a horn section like no other, and a sound brimming with an energy that leaves listeners more than satiated. This track best embodies these qualities, but standout "State Line" similarly impresses. Though the song is built around lead singer Tom Eddy's voice, it also boasts a deliciously smooth saxophone solo.
You can catch these guys this summer throughout the Bay Area, or even at The Torch Club in Sacramento this July.
"Wish I Knew You" by The Revivalists
Hailing from New Orleans, this track by the roots rock group has the necessary jazzy horns and blues influence to classify it as soul, but goes above and beyond with its catchy chorus, which sounds like something from an older (and better) Maroon 5 album. With a heavier rock influence than their other tracks, their earlier releases more prominently reflect their New Orleans' influence.
Tracks like "Soulfight" — with a jazzy piano intro that seamlessly leads into the first introduction of vocalist, David Shaw's voice — and "When I'm Able" are more indicative of the soul influence from this early work.
"Let's Stay Together" by William Bolton
Interestingly, the soulful sound of Bolton's music is really only found in this track. As primarily an experimental hip-hop/R&B artist, he still manages to successfully fuse the two. This track is the best example of this — with soul playing at the forefront and hip-hop only taking shape in his rhythmic verses — whereas in his other tracks, it can be found in reverse. Despite this, the soulful backup vocals in this track are an impressive testament to his diverse sound, as well as his willingness to experiment.
On tour as an opener for Chris Staples, East has only begun his inevitable rise to well-deserved recognition. With the idyllic raspy, soulful voice for his tracks, which are held up by the funk-infused keyboard-horn combination, his lyrics are similarly hard-hitting. As he half-grunts half-belts, "It's gonna take more to satisfy me," you really do have to wonder if he "has a Ph.D. in TLC."
Other noteworthy tracks: "What You Don't Do – Tom Misch Remix" by Lianne La Havas, "Play Around" by Lawrence, "Upside Down" by Goldford, "Wait for the Moment" by Vulfpeck
Written by: Ally Overbay — arts@theaggie.org