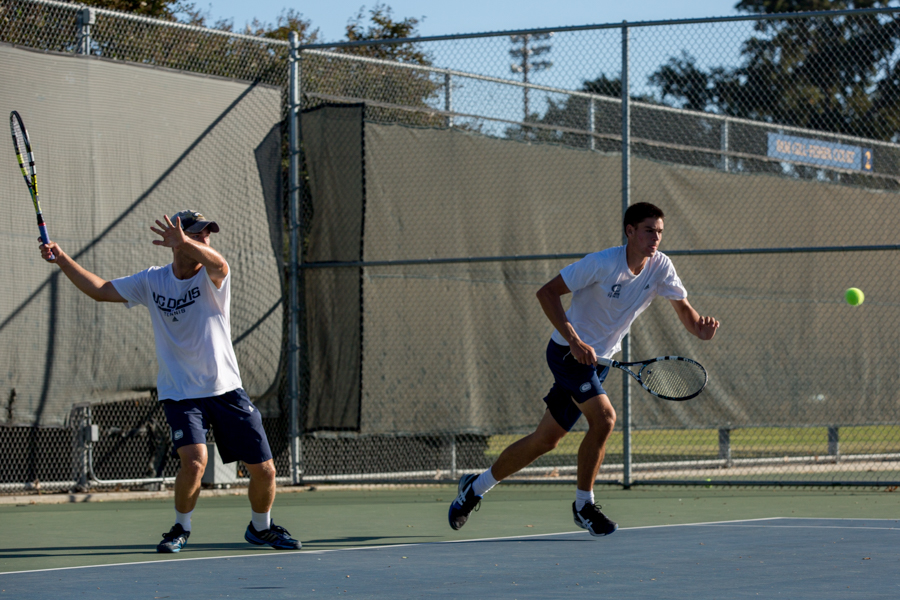 Improving their 13-3 record at the end of last quarter to 17-7, the UC Davis men's tennis team continued their tour de force in collegiate sports. With junior Alec Adamson being the first UC Davis recipient of the NCAA's 2016 Big West Conference men's tennis player of the year, and five other Aggies named to All-Big West teams, there is no doubt that the UC Davis men's tennis team is once again The Aggie's choice for men's team of the quarter.
The team's overall success has resulted from its experienced roster. Only two of the nine members of the team are sophomores, gaining vital experience from last year, and the rest are upperclassmen.
"We had the same team as last year," said senior team captain Brett Bacharach. "I think that helps just because everyone has the confidence that we can do it all again."
This confidence in individuals and members of the team as a whole paid off, netting the Aggies big wins against the University of San Francisco and Portland – first time victories in Aggie program history.
Their work this season put the Aggies in the third seed for the Big West Conference. Their glory-run ended in the semifinals against second-seeded Cal Poly. Not making it easy for the Mustangs in any set, the Aggies put forth marathon performances, splitting the doubles points in a contest that lasted three hours. The Mustangs barely edged out the Aggies in singles to advance to the finals, winning with a score of 4-3.
Proud of their results but definitely not satisfied, the Aggies look forward to their three new recruits to help the team perpetuate their recent successes.
"[This is] the first time we've had some new guys come in in a while," said head coach Eric Steidlmayer. "We're going to have an extremely deep team, so that's going to be great for our practices and competitive level."
At the end of this year, the Aggies will be losing two of their current players, seniors Bacharach and Adam Levie. Yet, the Aggies are really only losing one of their players; Bacharach will continue his studies at UC Davis and will work to assist the team from more of a coaching position.
This leaves the team with plenty of the ingredients to repeat this season's successes next year.
"I hope just to be a contender in the Big West, and our goal is to win the Big West Championship, so we'll be building for that," Adamson said.
Written by: Aaron Sellers and Nicolette Sarmiento — sports@theaggie.org