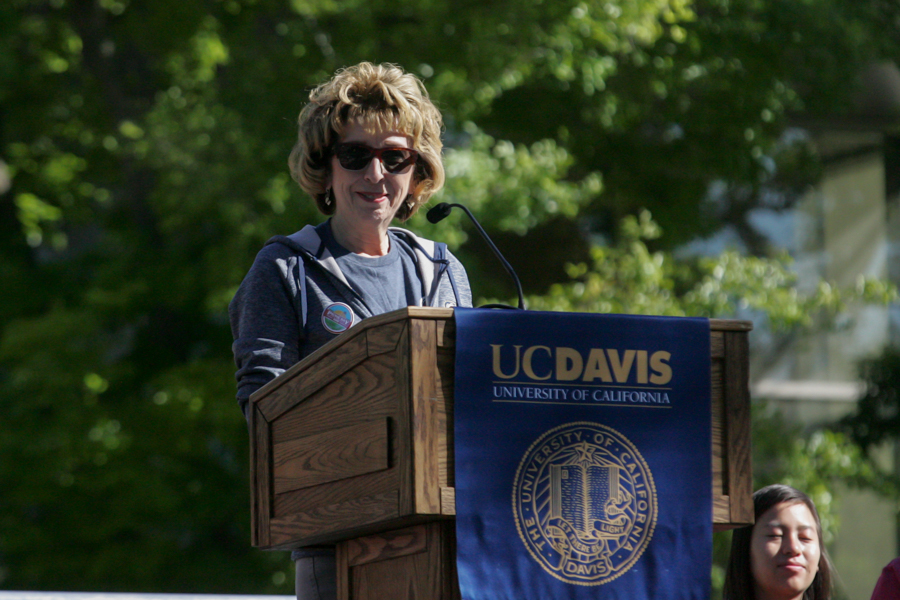 After a nearly month-long silence following her placement on administrative leave, Chancellor Linda Katehi sent out a simple tweet Tuesday: I'm coming home. Katehi also followed the message with the horse emoji and blue and yellow hearts.
UC Davis announced that its keynote speaker for the College of Engineering's graduation will be its disgraced chancellor, who got in trouble for serving on for-profit boards while heading a public institution.
The university's officials explained that they wanted to give Katehi a second chance. Given the high amount of scrutiny that the chancellor has received in recent months, the administration hopes to see this as an opportunity for Katehi to clear her name with the students.
"We are excited for Linda to come back. She is a dear friend of mine," said Lauren Barajas, vice president of event services. "Linda is doing this for free. She really wants to come back and talk to her students."
Katehi has yet to release a formal statement on her return, and students feel skeptical.
"She betrayed us. That's it. I don't know why the school is using this as a time to have her talk to us. There's not much more I can say," said Arthur Turner, a graduating fourth year biology major. "Some of my friends are thinking about walking out once she begins to speak. I want to give her a chance, but I hope she doesn't take this as an opportunity to justify herself. It happened. We will move on. Motivate our bright young minds for the real world."
Students released a list of talking points to The Aggie that they think Katehi should speak on. The list included ways to double your salary and how to turn a small brand into a global brand. She will also speak on how to have a clean social media record and how to win in hide and seek.
Most students feel as though this is another controversial move on the university's part, even though it gives the chancellor an opportunity to come back. She has tried to defend herself, and this gives her the outlet to do so and show that she is human.
Regardless, this is a risky move from the powers-that-be at UC Davis, and it might not be the right time or the right place. But it is happening. Students should respect their graduation speaker.
It isn't something that students should protest. If her speech does not fill the students' desires, then everything that was said can be reaffirmed. But if the Chancellor comes back with some fire, then maybe, just maybe, she can be accepted by the thousands of students that she let down.
You can reach ETHAN VICTOR blah blah blah email blah blah blah ejvictor@ucdavis.edu and blah blah blah Twitter @thejvictor.