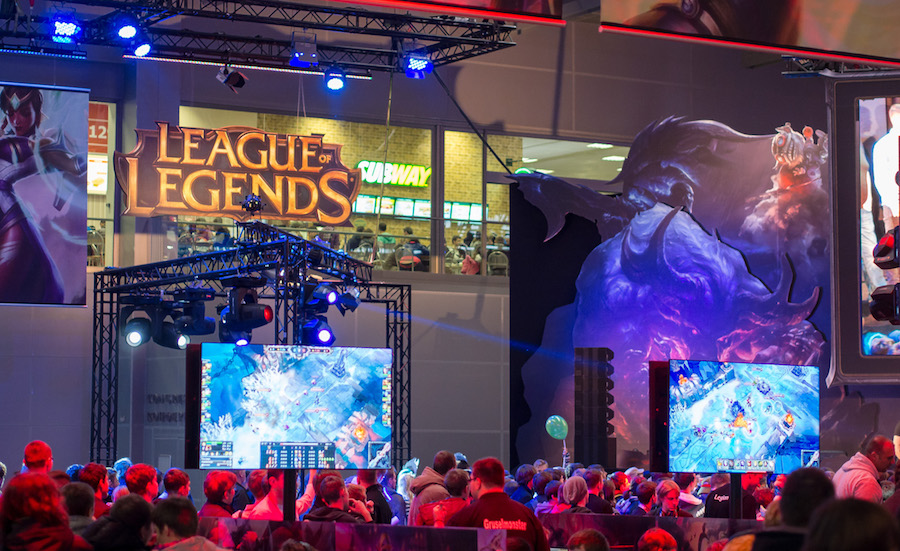 Understanding League of Legends and its popularity
Although League of Legends is commonly referred to as LoL, the acronym for laugh out loud, the game is no laughing matter. League of Legends is such a popular game, especially on college campuses, that a lot of people have heard the name, but most still don't know how to play or understand why the game is so big.
LoL is an online multiplayer computer game developed by Riot games; it is free and anyone can download it here and start playing. People can play solo and be matched with others around their same skill level, or invite their friends to join their teams. Teams of five players are assembled and players are taken to a lobby where they can select their characters, called champions, and strategize and choose roles in the lobby chat room. Each team is then assigned a side of the map.
Players push down the three lanes heading toward the other team's nexus, which must be destroyed in order to win the game. In each lane, there are turrets and computer-controlled minions that shoot or attack players on the opposite team. Players must kill enemy minions, fight the other team's champions and destroy the enemy turrets before they can destroy the enemy team's nexus. Between the three lanes, there is also a jungle interspersed with monsters.
Andie Tonnu, a fourth-year psychology and graphic design double major, as well as the president of the League of Legends club at UC Davis, said that game can be compared to capture the flag.
League of Legends, as well as e-sports in general, are increasing rapidly in popularity. This fall, UC Irvine will launch an e-sports initiative, the first of its kind at a public research university. The initiative will create a state-of-the-art gaming center on campus, a stage for competitions as well as a live webcasting studio, and as many as 10 academic scholarships for students on the team.
The game is also popular on the UC Davis campus, with the League club drawing novice and experienced players alike. However, for newer players (such as myself), all of the characters, builds, roles and even terminology can be utterly overwhelming to learn.
"I suggest new players check out Reddit for help, as well as meet other LoL players. New players can also read the new player guide, the General Strategy Guide: LoL Essentials," said Eva Tran, a third-year managerial economics major.
The club hosts tournaments, has gaming socials on campus and online and has LoL trivia nights. There is also a tutoring program for LoL developed by Andrew Linaac, who learned the game through a similar program and wanted to promote socialization in the club and help people get better at LoL.
"It's not just for people who have played the game over the course of two or three years," Linaac said. "It's more or less of a welcoming entity in the club."
Those in the program get paired with a tutor that will personally help them learn how to play League and improve their gameplay.
LoL has become prominent mostly because it is so ridiculously addictive. For example, I tried to play a match, died more than anyone else on my team and didn't get even one kill…and I still played four more matches after that. With League, that sort of addictive fun never seems to wear off.
Andie Tonnu thinks that one of the reasons why people like the game at first and still like it enough to be playing years later is because the game is always changing.
"Even people who are brand new get really into it really fast and there are people who have been playing it for years that are still really into the game," Tonnu said. "They're always updating, changing the play style and the characters. It's a very dynamic game, which keeps people coming back to it. There's always something more to learn."
The dynamic, ever-changing aspect of this game has also made it a popular e-sport to watch live.
"There are more people that watch the LoL world championship than the Super Bowl," Tonnu said. "People don't realize how big e-sports are until they really get into it."
Another thing people don't realize about e-sports is why players take the game so seriously — isn't it just a game? But for League, players can play ranked matches in order to enter the game's ranking system and move up in the tiers. Players that are in the top 200 in their server are in the Challenger tier and are likely to be sought out by company heads and sponsors.
Professionals play League with their teams, watch the matches replay videos, then strategize so that they can proceed to another match. It is a paid full-time job where players go to tournaments paid for by companies and sponsors. Andrew Linaac believes this possibility of making a career out of the game is what motivates many players to be so dedicated to getting better at LoL.
"Because there's a chance for anyone to become professional, people want to take that seriously," Linaac said. "They want [to be the] 22-year-old kids that are making so much bank playing a video game all day."
League of Legends can be downloaded online and is free to play. For advice on how to play, see the r/summonerschool Subreddit, read the General Strategy Guide: LoL essentials or join the League of Legends club at UCD.
WRITTEN BY: Sofie Bates — arts@theaggie.org