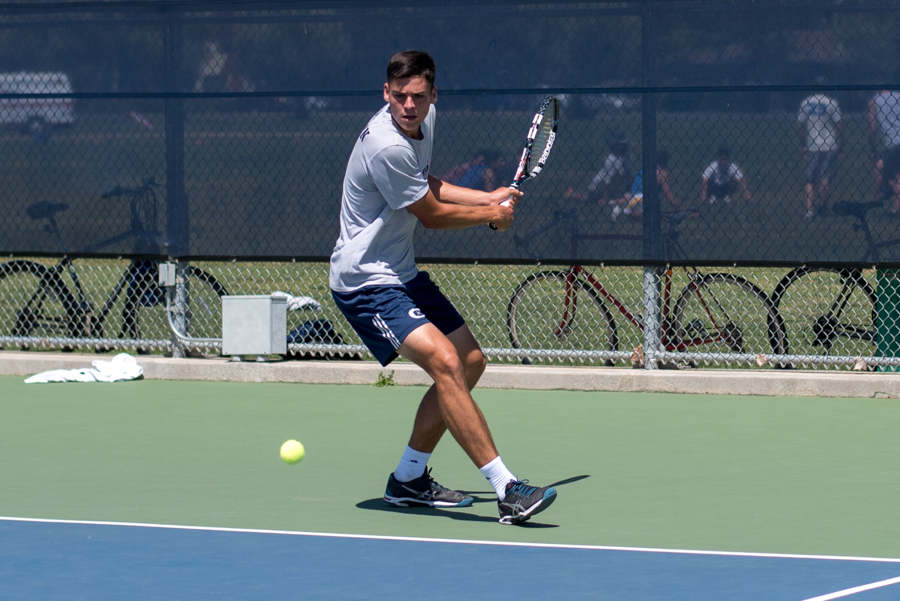 After a record-breaking junior season, tennis phenom Alec Adamson was showered with multiple post-season awards: first team all-league singles, first team all-league doubles, Big West Player of the Year, and most recently, the highly coveted California Aggie's choice for Male Athlete of the Quarter.
Although Adamson received first team all-conference honors for his singles and doubles play last year as well, he became the first Aggie to earn the league's player of the year award and first ever to receive a national ranking at the Division I level. The 6'4" junior out of Corona del Mar finished the 2016 season 20-15 overall and 11-9 in dual match play.
After an 0-6 start to the spring season, Adamson caught fire, winning seven straight matches and 11 of the next 12. In doubles play, Adamson and his partner senior Adam Levie finished 13-9 overall in the No. 1 spot in the UC Davis lineup.
"Honestly, [Adamson] is one of the hardest working people I know on and off the court. He puts in all the extra time our coaches hope that we do," Levie said. "[Even when] they don't ask us, he does it anyway and it shows in all his successes over the last couple of years."
After the historic regular season, Adamson was selected as one of only 64 players from across the country to compete at the 2016 NCAA Men's Tennis Championships as the lone representative of the Big West. Although Sam Shropshire of Northwestern ended up beating Adamson in a three-set battle, 7-6 (5), 4-6, 7-5, in the first round of the NCAA Singles Championships at the University of Tulsa, Adamson viewed his postseason experience as a success.
"It was probably one of the coolest tennis experiences I've ever had — playing Court 2, with lots of fans watching and competing in a great match," Adamson said. "A three-setter against a really good player and I also played well, so there was a lot to be proud of."
The UC Davis men's tennis team as a whole celebrated the most successful season in the program's Division I history, finishing 17-7 overall, good enough for a national ranking of 71. The Ags ranked as high as No. 49 earlier in the season and secured more single-season victories than any team since the 1991 team finished 18-5. Looking to next season, head coach Eric Steidlmayer hopes to build on the success of this season.
"We're going to have an extremely deep team [with the addition of three new freshman] so that's going to be great for our practices and competitive level," Steidlmayer said. "Our goal is to do it every year and hopefully we can continue with the level that we brought this season but even build upon that as well."
As he heads into his senior and final season at UC Davis, Adamson is setting his sights on a Big West championship.
"I'm just really looking forward to building on this year and trying to go out strong," Adamson said. "We have five seniors so hopefully we can just go out and give it everything we've got and try to go for that Big West Championship."
Written by: George McConnell and Julia Wu — sports@theaggie.org