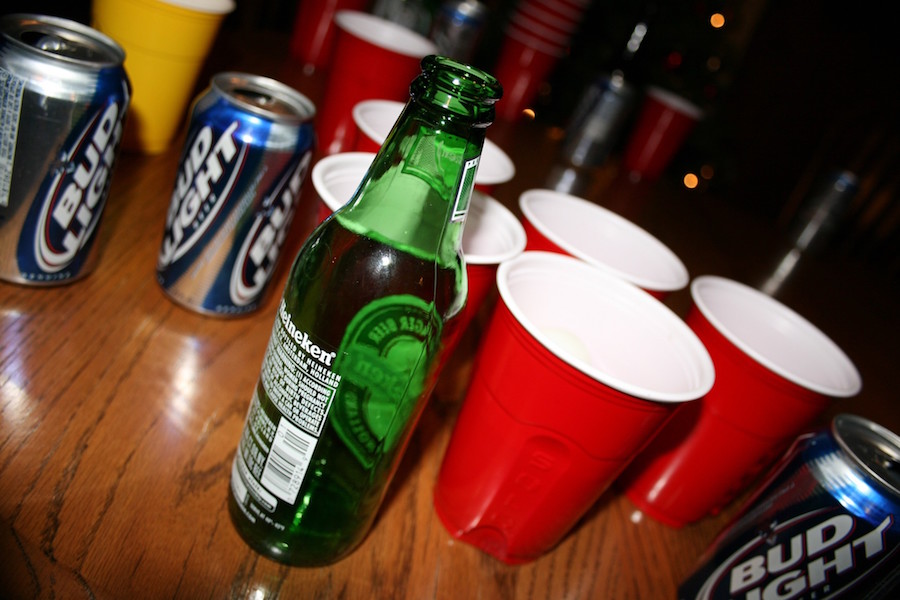 Ex-fraternity members, University officials discuss the impacts of hazing.
One chilly night last spring, a group of Phi Alpha Delta (PAD) candidates used all of their strength to roll fifty pound boulders onto the side of the I-80 freeway. Their task was to spell the letters Phi Alpha Delta with the hefty boulders, while members and alumni watched in amusement.
The members hadn't prepared candidates for the group activity that night, commonly known as "Rocks" to some fraternities and sororities across the UC Davis campus.
Candidates were told to dress in athletic clothes, though they weren't informed that they would be outside the whole time. The candidates were forced to participate in strenuous physical activities, as members and alumni shouted comments like 'Go faster!', 'We're going to be here all night!' and the inspired 'F*** you!'
Unfortunately, this experience of hazing doesn't seem to be an uncommon one for students involved in UC Davis Greek life. In the last four years alone, several fraternities and sororities (including Chi Ro Omicron, Pi Alpha Phi and Lambda Phi Epsilon) have been suspended or placed on Revocation of Registration for acts of hazing, like many allege that Phi Alpha Delta had been doing.
Courtney Robinson, Assistant Director of Policy and Conduct at UC Davis Student Housing, oversees fraternity and sorority conduct, and admits that hazing investigations can be difficult to pursue because students are so reluctant to come forward.
Still, Robinson takes any report of hazing seriously. While protecting the identities of reporting parties, one of her first actions is having a conversation with the group in question and allowing members to respond. Reporting parties have the option to remain anonymous.
"If it's more likely than not that something happened, then the party is held accountable," Robinson said.
In the case of UC Davis' former pre-law fraternity, PAD, five members decided to come forward with allegations of hazing in the fall of 2015. A majority of them attributed their departure to the jarring behavior of many fraternity members. Shortly after their exit from PAD, the fraternity was put under investigation for acts of hazing. It was at that point that remaining the PAD members decided to abandon their organization in favor of a new, emerging pre-law organization, Kappa Alpha Pi (KAPi).
This isn't the first group to shut down a PAD chapter in pursuit of KAPi. UC Berkeley and UCLA students — among others nationwide — have initiated KAPi chapters, claiming various benefits unique to the KAPi organization. As of now, UC Davis officials have stalled registration of the petitioning Davis chapter of KAPi, since many group members are under scrutiny for their actions in PAD.
The Dirty Deeds
From beginning to end, former PAD members agree that the rush process was pretty unpleasant.
"I think it was a bit excessive. It's like a whole quarter that you have to be doing 'homework assignments' and athletic things," said third-year political science and gender, sexuality and women's studies double major student, who prefered to remain anonymous.
She rushed PAD in spring 2014.
According to former members, PAD justified their actions through the Order of the Red Carnation (ORC), a process that requires candidates to prove their loyalty through a series of unpleasant tasks. Despite the international organization's regulations against it, the UC Davis chapter made it a requirement for incoming members to follow ORC if they wanted to have a voice in the organization.
"[The UC Davis chapter of] PAD did things differently from what internationals wanted us to do," said Blake Whitacre, fourth-year political science major, former president of PAD and current president KAPi.
While the international board of PAD mandated that membership was open to all due-paying students, the UC Davis chapter decided to use two types of membership: inclusive, for the people who generally wanted law school advice, and exclusive, for those who wanted to participate in more 'fraternal' activities in addition to professional ones, Whitacre said. Those who participated in all activities were rewarded with exclusive membership, which allowed a person to run for office within the fraternity and socialize openly with other members.
The "homework assignments" given by PAD members ranged from researching types of law and law schools for members, to more extreme cases, like attending "Rocks" and a party the night before the LSAT, the anonymous student said. It was also required that candidates shook the hands of members when they approached the candidates.
"You had three strikes. If you didn't do an assignment or shake someone's hand, then you would be dropped or disregarded," the anonymous source said.
Not only could these activities be construed as hazing due to their seemingly derogatory nature, but some of them also proved to be hazards to the candidates' well-being. One former PAD candidates reported having smashed a finger during Rocks, but I didn't want to "make a big deal" by going to the emergency room.
PAD is certainly not the only group to engage in hazing, and it definitely doesn't employ the ritual of Rocks as harshly as some other fraternities and sororities on campus, according to Robinson.
"I've had reports of [a group that's lost its recognition] doing it in the middle of the day in 104 degree weather," Robinson said.
The all-male fraternity was placed on Revocation of Registration in 2012 for hazing, among other things.
"The problem is that it's forced physical activity," Robinson said. "Even if the older members help out, there can be a coercive component to it, and that's what makes it an act of hazing."
The Psychology
There are a number of reasons that groups haze, according to Robinson, categorizing these reasons as both psychological and perspective-based.
"Sometimes they do it as a way to prove that you're worthy of membership. There's also the thought of 'this is how we bond.' And sometimes there's a power dynamic involved," Robinson said.
She also noted that an organization's decision to haze is often fed by alumni's value for tradition.
"Many want students to experience what they experienced as undergrads," Robinson said. "Rather than working with the University to correct the behavior, they encourage it."
This could explain sightings of alumni at PAD's annual Rocks ceremony.
"There were alumni drinking and watching us with the members, if you can believe it," the anonymous former PAD member said.
Former PAD member, fourth-year history and philosophy double major Joseph Wetherbee, described the influence of alumni as "an 'invisible hand' type of a force." That is to say, the fraternity would try to intimidate younger members with the idea that PAD alumni would disapprove of any behavior that went against senior members.
Wetherbee rushed the fraternity in fall 2013 and just recently left in fall 2015, concerned that the fraternity's abusive practices had gone too far.
The former members mainly attributed PAD's dysfunction to the power dynamic Robinson described.
"As a whole, the reason why I think [hazing] occurs in general is that people's positions go to their heads," the anonymous former member said. "Just a little bit of power goes to people's heads […] and it all gets out of control very quickly. I think that's what happened in Phi Alpha Delta."
Whitacre admitted that last year's leadership in Phi Alpha Delta "sucked," but he was quick to add that the up and coming KAPi is looking for a culture change for the pre-law fraternity, given the chance.
"Last year at Rocks there were people yelling [at the candidates], and that's wrong," Whitacre said. "I don't stand for that. I would have shut it down."
The Policy
While Robinson doesn't believe in a zero tolerance policy, she does follow a strict set of guidelines when dealing with potential cases of hazing.
"When we get a report from third-party observers, from students who have directly experienced [hazing] or from others who have been a part of the group, we will talk to them to find out what the behavior was that may have constituted the hazing," Robinson said.
After conferring with both sides, the reporting party and the current president of the group in question, the University determines a course of action. And since UC Davis is dedicated to gaining a full scope of the situation, anyone with knowledge from either side of the issue is welcome.
"Even if the behavior occurred in the past, we bring in the current president. But if that person wants to bring in other officers with knowledge or, say, a past president, then he or she is welcome to do so," Robinson said.
Robinson also noted that the university doesn't merely look at the physical implications of hazing; it considers psychological impact as well.
"The voluntariness of the act isn't really relevant. If someone comes in and says, 'They made us sleep in the basement for the night, and it really freaked me out,' then we can potentially consider it as hazing," Robinson said.
If hazing is proven, an organization can face either suspension or Revocation of Registration.
"The most severe thing we can do to a student group is revoke its recognition," Robinson said. "When we revoke a group's recognition, we generally do it for a period [of] no less than five years so that we can get the culture to change."
The goal is for old members to graduate, so that the negative culture of the organization can change with new membership. Whether or not the group continues to operate despite its Revocation of Registration also plays a role in determining the extent of punishment.
"If a group is continuing to operate, then concerns might still exist," Robinson said.
Suspension is often a temporary solution implemented to keep a group from operating while the university is still investigating.
The Impact
"I just don't want anyone to die," Robinson said.
And while there haven't been any incidents at UC Davis in which a student has died as a result of hazing, the assistant director reminds herself and others of the possibility of going too far. She gave a 2005 case at Chico State as an example.
The incident led to the death of Chico State student Matthew Carrington, whose brain swelled and heart failed after being forced to drink an excessive amount of water. Four of Carrington's Chi Tau (XT) fraternity members pled guilty to involuntary manslaughter, and his death ultimately led to to the passing of "Matt's Law," an ordinance of the State intended to regulate the consequences of hazing.
"I think of it because I'm sure the fraternity brothers didn't think there would be any harm in forcing someone to drink water, and yet, a person died," Robinson said.
In general, former PAD members support the school's idea for a slow culture change, and it seems that University officials are, more or less, on the same page as the ex-members. Since there is a connection between KAPi and PAD, the University has delayed its approval for registration, according to Robinson.
"If a year down the road, membership is totally different, then the University would probably let them register," Robinson said.
The Prevention
So, what should a student who is subjected to hazing do? For one, "having the wherewithal to say 'no' in the moment" can be powerful," Robinson said. Reporting to the University is always helpful in terms of helping to prevent an emotionally abusive culture in UC Davis social groups. But she acknowledges that either of these actions are easier said than done.
"Support services will come into play once a person reports," Robinson said.
With this support, students are able to work through feelings of isolation. Additionally, there are a few things the University is doing to educate groups on the harms of hazing, according to Valerie Lamarre-Laurent, sorority and fraternity life coordinator at UC Davis.
"We work with national and international organizations to make sure the fraternities and sororities are abiding by all policies," Lamarre-Laurent said.
In addition to requiring all members to fill out the standard anti-hazing form, the coordinator focuses on new member education.
"At the end of the day, our goal is to keep students safe," Robinson said. "I don't want anyone's college experience to be destroyed because of hazing."
Written by: Hayley Prokos — features@theaggie.org