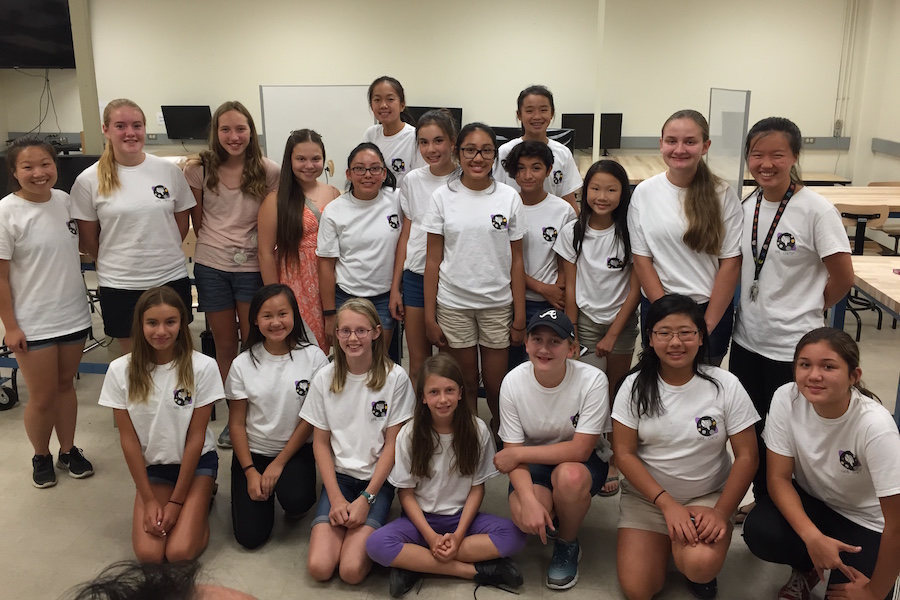 UC Davis hosts C-STEM GIRL Camp, teaches young girls programming, robotics, leadership skills
The UC Davis College of Engineering hosted its fourth annual C-STEM Girls in Robotics Leadership (GIRL) Camp this summer. The GIRL Camp is a week-long program that teaches 7th and 8th grade girls the principles of engineering and technology through problem-solving activities.
The campers learn about programming in the Ch language, a user-friendly C/C++ interpreter and by using Linkbots, a modular robotic platform created as an introduction to robotics for young engineers.
Participants are given a real-life problem, such as marine pollution, and must brainstorm how their robots can find a solution. The camp also strengthens the girls' leadership and public speaking skills by having them display their solutions in a video presentation.
The GIRL Camp was founded by UC Davis engineering professor Harry Cheng in hopes of giving young girls a head start in C-STEM education.
"The GIRL Camp is geared towards the girls solving a problem, such as a problem of global impact and presenting [their solutions] using video," Cheng said. "The girls learn about robotics, the basics of engineering and computer programming. They also learn about women in C-STEM and improve their confidence by taking on leadership roles and working in teams."
Since kickstarting in 2013, the program — free for those accepted — has seen an increase in interest and applications. The GIRL Camp has also expanded to different locations in northern California, including Woodland, Sacramento, Mt. Diablo and Benicia.
"This year, we really wanted to work with the school districts to bring the camp to them and make it convenient for the students," Cheng said. "We wanted to give girls an opportunity over the summer to create a background of technology to bring back to their classrooms during the academic school years."
The campers begin the week with little to no coding knowledge, and are taught the Ch language as they learn to control the Linkbots. The girls use teamwork, creativity and determination to figure out how to solve their assigned problem. According to Cheng, by the end of the week the girls are noticeably more confident in their programming and leadership abilities as they present their solutions to the other campers.
Muntaha Samad, a fourth-year computer science major and statewide director of the GIRL Camp, recalled a camper who was inspired by her experience at the camp to work on developing her own app.
"It was really amazing to me because we didn't even teach [the campers] how to build apps," Samad said. "It's just the confidence of 'I know I can do this!' that was instilled in her went beyond the programming we taught at camp. It was really great."
In addition to team building exercises and public speaking practice, the GIRL Camp also has women in C-STEM careers present empowering lectures to the young girls.
Samad was motivated to get involved with the GIRL Camp after noticing a lack of female students in her college engineering classes.
"Looking around my classrooms, I didn't see the ratio of women to men that I would have liked to see," Samad said. "That's why I wanted to get involved with the GIRL Camp — I wanted to combat that problem."
At UC Davis' GIRL Camp, the campers also have the opportunity to explore campus and imagine themselves as college engineering students. Cheng hopes that this will encourage the campers to pursue higher education and C-STEM degrees in the future.
"I think it's really important to start the students off young and implant that idea of what it's like to be an engineer," said Ada Liu, a third-year mechanical engineer major and UC Davis GIRL Camp coach. "The idea of engineering can be really abstract and almost scary, and I think this camp is a really fun way of introducing [engineering] to them."
Cheng hopes that the GIRL Camp will continue to expand to different school districts in the future.
"We really hope that through this program the girls will pursue engineering majors and careers in the future," Cheng said. "The GIRL Camp is only the beginning of C-STEM enrichment. It's not just a one-week program; it looks into the bigger picture of the C-STEM program."
Written by: Emma Sadlowski – science@theaggie.org