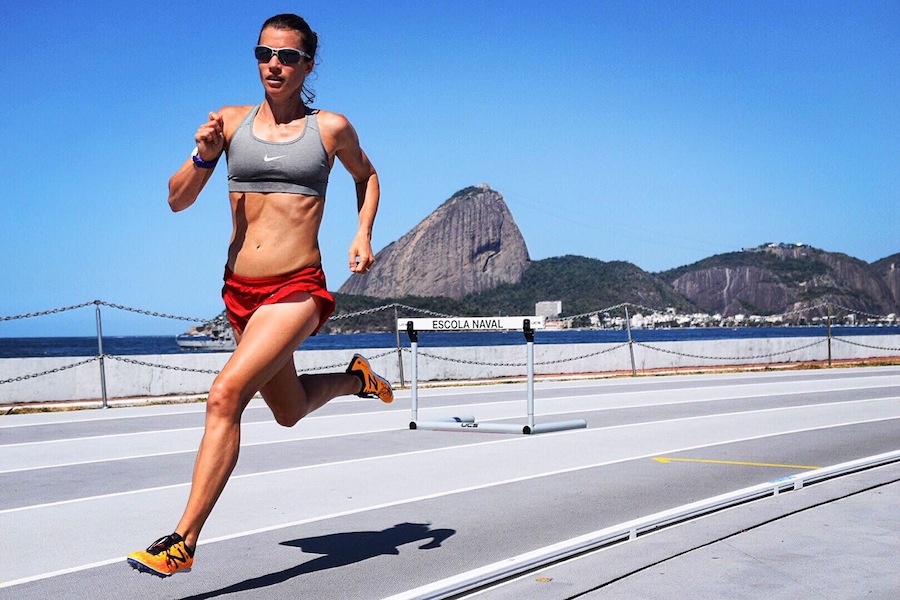 UC Davis alum heads to the Olympics in Rio de Janiero, Brazil, but falls short in 5,000m heat

It is the greatest sports competition in the world where athletes from across the globe compete in pursuit of being crowned the greatest in their field. This year, the Olympic Games made their way to Rio De Janeiro, Brazil, and so did UC Davis alum Kim Conley.
So, who is this athlete that made it to the 2016 Olympics?
Conley grew up in Santa Rosa, California, and began running at UC Davis in 2004. She was one of the first Aggies to qualify for the NCAA Division I Championship, earning all-conference honors three times. She was Division I Independent champion twice in addition to All-West Region, and in 2008 she received All-Big West Conference accolades.
Her time of 16:17:51 at the NCAA Track and Field West Regional in the 5,000m in 2008 is a current school record, and she ranks number two on the UC Davis all-time ledger. She is ninth in the outdoor 800 (2:10.73) and 3,000 meters (9:45.85) and holds the indoor record for the 3000m (9:19.16).
"She's definitely a leader, you want to follow her," said Lorin Scott, a former teammate of Conley's at UC Davis.
Conley began her professional running career with SRA Elite in Sacramento. Before A graduating in 2009 with a degree in exercise biology, she decided to run professionally during her fourth year at UC Davis when she saw a fellow competitor from Stanford do the same.
Conley is coached by Drew Wartenburg, a former UC Davis track and cross country coach who is now director of Track and Field and Cross Country at the university.  
"It was clear she had a determined sense of pursuing goals," Wartenburg said. "There was a piece of her determined to succeed. She used it to drive herself."
In 2011, Conly placed eighth at the USA Cross Country Championships and 10th in the 5,000m at the USA Outdoor Track and Field Championships. She has also set personal best times in the 5K (15:38.13) and the 1,500m (4:12.05).
Conley made her first Olympic team in June 2012, when she finished third in the 5,000m Track and Field Trials.
"In 2012, she was a surprise to make that Olympic team," Wartenburg said. "All the preparation she had done put her in a place to contend. While we were excited, it was still a surprise."
When she reached the 2012 London Olympics, she set a personal record of 15.14.48, coming in twelfth in her heat.
"I was so happy to be there in 2012 — it was very exciting," Conley said. "I enjoyed the moment but took it seriously and set a personal record [and] I was excited for what the future may hold."
After London, she competed in the 2013 IAAAF World Cross Country Championships in Poland and the IAAAF World Track and Field Championships in Moscow, finishing 12th in the 5,000m.
At the the Olympic Trials this year in Eugene, Oregon, Conley came in third with a time of 15:10.62, earning her a spot on Team USA.
"I was so happy. I wanted to make it in the 10K but someone stepped on my shoe and I had to stop to put it back on," Conley said. "I turned my attention to the 5K. There was definitely a feeling of relief."
That relief was not only felt by Conley, but also her family and friends who supported her throughout the trials.
"I'm so amazed at how far she has come and how hard she has pushed herself. She has really taken it to that next level," Scott said. "It makes me really proud to know I got to run with her for a little while."
In Rio, Conley ended her trip at 12th place in the 5,000m heat (15:36:00), which was not quite enough to advance to finals. The 2020 Olympic Games in Tokyo are still a possibility for Conley.
"I intend to be competing in 2020 and hope to be contending for a spot on the team," Conley said. "I am running my first marathon this fall, [so] I could be back on the track in 2020 or competing in the marathon."
Nobody sounded more excited to add to Conley's comments about the future than Wartenburg.
"I think [Conley] has a tireless will to prepare, which makes a huge difference," Wartenburg said. "Part of the fun is the unknown of where the end game will be. […] In the sense of longevity, in 2020 at age 34, who knows. I think this [running] is such an environment that she thrives in. In 2016, she is nowhere near thinking about any kind of swan song, so it's full steam ahead for the immediate future."
Written by: Ryan Bugsch – sports@theaggie.org