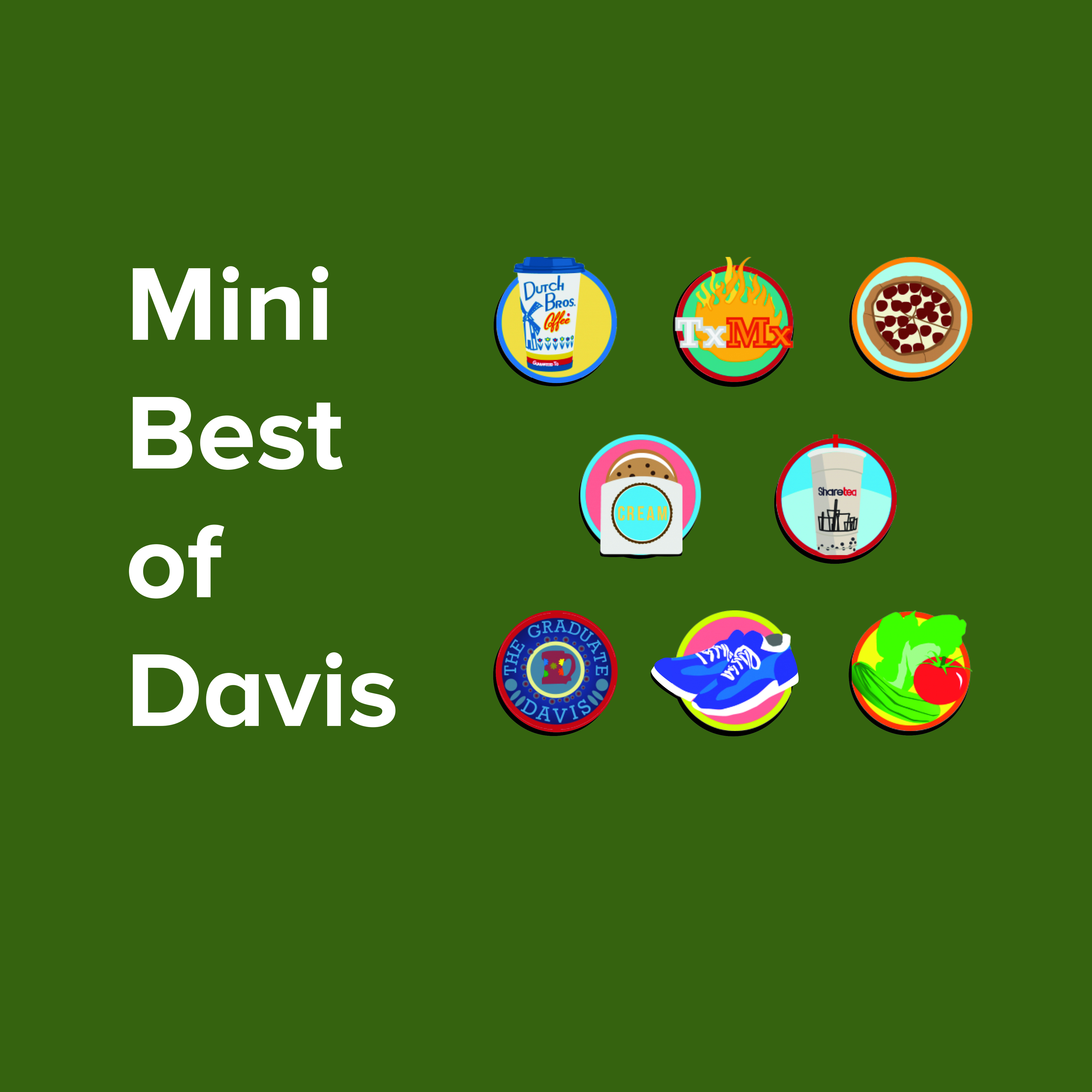 The Aggie revisits last spring's "Best of Davis 2016" polls
Need some ideas for delicious snack spots and fun activities during Welcome Week? Look no further — The California Aggie has the answers right here!
Last Spring Quarter, The Aggie distributed polls to determine the "bests" in the city of Davis, from "Best Pizza" to "Best Place to Dance." Below are some notable winners from The California Aggie's 2016 "Best of Davis."
Best Coffee: Dutch Bros
Located in South Davis, Dutch Bros is a drive-through cafe that provides coffee for commuters, bikers and pedestrians 24 hours a day. Not only does the cafe offer a wide variety of sweet, tasty coffee drinks like the "Kicker" and the "Caramelizer," its staff is also known to be very friendly, welcoming and sociable.
"Whenever people come here, it's not just about the coffee; it's about the experience," said Jimmy Gibbs, a Dutch Bros employee. "When someone pulls up to the window, it's our job to make sure that that person is leaving with a better day than they had when they got here."
Best Coho Food: TxMx Grill
The ASUCD Coffee House, better known as "the CoHo," is a prominent eatery on campus located by the Quad. The CoHo marketplace is comprised of stations that serve diverse foods ranging from quiche to pho. The station that stands out for the "Best CoHo Food," however, is TxMx Grill.
TxMx Grill serves a wide variety of Mexican-American dishes including taco salads, burritos and quesadillas. Its proximity to dorms and classrooms, inexpensive prices and delectable foods make it one of the most popular on-campus lunch spots for students.
    "The Coho is my favorite place for food on campus because of the variety it offers, and I eat at TxMx most often," said Kendall Larson, a fourth-year English and classics double major, in an email interview. "My life would not be the same without their taco salads: they are delicious, and only $3 without meat, which is perfect for a student on a budget!"
Best Pizza: Woodstock's
If you're hungry for some fresh-baked pizza, Woodstock's Pizza in Downtown Davis is the place to go! The company opened its first pizza parlor in Corvallis, Oregon in 1977. Since then, Woodstock's has opened restaurants in seven cities throughout California, including Davis.
Its secret sauce recipe and sauce-filled crust makes Woodstock's pizza a unique, delightful dining experience. In addition to savory combos like "Kickin' Carnitas" and "Pesto Primavera," a signature dessert pizza, "CinnaBread," is also offered on the menu. Additionally, in 2014, Woodstock's was listed in PizzaToday's "Top Five Independent Pizzeria" chains in the nation.
Best Dessert: CREAM
Cookies Rule Everything Around Me, or CREAM, first opened in Davis in September 2013. The dessert chain, which originated in Berkeley, California, is best known for its ice cream cookie sandwiches. Customers choose from a menu of ice cream flavors and freshly baked cookies to customize the sandwiches to their personal preferences.
CREAM is located downtown on 1st and F Street. Only a short walk away from restaurants like Thai Canteen and Paesano's, and also located right across the street from Regal Cinemas Davis Holiday 6, CREAM is the perfect dessert spot for anyone enjoying a dinner or movie night downtown.
"CREAM is the best dessert in Davis because of its cookies, sandwiches and more," said Marianna Shaw, an employee at CREAM, "[And the shop is] open late for you."
Best Boba: Sharetea
Originating in Taiwan, boba tea has become a trending drink among Davis students and residents, with numerous boba shops opening in the city over the past few years. Sharetea, a worldwide boba chain, recently opened a Davis location in October 2015 — and since then, it has already won the title of Davis' best boba.
Sharetea is located diagonal to the Social Sciences and Humanities Building on 3rd Street, making it a great place for students to grab a cup of cool, sweet boba tea during breaks between classes. The shop's menu includes drinks such as Hokkaido pearl milk tea, Oreo milk tea and passion fruit green tea.
Best Place to Dance: The Davis Graduate
By day, The Davis Graduate, or "The Grad," is a restaurant and sports bar that serves classic pub grub, including pizza, burgers and hot wings. But by night, it becomes a lively dance club, complete with colorful lights and a large dance floor.
Conveniently located near campus in the University Mall plaza, The Grad is open every day of the week from morning until late at night. On certain days of the week, The Grad hosts themed dance nights and lessons: country dancing takes place on Mondays, Fridays and Saturdays, while salsa nights occur on Tuesdays and Thursdays.
Best Place to Exercise: The ARC
Do you wish for a convenient place to go for a jog or play basketball with some friends? Students voted the UC Davis Activities and Recreation Center (ARC), conveniently located next to the Segundo Dining Commons, as the best place to exercise in 2016.
In addition to having over 200 exercise machines, the ARC also includes features such as an indoor track, basketball courts and a rock-climbing wall. Moreover, it is open every day of the week, operating 20 hours a day Monday through Thursday. Best of all, entry into the ARC is free for students with a valid UC Davis student ID.
"The ARC is the best place to work out because the hours are really student-focused and the equipment is always new," said David Berrios, a third-year biochemistry major and ARC employee.
Best Place to Take Your Family: Davis Farmers Market
One can enjoy countless fruits and vegetable stands at Davis' widely acclaimed farmers' market, which takes place every Saturday morning and Wednesday evening at Central Park in Downtown Davis.
Providing farm-fresh produce to thousands of visitors every week, the Davis Farmers Market is one of the city's biggest community events. Vendors selling foods like hot dogs and tamales, and local bands performing live music also make the farmers' market a relaxing lunch spot. Overall, the Davis Farmers Market presents a cheerful, friendly atmosphere that welcomes all visiting families.
The full "Best of Davis 2016" article can be found on The Aggie's official website.
Written by Jennie Chang — features@theaggie.org