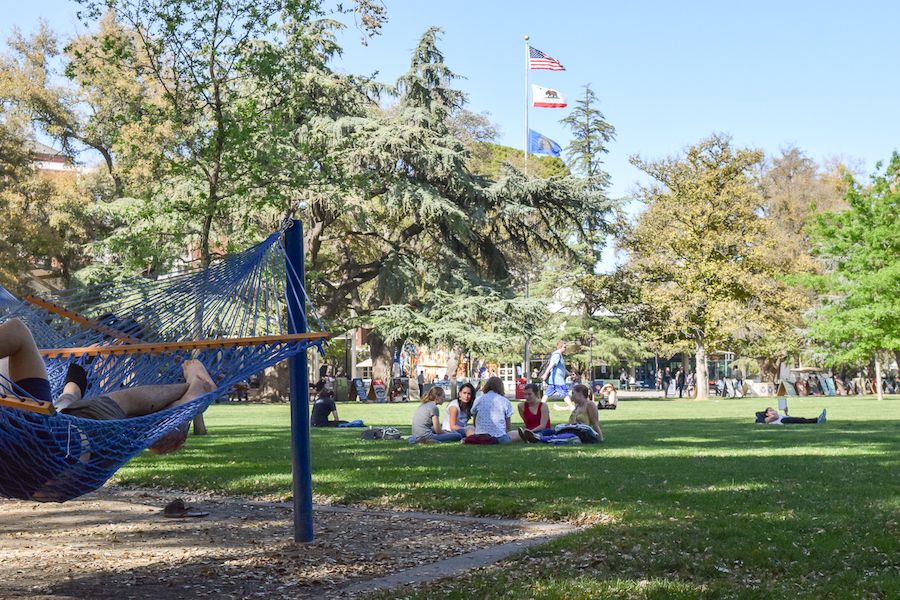 Nontraditional students seek social network at new school
Every year, UC Davis greets a wave of eager 18-year-olds running straight from high school into college. But among the masses are students who are often older, a little more mature and have more experience under their belts. Luckily for transfer, reentry and veteran students, UC Davis offers a wealth of resources to assist them.
"I'm lucky enough to have several friends that already study at Davis, but I am still a little apprehensive about joining social circles at school," Disha Bahl, a second-year genetics and genomics major and incoming transfer student said. "Of course I'm excited to be part of this community. But really, I want to make friends beyond the ones I already know."
Bahl has already found a number of back-to-school events, such as the Involvement Fair on Oct. 5, to help her make connections in her new home. Bahl hopes that interactions with the peers at the fair will eventually blossom into friendships, as does Megan Hosking, a third-year biology major and another incoming transfer.
"I'm really looking forward to joining a club. As a transfer student, I want to be able to meet new people that are interested in the same subjects that I am," Hosking said. "I want to become a dentist, so I know that I am definitely going to join the pre-dental club."
Hosking also plans to utilize First-Year Aggie Connections (FYAC), a program for new students.
"I learned that FYAC was available to students during my orientation," Hosking said. "[The program] makes it possible to find people with the same interests as you, and you learn interesting facts about other subjects and school."
FYAC members collect in groups united by a shared purpose or interest. They meet regularly throughout a quarter, along with staff and faculty who facilitate discussions about transitioning into life at a new school, and introduce details about campus culture and traditions.
At orientation, Hosking also learned of the Student Academic Success Center (SASC) and believes that the tutors at SASC are the first people she'll turn to when she runs into academic challenges. However, Bahl wishes that her orientation had offered even more in the realm of academic resources.
"I felt lost in terms of registering for my classes, and in making sure all my units transferred over and lined up," Bahl said. "I know that I have major advisers in the College of Biological Sciences and I feel like I've been proactive myself in seeking those advisers out, but I really wish that orientation leaders would have spent more time talking one-on-one with transfer students about their worries."
According to Ryan Downer, fourth-year English major and chair of ASUCD's Transfer, Reentry & Veteran Committee (TRAVC), as a transfer student himself, the first thing he would tell a nontraditional student that had concerns about their academics would be to visit the Transfer, Reentry and Veteran (TRV) Center on campus in Dutton Hall.
"TRV is like a specialized counseling unit," Downer said. "The people that are staffed there were or are transfer, reentry or veteran students themselves, and can be really helpful in addressing specific doubts and concerns about their experiences at UC Davis."
Still, Downer feels that above all, what most transfer, reentry and veteran students are looking for is a support network. The first year at UC Davis can be difficult for students who don't feel as though they are well-integrated within the campus. According to Downer, veteran students especially feel alienated on campus. He and his colleague, fourth-year managerial economics major and TRAVC vice chair Salvador Cruz, collaborate on efforts to involve non-traditional students in the campus social scene.
"The mission of TRAVC is to promote awareness for, and provide services to, TRV students in order to help them academically and socially have the best experience possible for their time here at UC Davis," Cruz said.
To succeed in their mission, TRAVC conducts a survey in which they interact with as many non-traditional students — especially veterans — as possible in order to represent them and their interests accurately. Cruz and Downer have also conducted video interviews with such students to get a better idea of what they are looking for at school.
"Another one of the things we're doing this year are events that cater specifically to TRV students and provide a platform to interact and enjoy themselves," Downer said. "It could be something as simple as Tuesday discount movie nights or meeting in the quad to play a sport. We want to build a social calendar throughout this year. Nothing too difficult to organize, but meaningful for the people that come."
The center already hosts Transfer Coffee Tuesdays, where TRAVC routinely holds unofficial office hours. Additionally, there are plans to ramp up their interaction with the TRV community by pushing their Facebook presence and tabling at the Memorial Union at least once a week. Students like Hosking are grateful for UC Davis students' willingness to introduce their peers to as many resources as possible.
"The people I met at UC Davis were so nice — the orientation leader was really helpful and I got to see a glimpse of what going to school was going to be like," Hosking said. "It made me really excited for the upcoming school year."
Written by: Anjali Bhat — features@theaggie.org