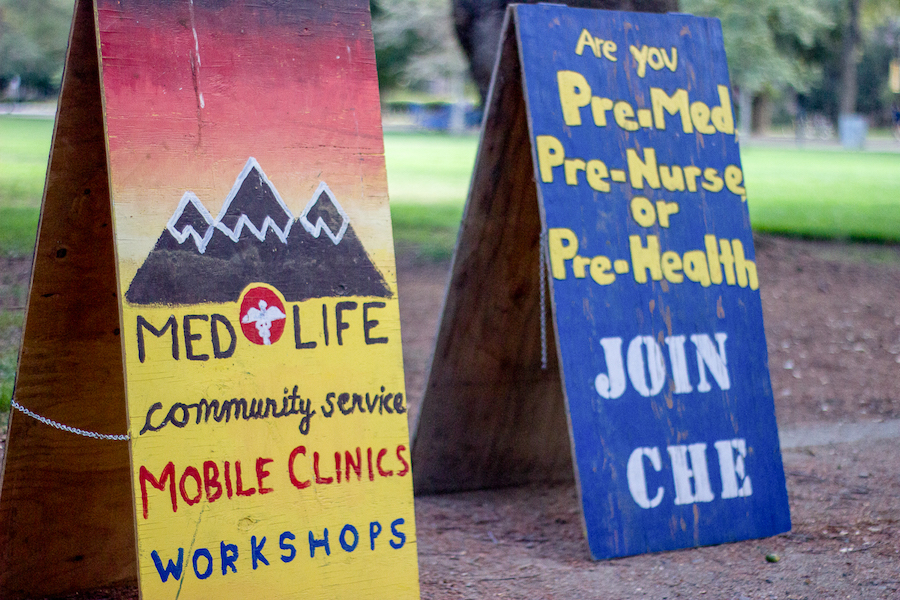 UC Davis' STEM-related clubs offer students academic, social support
UC Davis offers a wide variety of majors in science, technology, engineering and mathematics (STEM), but large class sizes and limited office hours in these heavily impacted majors can make it difficult to find academic help or study partners. Luckily, UC Davis' wide array of STEM-related clubs provide an opportunity for academic support and preparation for graduate schooling for STEM students.
In addition, these clubs give students opportunities to socialize in smaller, more comfortable group settings and develop skills to help apply their classroom knowledge to real-life settings.
"We have a number of resources to help students with career development," said Chelsey Souza, Chemistry Club vice president and third-year pharmaceutical chemistry major. "These resources range from company visits from AMPAC Fine Chemicals & Cosmetic chemists [and] visiting companies like Genentech, the Department of Justice and E&J Gallo Winery."
In March, Chemistry Club organizes its Annual Career Conference in Chemistry to further students' career development.
Jamie Allen, a UC Davis alumna, is now the student activities coordinator at the Center for Student Involvement (CSI). Allen assists club officers with registration requests, fundraising applications and answering questions about campus policies.
"More and more, Registered Student Organizations (RSO) are reaching out to their alumni networks, working with recruiters or planning career fairs," Allen said. "[RSOs] are really becoming a place where members can find support to become successful students at UC Davis and successful professionals after graduation."
Other STEM clubs emphasize the integration of classroom knowledge into real world applications.
For example, Adam Zufall, a fourth-year aerospace and mechanical engineering major and president of the Space and Satellite Systems (SSS) club, will be leading the team in the 2017 design competition known as CanSat.
"The competition, sponsored by the American Astronomical Society, American Institute of Aeronautics and Astronautics and NASA, judges teams on their design and execution of the project, taking into account factors like prelaunch calculations, structural integrity, budget planning and ultimately the degree to which the actual mission succeeds or fails," Zufall said.
SSS club provides students an opportunity to work in teams to succeed.
"Fall Quarter is typically spent on research and preliminary designs, winter on final designs and prototyping, then spring on final building and testing," Zufall said.
Students in the club can explore aspects of the project that particularly engage their interests.
"Since the project encompasses many different technical fields — namely aeronautical, electrical, mechanical and computer engineering — the members of the club are likewise varied in their interests," Zufall said.
Going on their second year in the CanSat competition, SSS club eagerly awaits the chance to prove themselves against this year's challenge.
The Association for Women in Mathematics (AWM) Student Chapter is another STEM-related club at UC Davis. Their goal is to help women overcome negative stereotypes and the perceived limitations that females in mathematics may feel.
"[The AWM Student Chapter] promotes a greater understanding of the impact women have in the mathematical sciences, and encourages women as they prepare for careers in the field," said Soo Lee, a third-year mathematics student and officer for the club.
AMW not only provides social support, but academic support as well. The club is open to all students regardless of gender or major.
"It's interesting because a good number of our members are graduate students so they are able to provide insightful advice to undergraduates," Lee said.
New STEM-related clubs establish themselves frequently at UC Davis, ensuring there is something for everybody.
The Chicano and Latino Engineers and Scientists Society, Black Community of Science: Unifying Blacks in Biological Sciences, Davis Robotics Club and Molecular and Cell Biology Club are only a few others that are a valuable resource to STEM students.
Oftentimes, joining a STEM organization can help new students at UC Davis feel right at home with their fellow Aggies.
"There is so much talent, passion and intelligence on campus," Allen said. I am lucky I get to help students as they work to achieve their goals."
The UC Davis OrgSync Search Tool is available on the CSI website to obtain more information about on-campus clubs and organizations.
Written by: Shivani Kamal — science@theaggie.com