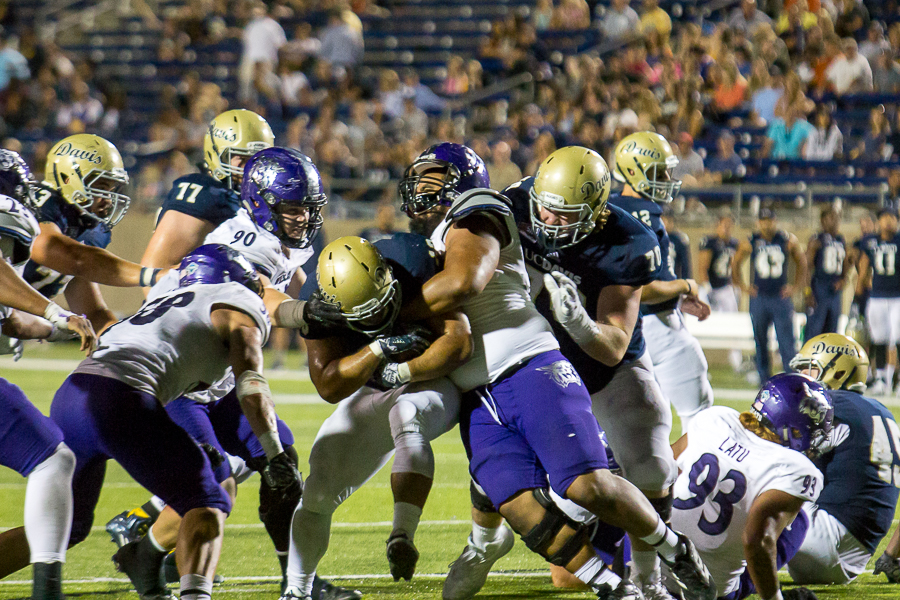 UC Davis football falls 38-35 to Weber State
The UC Davis football team fell in the final seconds to the Weber State Wildcats in the Big Sky Conference opener last Saturday night, after rallying back from a 22-point deficit. Heading into the game, UC Davis was 1-2 in non-conference play and had hoped to snap their 0-4 record of Big Sky openers.
Fans, students and families came out in full force to participate in new game day festivities including the Kickoff Street Party, featuring new concessions menus, food trucks, music and family fun. The buzzing atmosphere in the stands added to the excitement of the Aggies' first football game since the official start of school.
Wildcats won the coin toss and opted to defer the ball until the second half, which gave UC Davis the first possession of the game. After a quick three-and-out, Weber State capitalized on the Aggies' struggling defense with a touchdown and two-point conversion, giving the Wildcats an 8-0 lead.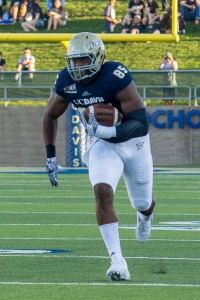 The Aggies responded with a completion from senior quarterback Ben Scott to senior tight end Nehemiah Winston for 52 yards into Wildcats territory, and got on the board with a touchdown pass from Scott to sophomore wide receiver Keelan Doss.
UC Davis got their only lead of the game, 10-8, after senior safety Keleen Culberson intercepted the ball, setting up a field goal by freshman kicker Matt Blair.
After a missed field goal and an interception from senior defensive back Zach Jones, Weber State pounded on the Aggie defense, which allowed the Wildcats a 35-yard gain off a fake punt as well as allowed 17 more points before halftime.
The Wildcats kept the momentum and extended their lead to 32-10 on their opening drive of the second half. The Ags did a quarterback change at the half, putting in junior Brock Dale to replace Scott.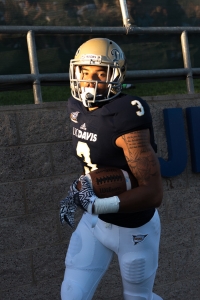 The Aggies finally picked it up and rallied back from a 22-point deficit with big offensive plays from Doss, senior wide receiver Chris Martin and a 92-yard kickoff return for a touchdown from sophomore running back Joshua Kelley. The Aggie defense turned it around and held Weber State to just six points in the fourth quarter, with a forced fumble by redshirt freshman linebacker Quincy Bennett.
However, in the final 16 seconds of the game, sophomore cornerback Isiah Olave fumbled the punt return that was recovered by Weber State at the Aggie 23-yard line. With four seconds left on the clock, the Wildcats put the finishing touches on the game with a chip-in field goal to lift them to a 38-35 victory over the Aggies.
UC Davis is on the road for the next two weeks to face the Eastern Washington Eagles on Oct. 1 and the Southern Utah Thunderbirds on Oct. 8. The football team returns to Aggie Stadium on Oct. 15 to face Northern Colorado at 4 p.m.
Written by: Nicole Sarmiento – sports@theaggie.org