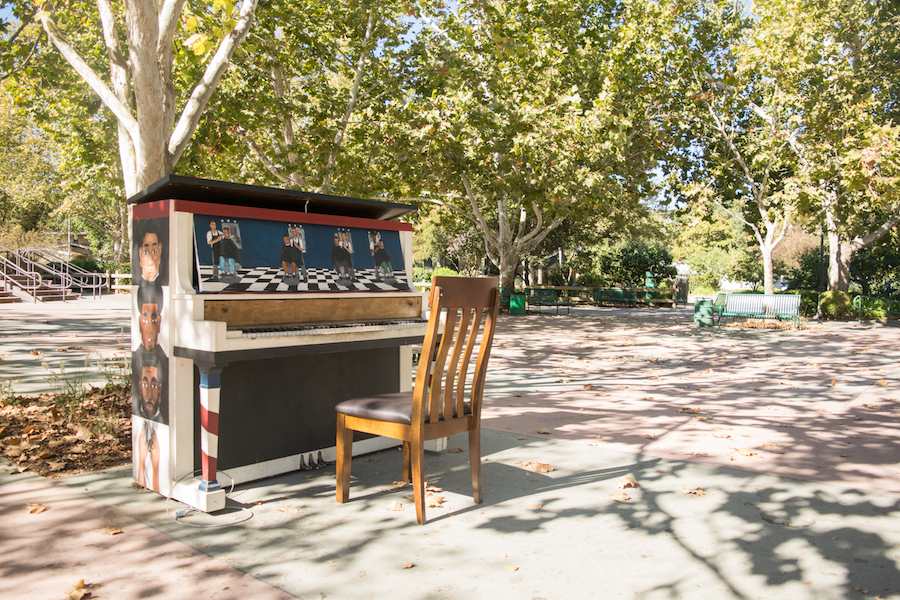 In the Key of Davis brings music, art to the streets with support of local artists, city officials
A piano-art project arrived to the streets of Downtown Davis this summer. On June 5, the city held a dedication ceremony for the public pianos project at the Hunt-Boyer Mansion. Since then, community members have embraced the pianos and shown their support for the project.
The creators of the project, Hailey and Isabelle Shapiro, ninth and seventh-grade students at Holmes Junior High, respectively, were inspired to create public art using pianos after seeing pianos painted and placed in popular public spaces in Seattle and Vancouver for people to enjoy. The pianos were placed in Central Park, at the Amtrak station on Second and E streets, the Hunt-Boyer Mansion patio, the Arboretum and the Davis Food Co-op.
"We've had lots of emails from people telling us how much they liked [the public pianos]," Isabelle Shapiro said.  
The Shapiro sisters presented their plan to the Civic Arts Commission, which unanimously approved the proposal and offered a grant to cover transportation costs of the pianos and a small stipend for teachers who volunteered to recruit students to help with the project.
Hailey and Isabelle were responsible for finding the pianos at no cost and for getting local students to turn them into public works of art.
"I think it'll bring people together because they can listen to other people play and talk to each other about it,"  Isabelle Shapiro said.
Many teachers from around the community helped with the project. Amy George, from Birch Lane Elementary School, Deanna Leveque, from Holmes Junior High School and Lynnette Diem, from Davis Senior High School (DHS), all worked on the project and encouraged their students to participate as well.
Each school came up with a theme for the pianos; whereas Birch Lane incorporated wildlife into their piano, Holmes Junior High created a California beach theme and DHS used a barbershop theme.
DHS student Brandon Lim came up with the theme for his school's piano, while Shelby Bernauer, Isabel Realyvasquez, Joshua Arias and Alex Timmons — all Advanced Placement (AP) Art Studio students — participated in the painting of the piano.
Mark Stiver, from Watermelon Music, agreed to tune the pianos, doing so at no cost to the city or to the Shapiro sisters.
The public is encouraged to play them between the hours of 9 a.m. and 10 p.m. and post a video to the Facebook page, "In the Key of Davis."
"This could inspire people to start playing piano and be interested in the artwork that is on it," said Joshua Arias, one of the AP Art Studio students who participated in the project. "I've seen homeless people play on these pianos so I think it could help people that cannot afford one for themselves [to] start playing."
While walking around Downtown Davis with friends, Susan Brown came across the piano in the Hunt-Boyer patio.
"It was really cool to play it and have people stop by for a minute and listen to me play," Brown said. "Hopefully people respect the pianos as pieces of art meant for the publi's enjoyment."
Written By: Carla Arango — city@theaggie.org