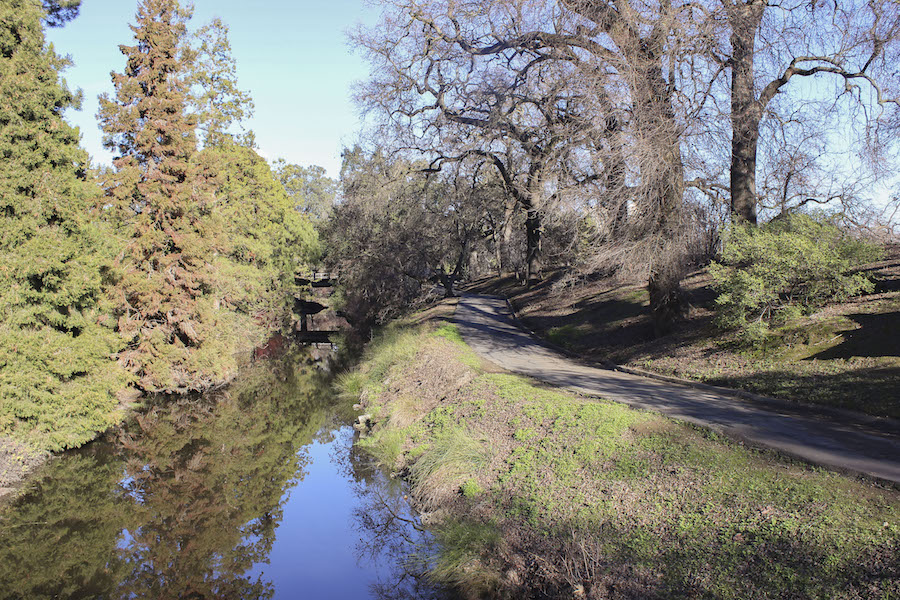 Free nature events at the Arboretum every week this fall
Whether students have jogged through it, biked its length of three and a half miles or only know it as the mysterious forest with a peculiarly green creek, the Arboretum is a campus resource that everyone should visit this fall.
Since its opening in 1936, the Arboretum has hosted free public events for Davis students and community members. The goal of these events is to inspire connections with nature, educate people on key environmental issues and create a relaxing break from work and school.
"We are supported by the Friends of the UC Davis Arboretum and Public Garden who help fund these free events for the public," said Katie Hetrick, director of marketing and communications for the UC Davis Arboretum. "From showcasing our low-water California Native Demonstration Garden to our scientific collection, it's important to have these events for students and the public to get out in nature and learn something new about these resources."
For students who would like to learn more about plants and sustainable gardening, the Arboretum also hosts a UC Master Gardeners event which takes place in the GATEway garden at the east end of the Arboretum, as well as in the Storer garden.
"At these events, anyone can learn about native California plants, how they can grow them, how they can sustain those types in their own homes and why [these] are sustainable garden selections," Hetrick said. "These event leaders act as in person, interpretive experts for these areas and encourage people to discover [what] we have available at UC Davis."
The Meet the Arboretum Tour is another event geared toward students who may not know much about the gardens. This tour is led by Arboretum ambassadors, student interns who have gained skills in public outreach and environmental leadership. The Arboretum also offers internships in other departments such as edible landscaping, sustainable agriculture and restoration.
Ellen Zagory, director of horticulture, began her work at the Arboretum by growing plants in the nursery. Because of the park's rapid growth in popularity over the years, Zagory has a lot of experience in sustaining the lush greenery and in managing Arboretum projects.
She has traveled around the state giving lectures on biological diversity and how to engineer vegetation to control floods. As part of the calendar of fall events, Zagory leads workshops for the city on how to create more sustainable gardens by removing high water lawns and replacing them with low maintenance plants.
"The Arboretum [is] a resource [for people] to get outside and relax, become more healthy and just be outside with all of the beauty," Zagory said. "You can also learn about California and why it is so important that we grow our state's native plants, and why it is vital to create more diverse environments in your garden by attracting more species like hummingbirds and butterflies."
Zagory also suggested taking a stroll in the Redwood Grove, which "resembles a cathedral with its majestic and giant trees." From there, you can even spot river otters that have migrated and settled in the Arboretum because of the ideal conditions in Lake Spafford.
Elaine Fingerett, UC Davis Arboretum academic coordinator, is another specialist who has worked for the Arboretum for 11 years. Fingerett explained that people feel very comfortable in the Arboretum — making it a friendly and welcoming place.
"The gardens are a massive resource full of collections used in teaching and research," Fingerett said. "We have a university connection [which makes the Arboretum] a great place for us to do programming that reaches out to the public and lets them know about what professors are researching and other things going on on campus. The Arboretum has grown so much that we have added more and more programs that became part of the culture."
While the plants and trees have grown over the years, the influence that the Arboretum has on the Davis community has flourished as well.
"Many more undergraduates and young people come out every year and experience our very diverse learning-by-leading internship program," Fingerett said. "The Arboretum has grown and empowered a whole generation of undergraduates to go out and take leadership roles."
Working with students to create public programming has made Fingerett incredibly hopeful for the future of not only the Arboretum, but also the Davis community. She has seen many students who are committed to working in nature and helping people understand how to sustain the environment.
"I think that to me personally, it is very important to help people connect with nature," Fingerett said. "[Seeing] people of all ages come to the Arboretum and enjoy the environment and all it has to offer is very inspiring."
Written by: Gillian Allen — features@theaggie.org