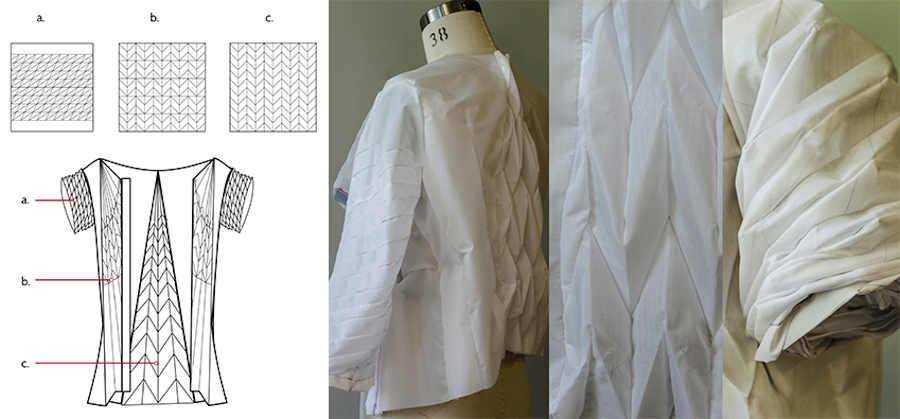 Helen Koo creates clothing help those with movement disorders
UC Davis Assistant Design Professor Helen Koo received the $40,000 UC Davis Award for Innovation and Creative Vision for her work in smart clothing. The award was established to promote and support exploration, creativity and advances in research. Koo is the first recipient of the award, funded through the support of a UC Davis alumnus and his wife. Her transformable clothing will assist individuals with movement disorders.
Since standard clothing often requires a level of fine motor control that can be difficult for people with movement or sensory impairments, Koo wanted to create garments and products that will increase the independence and quality of life of people with diseases and disabilities that limit their movement.
"After testing fabrics using shape-memory alloy, I thought it would be great to create transformable clothing that can be automatically worn and taken off," Koo said.
Koo listens to users' opinions, experiences and ideas to understand consumers' needs and wants, which are critical in developing and designing clothing products. She also discusses her ideas with experts in other disciplines to create the wearable technology.
"I am trying to understand what people really want to wear and use, and their preferences on designs and functions through interviews, surveys and market research at the beginning of the design process," Koo said. "I try to open my mind to search for new ways to solve existing problems and to satisfy consumers through interdisciplinary approaches."
She also had two interns who assisted her with her smart clothing.
"At that time, I worked with passionate interns, Jason Lin and Jasmine Zhou, and created the garments with shape memory alloy-nitinol and microprocessors," Koo said. "More interns and researchers are working on this project to make transformable clothing for people with movement disabilities using shape-memory alloy and other micro-motors."
Shape-memory alloy, a material often used for people sitting in wheelchairs, was a key material for creating the transformable clothing, according to Koo. Shape-memory alloys "remember" their original shape and return to them when stretched, bent or deformed.
Jason Lin, a design and psychology double major and class of 2016 alumnus, has known Koo for approximately two years and has learned much about smart clothing and accessibility of fashion through working with her.
"Smart clothing is amazing! Helen was really the one who opened my eyes up to the capabilities of fashion and how to look at it in different ways," Lin said. "I actually listened to Helen give a TED talk at TEDxUCDavis which was also really inspiring. She talked about clothes that automatically enveloped people and garments for children with Autism Spectrum Disorder."
Koo's work has inspired and resonated with not just her interns, but with other design students at Davis as well.
"I think wearable technology is progressing heavily, especially with [technology such as] the Google watch. You see it in films and it's the embodiment of the future and futuristic realm," said Bronte Blanco, a third-year design major. "It's cool that [Koo] is able to bring together aesthetic and functionalism to individuals who need it."
Koo will continue researching transformable clothing for people with movement disabilities, and hopes to conduct research to develop wearable technology for elderly people with dementia as well.
Written by: Jennifer Duong – arts@theaggie.org