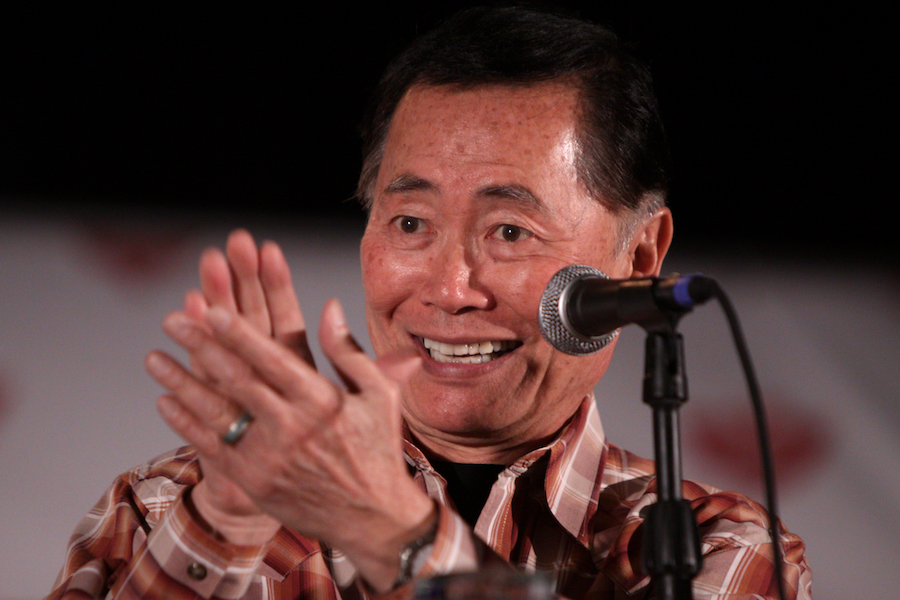 Star Trek actor to give talk on LGBT activism, experience as Japanese American
George Takei is known to many as Captain Sulu from the original 'Star Trek,' but in the past few years, he has found a new source of fame as a social media phenomenon.
Takei has garnered more than 1.8 million followers on Twitter and almost 10 million fans on his Facebook page, where he posts everything from puns and silly memes to uplifting articles and political commentary. And despite growing up long before the age of the hashtag (Takei is 79 years old), he's become an icon for a younger generation thanks to his blending of Internet humor and serious social activism.
He is a vocal champion for the LGBT community, advocating for equal rights, and he has made it his mission to shine a light on the shameful events of the Japanese American internment camps of World War II, where he and his family were confined for approximately three years during his childhood.
His talk for the upcoming Mondavi Center event "An Evening with George Takei" is sure to inform and inspire all who attend.
Amy Fink, a fourth-year English major, commissioner for the ASUCD Gender and Sexuality Commission and president of The Star Trek Club at UC Davis, is eager to attend the event. As a member of the LGBT community, she believes that Takei has significantly advocated for better treatment of members of the community.
"I think he's done a lot! He really carries Star Trek's vision of a better future, and he plays with that in his everyday life," Fink said. "He's very outspoken about his past in the internment camps, and his experiences with being LGBT — during such a hard time — so I think he plays that role really well."
Reyna Selga-Eaton, a fourth-year community and regional development major who is also a member of the LGBT community, comes from a family of "avid trekkies."
"[George Takei has been] an advocate for LGBTQIA persons of color, and for Asian Americans, and the very fact that [he] is from a different generation is what makes him such an effective advocate," Selga-Eaton said. "He reaches a different audience, connects multiple generations and has started many conversations. And with the resurgence of the new 'Star Trek' movies, Takei's influence inspired Sulu's character in the newer movies; in the latest film, Sulu is shown having a male partner and child. That kind of influence and representation is extremely important."
A great part of Takei's appeal is the fact that he has lived through times where just being himself — a gay Japanese American — was often socially unacceptable and sometimes dangerous. He has managed to be an outspoken and effective activist for a variety of civil-rights causes due to his genuine desire for change.
Jeremy Ganter, associate executive director and director of programming for the Mondavi Center, touched on why Takei is an excellent choice for a speaker event.
"In his case, it's about the breadth and unique depth of his own life experience, which goes far beyond his relationship to 'Star Trek,' interesting as that is," Ganter said. "In this tumultuous time in the history of American politics and activism, he has so much to offer about LGBT rights, social media and the Japanese American experience in California."
The event will no doubt be incredibly interesting, as Takei will bring his usual wit, humor and sincerity to his personal stories that address important issues.
"He's really funny, and really smart, so I'm expecting to be very wildly entertained and inspired at the same time, and I'm sure that it'll be a great evening," Fink said.
"An Evening with George Takei" will take place on Saturday, Oct. 15 at 8 p.m. at the Mondavi Center in Jackson Hall. For more information, please visit the Mondavi Center website.
Written by: Pari Sagafi – arts@theaggie.org