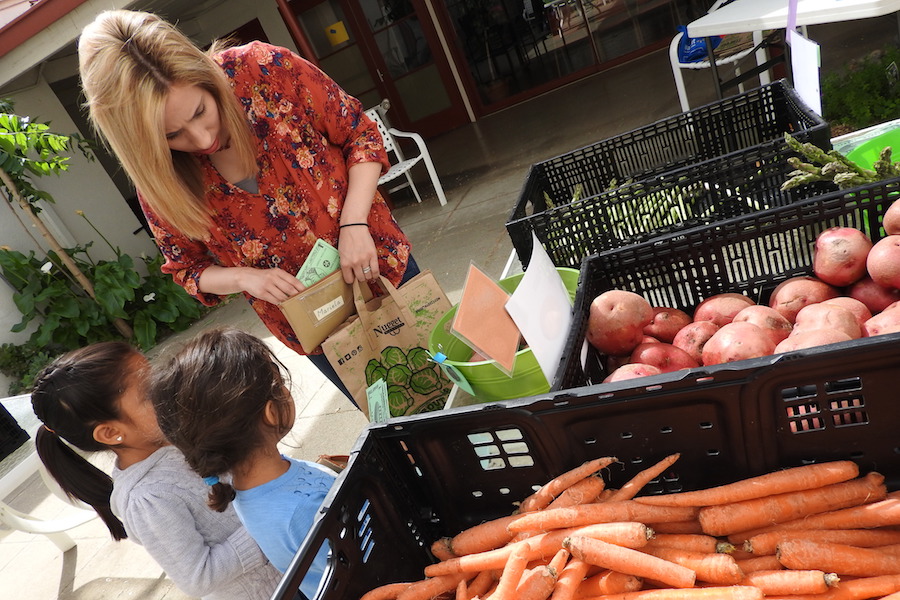 Yolo Food Bank after-school program provides produce to food-insecure children in schools across the county
The Yolo Food Bank (YFB) received various grants from Walmart, Yocha Dehe Wintun Nation Community Fund, Genentech Foundation, Sutter Health, Monsanto, PG&E, Sierra Health and Nugget Markets, totaling upwards of $75,000, which will fund Kids' Farmer's Markets (KFM) for the 2016 to 2017 school year.
This pseudo-farmer's market is held after school once a week, during which the children are given fake money to "purchase" fruits and vegetables from the farmer's market.
The markets started in 2012 through a similar grant by Walmart; the free pilot-program was held at only one school then. However, the kids farmers markets have grown to serve two preschools and five elementary schools.
With consistent success and an increase in funding, YBF hopes to eventually expand to all of the 17 schools that qualify for the kids farmer's market. Schools that can join the program must have over 50 percent of students who qualify to receive free or reduced lunch. There are about 20 to 275 kids at each school, with a total of about 1,000 children.
Jeanée Natov, program coordinator, discussed the mission and goals of KFM for this year: increasing year-round access to fresh fruit and vegetables among low-income Yolo County children, increasing food literacy and physical activity of KFM participants, increasing students' attitudes and behaviors related to fruit and vegetable intake, expanding KFM to all elementary school sites in Yolo County — in which at least 50 percent of students qualify for the free or reduced lunch program — and increasing public awareness of the KFM program.
Stephanie Villegas, director of programs at YBF, is excited to bring the program back for another year of educating even more students.
"It helps kids get exposed to produce they've never eaten before and also encourages them to take it home and encourages their families to eat along with them," Villegas said. "We also do nutrition education at each site through recipe cards and educational programs with the help of interns and nutrition based community organizations."
YBF gains access to the produce through a program created by California Association of Food Banks called Farm to Family (FTF), along with donations from local farmers. FTF works with farmers, ranchers, pickers and shippers to donate produce to food banks. FTF provides basic produce kids are accustomed to seeing, like oranges or apples, and varies considerably, depending what time of the year it is.
The children also gain exposure to other foods through the help of various grants the program receives.
Each week, a few kids are able act as vendors behind the food stands, selling produce to their peers. The interns and volunteers ensure that everything operates smoothly, even with the farmer's market being predominantly "run" by the kids.
Surprisingly, the kids are often open to trying a variety of fruits and veggies. The program provides samples of the produce in select recipes to try at the market but plans to incorporate more of these for the kids to taste.
"We are implementing a lot more nutrition education in the program," Natov said. "We are also taking UC Davis interns that are nutrition or public health majors."
The interns help promote the produce and educate the students about the fruits and vegetables. Jennifer Tong, a fourth-year nutrition in public health major, has interned with KFM since last  June 2016. She enjoys working with the kids and teaching them about food nutrition.
"It's a cool thing because we're teaching them to be able choose and pick nutritious examples of things they can have […] at home," Tong said.
Written By: BIANCA ANTUNEZ – city@theaggie.org