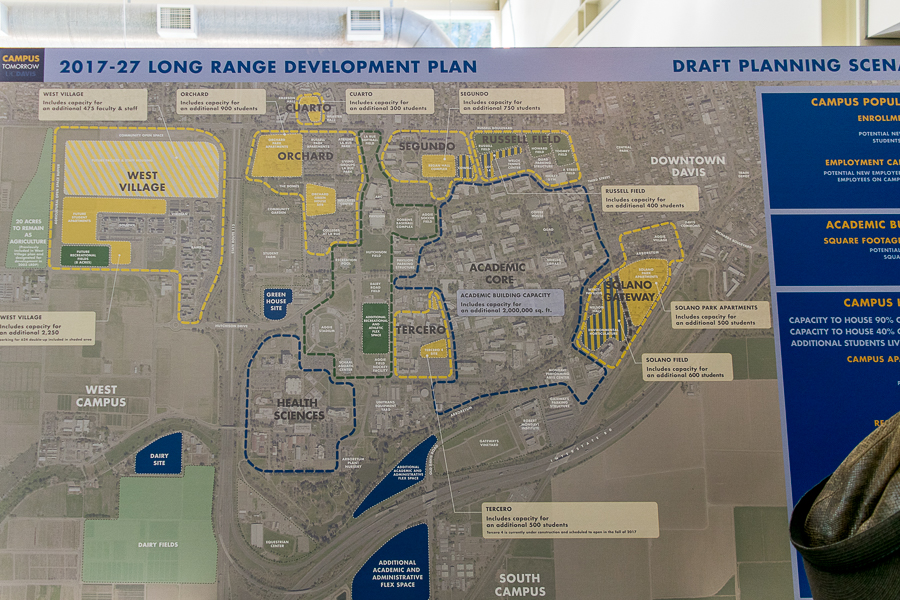 Plan includes potential student housing on Russell Field
UC Davis held three open houses in the first week of October to ask community members their opinions on the revised 2017 to 2027 Long Range Development Plan (LRDP). This revised LRDP is an updated version of the 2017 to 2027 LRDP which was released in August.
The LRDP is a land-use plan and an all-inclusive policy that spots potential enrollment and employment growth while taking into consideration the physical development needed to accommodate these changes. The 2017 to 2027 LRDP update will take into account the sizeable growth in UC Davis' student, faculty and staff campus population.
Under the 2020 Initiative, the campus expects to have an additional 6,200 potential students and 4,200 employees in future years. Forty percent of those enrolled will be able to live on campus.
Lucas Griffith, a UC Davis campus planner, said the LRDP is more of a guideline than a set-in-stone plan.
"The LRDP does not necessarily compel development or investment — it's more of a capacity document," Griffith said. "So that if we do increase enrollment and if we do have the funds, either from the state or from a donor, we could then look to the LRDP and say, 'Where would we put it?'"
Lucas explained that the biggest factor of the new LRDP is the expected increase in enrollment. Jovita Widjaja, a fourth-year landscape architecture major, voiced her concern that the campus is already overpopulated.
"I feel like our campus is already crowded, people aren't getting the classes they need and people are having to stay a fifth-year because they weren't able to get their classes," Widjaja said. "So I'm interested in what they will do."
Under the LRDP, UC Davis will convert two million acres into an academic space which will include two veterinary hospitals and a Chemistry Discovery Complex.
The plan also includes an increase in first-year housing through redeveloping Webster and Emerson Halls in Cuarto as well as the Regan Hall complex in Segundo. The planners want to build student housing on Russell Field, as well as renovate Walker Hall, Cruess Hall and Haring Hall.
"We are at a point in time where the campus has inherited a lot of buildings from the 1950s and the 1960s and those buildings are reaching a breaking point where we need to either renovate and invest a significant amount of money, or we redevelop into something brand new," Griffith said.
The plan also includes the possibility of using Russell Field for housing. Many community members, including Davis residents and intramural sports players, have expressed their concern with the development of buildings on the field.
Merline Williams, Davis resident, alumni and retired faculty member, hopes that UC Davis will avoid developing housing on Russell Field.
"I see Russell Field as a huge positive for the students of UC Davis to stay healthy and active," Williams said. "It's a great positive that counters the negativity […] At all times of the day if you live in Davis there are kids playing there having fun. Taking away this positive and leaving only the negative isn't very wise."
Other concerns about Russell Field include the loss of intramural (IM) sports space and an increased population that could cause a potential traffic problem.
A petition has been circulating to oppose the development on Russell Field and several other fields on Russell Boulevard and A Street.
Williams is not against student housing, but suggests that UC Davis find equally viable alternatives.
"If [Russell Field] is all we had, and we needed student housing, I'd be in total support even though it would be a tragedy to have that happen," Williams said. "But, we have tons of choices and that's not necessary. To do it is offensive."
Her suggestions include moving the cow facility across from Tercero to a new location in order to use that land for housing, as well as using the planned faculty housing in West Village for student housing instead.
However, Griffith does believe that Russell Field is a good option for student housing.
"[Russell Field is] a gracious open space along the edge of campus," Griffith said. "It would be bigger than The Quad and still serve a really active IM field. And it can still have all that energy that people can experience while driving along Russell Boulevard with positive interaction with students."
Griffith wants to prioritize student housing before IM and club sports, but trusts that there will still be space for recreation with the LRDP.
"Is it our mission to host a state ultimate frisbee tournament? No," Griffith said. "It's a great thing. My wife plays all the time. But if I could choose, I would choose to build sustainable housing for the students, have housing for students so they don't have to commute from West Sac, therefore they can participate in campus life more, while there are still plenty of open spaces for them to still recreate."
After the 2017 to 2027 LRDP draft planning scenario, there will be 30 days for initial study this fall and 45 days for public comment in the spring. Campus planners will then respond and take into consideration all comments made before revising the draft plan and submitting it to the UC Regents next fall.
Written by: Yvonne Leong – campus@theaggie.org