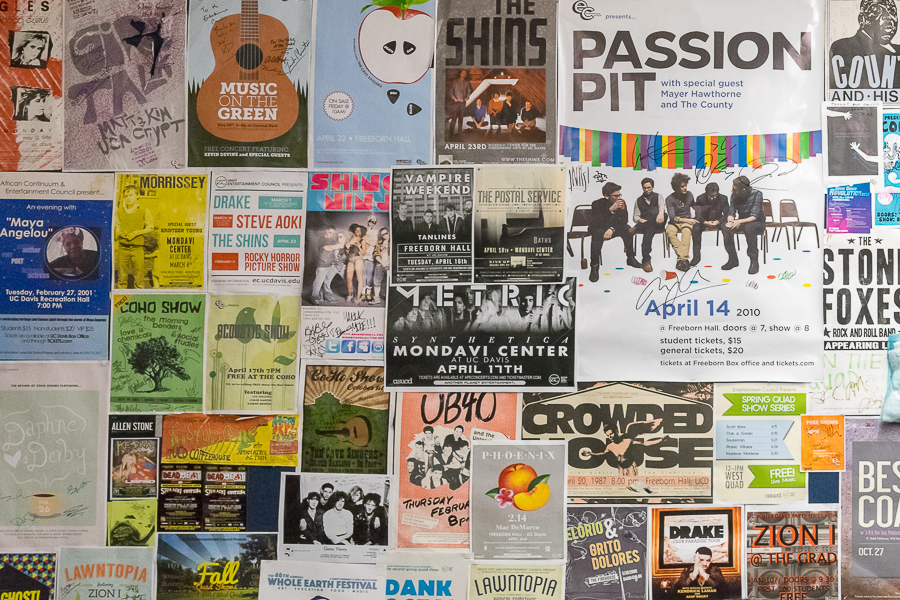 EC tackles ticketing confusion, racial tension while booking major hip-hop artist
"EC's back!" laughed Jessie Wong, fourth-year psychology major and promotions director of ASUCD Entertainment Council (EC). "Even though we never really left."
Wong makes a point. For years, EC has been heavily criticized for the lack of big-name artists performing on campus. And in comparison to past acts like Drake, Passion Pit and Muse, it's easy to understand why students feel dissatisfied. However, EC points to recent budget cuts as the reason for their inability to book larger scale artists.
Wong noted, however, the importance of student involvement. She joined EC in the hopes of bringing back popular acts, and she encourages students to volunteer for EC to make the changes they want to see.
"Instead of just talking about us, join us," Wong said.
But such an absence of standout performances has only amplified the hype regarding Chance the Rapper's appearance at the ARC Pavilion on Oct. 30. Rachel Myers, EC director and fourth-year global disease biology major acknowledged this excitement.
"It was really rewarding to see the reactions of students, especially as someone who knows that we don't get to bring a lot of artists to Davis. Our budget keeps getting cut, so it's cool that we [get] to put on shows like this," Myers said.
The days leading up to the announcement were similarly energetic; EC alluded to the performance by posting a picture of this year's Outside Lands lineup, declaring that one of those artists would be the headliner for a UC Davis Fall Quarter show.
"[It's] never too hard to hype up the student body," Wong said. "All you need to do is really have people guessing."
But the question of who was to perform quickly transformed into something more investigative: how exactly did EC recruit hip-hop icon Chance the Rapper to our quirky little cowtown? As it turns out, it had more to do with Chance and his promotion group, Another Planet Entertainment (APE), than it did with UC Davis.
"One of the promoters at APE was a former director of [UC Davis'] EC, and with the budget cuts over the last few years, he was pretty aware that we don't have as much entertainment coming through as possible," Myers said.
The actual booking process was more grueling than meets the eye.
"Since [booking Chance] it has been a process of getting the artist approved with the school and doing background checks on the performance," Myers said. "It's a pretty tedious process and it probably ended up taking about a month, but in the end everything is necessary."
Even more challenging for Wong and Myers, however, was the task of responding to tensions on the Facebook event page regarding ticketing. Students, upset at the confusion over upper versus lower level tickets, complained the process should have been explained prior to the pre-sale.
Wong emphasized that, because APE was self-ticketing, the process of generating tickets was out of their hands.
"On the website, when you first choose to buy tickets, everyone automatically — according to the website — clicked 'Best Available.' After all the [general admission] tickets were sold out, it immediately went to upper level," Wong explained.
But because APE was the middleman between EC and Ticketmaster, communicating with the student body became difficult. EC was essentially unable to release a statement until clarity with APE and Ticketmaster was reached.
"As soon as that happened, Rachel was in contact with APE," Wong said.
Fortunately, EC was able to provide students with a presale code, giving UC Davis students priority for purchasing tickets.
"Since the time of being an ASUCD Senator, I've worked very closely with [EC]," Lee said. "This time for the Chance concert, I worked with EC on the student presale and got a student-wide email sent out to make sure students had first access to the presale tickets."
Wong and Myers were faced with further conflict when racially-charged commentary surfaced on the Facebook event page. After students expressed frustration over EC's silence in the matter, EC posted a status apologizing for their delayed response and declared that they would ultimately be removing the event page.
"We just don't support those comments, at all. And as much as [the comments were] freedom of speech, people were getting attacked, people were being personally messaged and people were feeling unsafe. And when our student body begins to feel unsafe, that's when we need to take a step in," Wong said.
This sentiment is what ultimately led to the removal of the event page; Lee agreed with this decision.
"Instances of racism, antiblackness, transphobia, sexism and other forms of hate that spread were upsetting and honestly out of line with the character of [the] UC Davis community," Lee said. "People have the right to disagree with each other, but attacking each other's identities was unacceptable."
Myers felt the decision was a difficult one, but necessary.
"The environment on the page had gotten really toxic. We really wanted to keep the focus on the show at the end of the day, because there were still questions about ticketing, and [we] didn't want to allow this to grow any further," Myers said.
Both Lee and Myers expressed regret for their delayed response on the Facebook page, wishing they had addressed student concerns sooner. They hope to use this experience — regarding both racial tensions and ticketing — as stepping stones for improving future event planning.
"Since then we have started working with ASUCD to figure out how we can better deal with this stuff in the future. At the end of the day, it's just something we have to use to move forward," Myers said.
Lee agreed that the situation was a good step in improving the way events on campus are handled.
"As [is] everything at UC Davis, this can be an educational experience too. If the controversy shows us anything, it's that we have a lot of learning to do," Lee said.
The Chance concert is now sold out and EC still has a lot planned for the future: Monthly open-mic nights, an upcoming fee referendum (in hopes of funding an on-campus festival) and Lawntopia.
But the most anticipated of questions — who will they book next? — was answered by Myers with a slight grin.
"We'll have to wait and see."
Written by: Ally Overbay – arts@theaggie.org