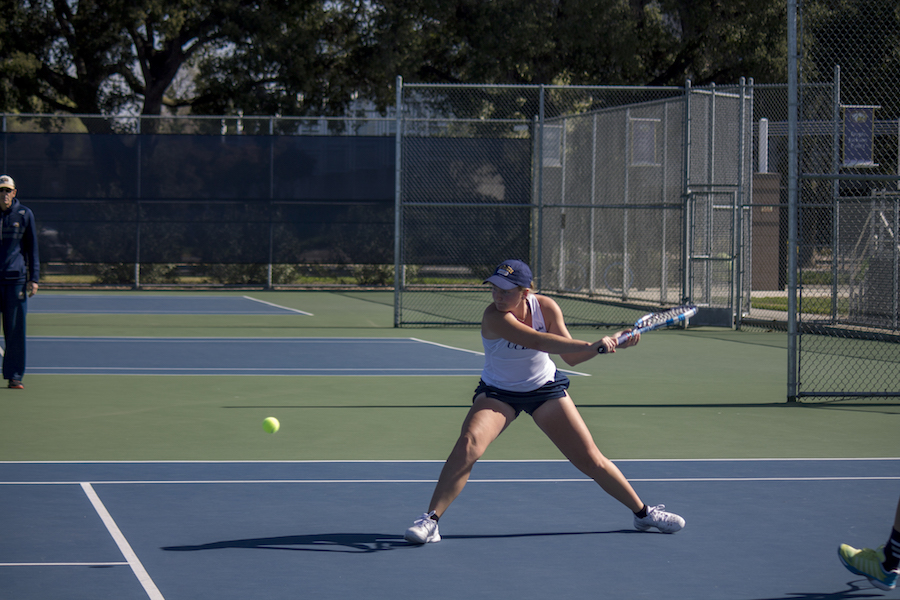 Von Ebbe and Breisacher lead team in doubles competition
For the UC Davis women's tennis team, the fall season is the time to see how its players stack up against other competitors as well as to get back into the groove of high-intensity competition. Head coach Bill Maze's goals for his players are pretty simple: work hard and have fun.
"We emphasize effort, attitude and just enjoying the process," Maze said.
The Aggies started their season late in September when sophomore Isabella von Ebbe and junior Lani-Rae Green competed in the team's first-ever appearance in the Battle in the Bay Classic. During this competition, Green advanced to the quarterfinal round and von Ebbe fell in the consolation championship match.
The team then made its fall debut at the Cal Nike Invitational in Berkeley, where it posted singles wins from senior Kamila Kecki in her consolation championship match and freshman Kristina Breisacher in her comeback upset of the number-one seed in the final. Von Ebbe and Breisacher also dominated their doubles bracket to win the title.
UC Davis then traveled to Moraga to compete in the Saint Mary's Fall Invitational, where von Ebbe and Breisacher won their second doubles championship title, making it their second championship victory out of three weekends of tournament play this fall.
The main focus for the team has been using non-conference competition to find doubles teams that work well and consistently, according to assistant coach Sara Jackson. The Aggies seem to have found a the right chemistry with von Ebbe and Breisacher.
"They just have good chemistry in practice, so that's one of the things we pay attention to and it's working well so far," Jackson said.
Von Ebbe and Breisacher agree that their compatibility of movement and strength gives them more room to feed off of each other's shots.
"With every partner you play with, there are certain plays that work and [Breisacher and I] have learned to develop those well," von Ebbe said.
Even during high-intensity matches, the two have fun playing on the court together.
"It's not serious the entire time," Breisacher said. "We're still laughing on the court during a match."
One of Maze's key coaching points is paying close attention to new players and unlocking some new skills. On and off the court, returning players focus on helping the freshmen with the transition into collegiate play.
"With coach, what's really special is his desire to develop players," von Ebbe said. "[Our team wants] to work and develop into dominant [doubles] teams that has plays and strategies in match situations when different obstacles come up. So to develop into that team is something that we're looking forward to."
The UC Davis women's tennis team has a more challenging spring schedule than it has seen in the last couple of years, including matches against Arizona State University's PAC-12 Conference team as well as a road match against Hawai'i. The team also has 13 home matches this spring — the most it's ever had.
Preparing for the spring season, the Aggies want to make it as far into every tournament as they can before conference play.
"For me, the fun comes from the result of working hard," von Ebbe said. "If you work hard, you can walk on the court and know that you worked hard for this match […] That's where the fun is."
The Aggies look to keep the momentum going when they hit the road to Stanford University to compete in the ITA Northwest Regional Championships from Oct. 21 to 25.
Written by: Nicolette Sarmiento – sports@theaggie.org