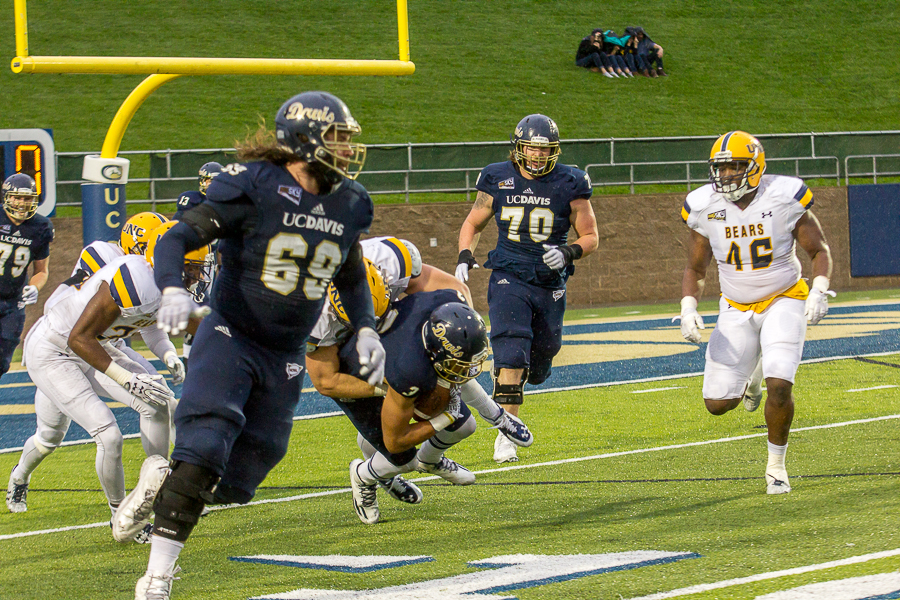 Aggies get first conference victory at Homecoming on Saturday, defeat Bears 34-21
The UC Davis football team welcomed alumni and current athletes back to Aggie Stadium for Homecoming last Saturday as they snapped a four-game losing streak by defeating the University of Northern Colorado Bears, 34-21, in their first Big Sky Conference victory of the season.
It was a rainy, windy evening, but fans still turned out to support the Ags on their first game back at home in two weeks.
The Aggies' defense has been top-notch this season, with a season-high four sacks on the road against Southern Utah just a week before. It was a similar story Saturday night.
The Aggie defense carried the team with big sacks and stops. The Ags started off strong in the first half with their defense stopping the Bears' opening drive quickly. They went up, 3-0, on their first drive of the game, after a 32-yard pass from senior quarterback Ben Scott to freshman wide receiver Jared Harrell deep into Bears' territory set up a 38-yard field goal for freshman kicker Matt Blair. Northern Colorado scored on its following drive, putting them up 7-3.
UC Davis regained a 10-3 lead with an 83-yard drive ending with a one-yard touchdown rush from senior running back Manusamoa Luuga, who led the team in rushing with 27 carries for 93 yards and two touchdowns.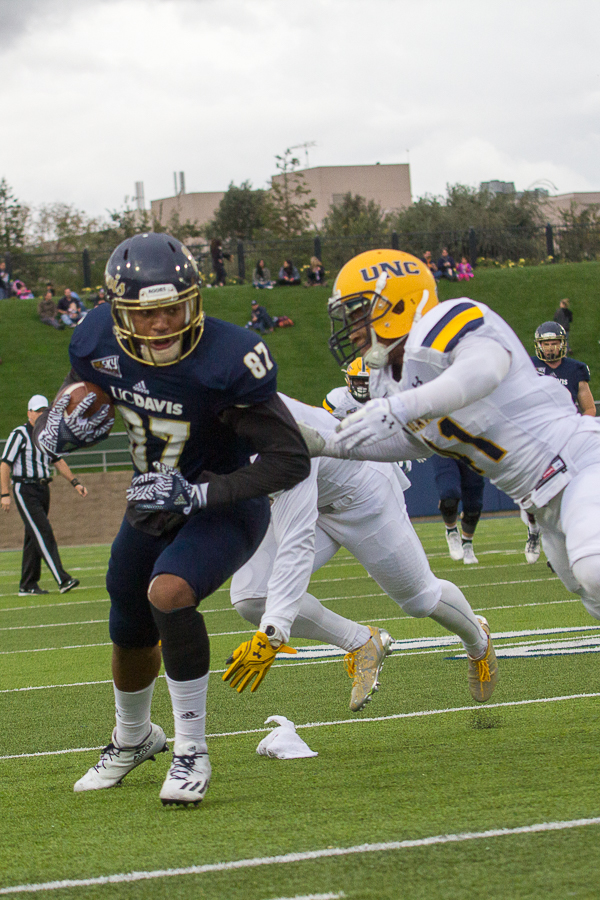 After stalling yet another Northern Colorado drive with a big sack on the third down by senior defensive lineman Zak Pettit, the Ags got the ball back and marched 70 yards down the field to score off another rush from Luuga, extending their lead to 17-7.
The Bears came back with a 20-yard touchdown and UC Davis' Blair missed a 29-yard field goal, making it 17-14 going into halftime.
UC Davis broke tradition this year and held the annual Hall of Fame induction at Homecoming instead of in the spring, honoring six former Aggies for their athletic achievements at the half – volleyball player Jill Changaris, football's Jason Hairston, gymnast Tanya Ho, wrestler Derek Moore, gymnast Jon Trunk, swimmer Scott Weltz and former associate athletics director Larry Swanson.
At the start of the second half, Northern Colorado's defense held the Aggies in their own territory on their first drive of the second half, but sophomore running back Joshua Kelley broke tackles to rush an explosive 31 yards into the endzone and lift UC Davis to a 24-14 lead.
The Bears stayed within reach with a fourth-down touchdown late in the third quarter to make it 24-21. The Ags responded with a Blair field goal to make it a dangerous six-point deficit for Northern Colorado, 27-21.
With just under three minutes left to play, UC Davis' junior cornerback Isaiah Olave got the 11-yard pick six, capping off the Aggies' 34-21 victory.
With no turnovers from the offense and key defensive plays, head coach Ron Gould said that the team finally found its rhythm by communicating.
"You see our kids playing with the confidence, playing with the energy and playing with the kind of poise that we need to play with," Gould said. "They had the right mindset. They had the right heart and the right attitude."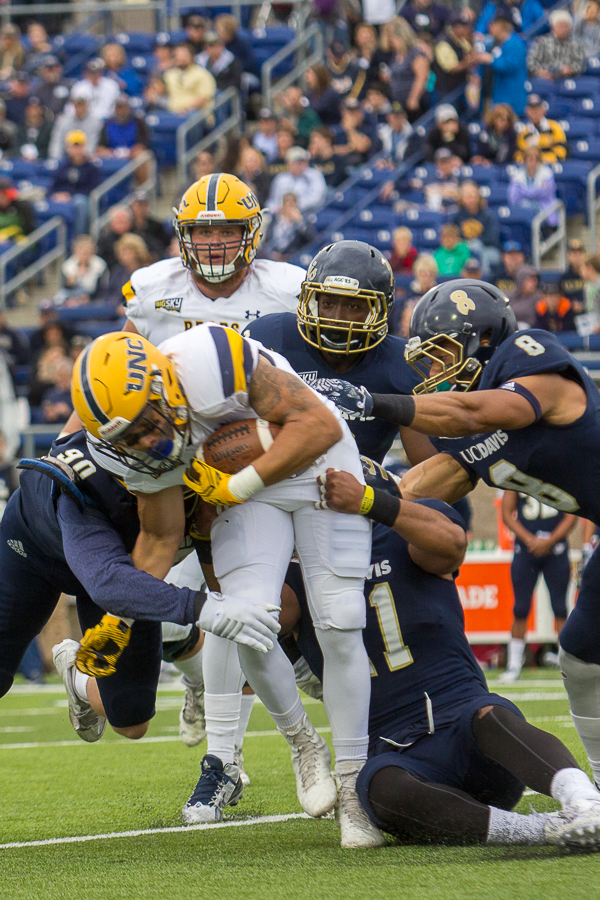 As Gould talked about team cohesion, Luuga talked about his responsibility to his team as a senior running back after his two rushing touchdowns.
"I gave it all I could give," Luuga said. "If I know I gave it everything I've got, then that's all that matters to me. And I did that and as a collective, we got that [win] and it's great."
Getting that first conference win means a lot for quarterback Scott, who talked about Olave's interception as a turning point for their team.
"I actually got really emotional," Scott said. "It hadn't felt like we put it all together yet, but when I saw him get the interception and take it all the way back it was a big sigh of relief. Just a big joy."
After this win, UC Davis hits the road to compete against Cal Poly San Luis Obispo on Saturday, Oct. 22 at 6 p.m. The Aggies will return to Aggie Stadium on Nov. 5 at 4 p.m. to host Portland State.
Written by: Nicolette Sarmiento  — sports@theaggie.org