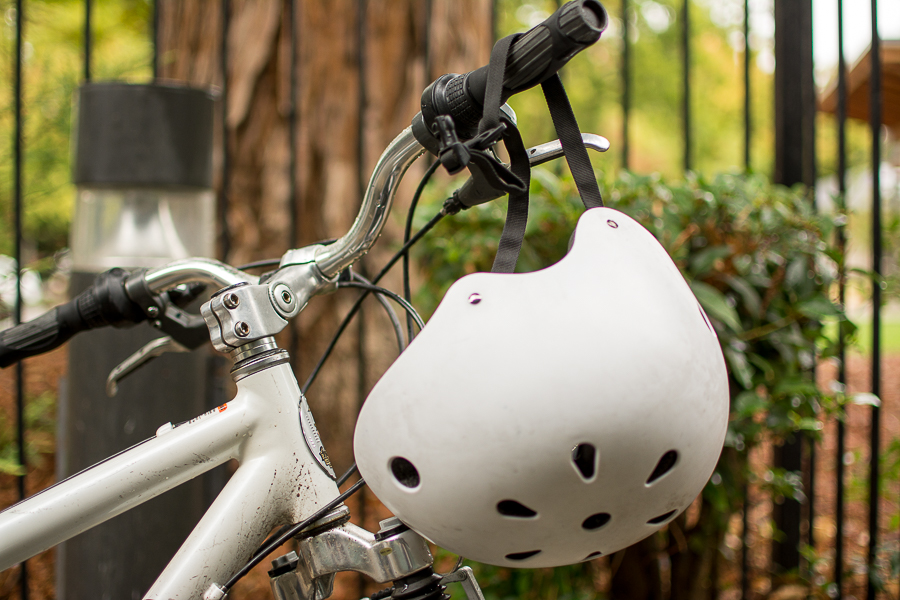 SCHS launches "Helmet Hair Don't Care," encourages students to wear helmets
The UC Davis Police Department has recently been stopping students biking to class for quick talks — but not the sort of talks you might think you'd get from a campus bike cop. Instead, these students are each receiving $5 CoHo gift cards as a "thank you" for wearing a helmet while biking on campus.
"We want to recognize students [who] are choosing to wear helmets and normalize helmet-wearing on campus," said Shantille Connolly, wellness health educator.
To encourage students to wear helmets, Student Health and Counseling Services (SHCS) launched the "Helmet Hair Don't Care!" campaign on Sept. 26. SHCS additionally teamed up with the UC Davis Police Department for the "Helmets have Perks" part of the campaign.
The campaign's slogan was created in the UC Davis honors challenge class in Spring Quarter 2015. In the class, multiple focus groups discovered that appearance and peer use are two of the main barriers that keep students from wearing helmets.
"[Wearing helmets] is just something so simple to do to prevent long-term brain trauma," Connolly said. "It doesn't seem like biking to class could be really dangerous but unfortunately there are a lot of things that are out of our control."
SHCS put on a trial run of this campaign as a pilot last spring. Health Education and Promotion collected data from Spring Quarter 2015 and found that only 7.9 percent of UC Davis undergraduate students wear helmets, compared to the national average on college campuses of 30 percent. They also received data from the UC Davis Fire Department (UCDFD) on the number of calls they respond to regarding head injuries.
"We recognized that there is a need for this on our campus, so our department was tasked with developing some campaign to promote bike-helmet usage," Connolly said.
The campaign consists of two parts — the social marketing campaign and the pledge. For the social marketing campaign, SHCS took photos of current UC Davis students that wear helmets and spread them via campaign messages across campus and on social media.
"That part of the campaign is more targeted toward normalizing helmet-wearing behavior and addressing the barriers related to wearing helmets," Connolly said.
The pledge reads that, "As a UC Davis student, I pledge to always wear a bike helmet on every ride, even on short trips, because my brain is more important than helmet hair."
Students can sign the pledge virtually or on paper and can then redeem a free helmet from the Bike Barn. Connolly said that the goal is to distribute about 1,000 helmets to students.
SHCS applied for funds from Safety Services through their "Be Smart about Safety" program last spring. The funds received are intended for projects with the intention of reducing the "frequency and severity of potential loss in the areas of our workers' compensation, general liability, employment, auto and property programs."
Through this, SCHS was able to allocate a large part of those funds toward buying the complementary helmets and contribute to campus safety as a whole.
"We're going to continue to promote the Helmet Hair Don't Care pledge […] essentially until we run out of funds for helmets," Connolly said.
Students can also choose to purchase $13 helmets from the Bike Barn after they sign the pledge. This stock was brought into the Bike Barn last spring to provide an affordable option to students who wanted to wear helmets, but were unable to purchase the pricier options. Students who wore helmets on Oct. 13 and visited the Bike Barn also received a free CoHo burrito.
About four weeks after signing the pledge, each student will receive a follow-up survey. The survey consists of 10 questions, asking students whether or not they are still wearing a helmet, their beliefs about helmets and their perceived obstacles against wearing helmets.
"There are a lot of bikes in Davis and a lot of potential for bike accidents," said Christa Hoffman, second-year economics and environmental sciences double major and mechanic at the Bike Barn. "We're putting a lot of time, energy and money into our education so it's important to protect your head."
At a school where the most common mean of transportation is biking, second-year undeclared student Nathan McPhaul is one of the many students who cycles most days to get around. After seeing the campaign messages on Unitrans buses and in the dining commons, McPhaul chose to sign the pledge.
"I think it's just really important […] that we all remember that there's more than just how your head looks, and that safety is very important," McPhaul said. "On a day to day basis it's easy for me — or for anyone — to kind of forget about that."
Written by: Fatima Siddiqui — features@theaggie.org