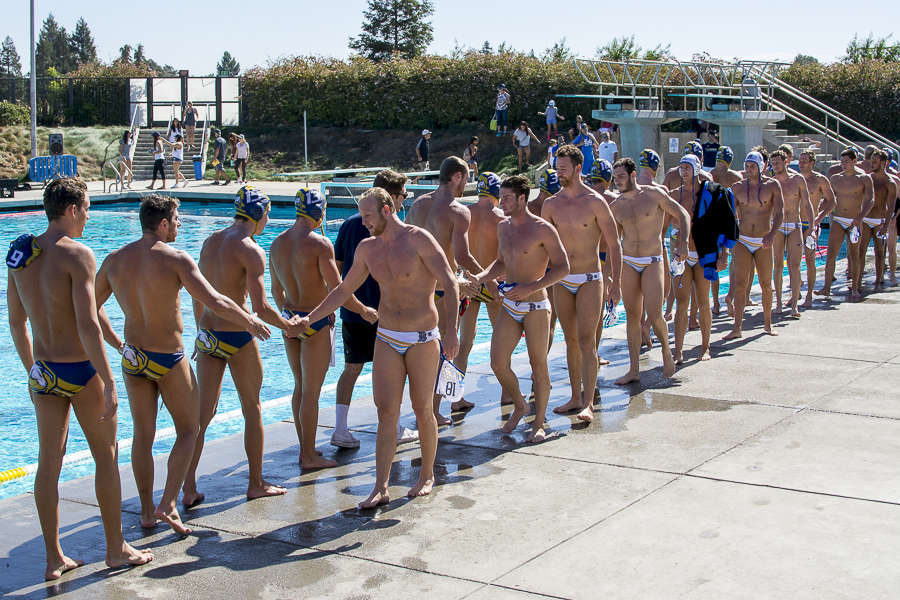 The Aggies lose to UCLA 15-8 in non-conference match last Sunday
It was a beautiful day at Schaal Aquatics Center last Sunday as the UC Davis men's water polo team snatched two early goals from the UCLA Bruins in a non-conference match.
However, the two early goals were not enough to give the Aggies the victory, and UC Davis went on to lose a hard-fought game, giving UCLA its 52nd win in a row, breaking the NCAA record for most consecutive wins. The Collegiate Water Polo Association and NCAA rank UC Davis at No. 11, while UCLA stands at No. 1.
"You always learn that there is a low margin for error in terms of mistakes," said head coach Daniel Leyson. "As soon as you make a mistake, you get punished by the other team."
Senior center Tennyson May scored the Aggies' first goal at the 6:24 mark, and junior attacker Spencer Galli repeated the action only seventy-five seconds later to give UC Davis an early 2-0 lead.
UCLA reacted strongly by scoring three unanswered goals to end the first quarter and hit five more straight goals before the Aggies found the net again. They made two more goals, one from sophomore attacker Marcus Anderson and the other from sophomore utility Nick Coufal, for an 8-4 score at the half. When the final whistle sounded, the Aggies took the loss 15-8.
"We got a quick start today and that's good. We've got a good team and we are capable of a lot, so I am not surprised we were able to give UCLA a strong game," Leyson said. "I think the positives are the amount of energy that we brought to the game. We didn't roll over just because they were UCLA. I wouldn't call mistakes negatives, but [instead] points that we can learn from, and those are the opportunities we let get away this game. We didn't execute under the level we would like."
Leyson also spoke about what to expect from UC Davis men's water polo this season.
"We are looking to get better in every performance and today I think we got better by coming out faster," Leyson said. "There are a lot of things we can improve on, and our motto this year is try to get better every single practice and every single performance."
UC Davis men's water polo is now 12-4 overall for the year and will continue conference play, in which they are currently 2-0, this Sunday, Oct. 16 at 2 p.m. when they travel to play Fresno Pacific.
Written by: Ryan Bugsch – sports@theaggie.org