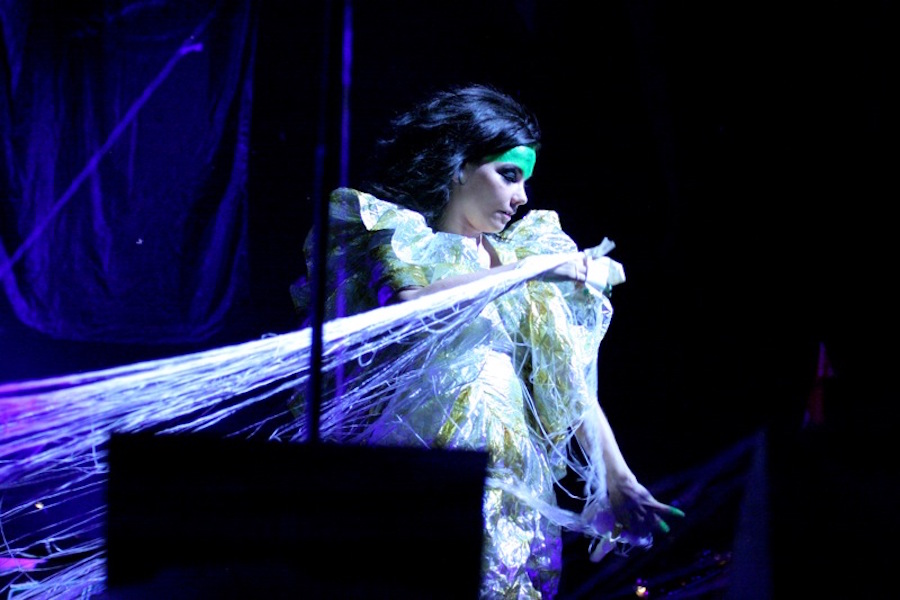 Björk's Biophilia combines music, technology to create an educational app
During indie harpist Joanna Newsom's concert at Los Angeles's Orpheum Theater last March, I wasn't exactly surprised to see a crowd of peculiar characters.
Glancing around, my friend and I took turns pointing out the most unusually-dressed audience members. My friend nodded towards the balcony, where a woman with an elaborate veil over her face was sitting. As we shuffled out of the theater afterwards, I overheard a woman gushing to her friend: "I can't believe I just saw Joanna Newsom and peed in the same stall as Björk! And to think I almost didn't recognize her, with that veil on and all."
Despite her offbeat form of expression –– her veil unnervingly resembled a bedazzled Hannibal Lecter mask –– Björk has permeated pop culture and pushed art beyond the bounds of normality. Most people, however, don't view Björk as a visionary for technology, science and education.
In 2011, Björk released her eighth studio album, Biophilia, a highly ambitious project that incorporated technology, cosmology, biology, geology — basically anything ending with '-ology' — with, as always, unprecedented music. The songs explore nature through poetic lyricism, likening the human experience to the minute and cosmic intricacies of our universe.
The instrumentals also reflect natural phenomena in awe-striking ways. "Moon," a gentle melody, presents four continually-looping motifs that represent the lunar cycle, while "Thunderbolt" champions an arpeggio-rich baseline generated by the electrostatic discharge of a Tesla coil. Complex, innovative gems like these span the record and emphasize the relationship between music and technology.
Perhaps the greatest collision of science and sound is Björk's use of instruments that harness the power of nature itself. "Solstice" features my favorite invention: the gravity-harp, a towering apparatus composed of four massive pendulums each capped with a cylindrical harp. As the instrument's name suggests, Earth's gravitational pull plucks the harp strings during the pendulums' downward swings, resulting in harps that literally play themselves.
Amid the creative and technical accomplishments of Biophilia, its impact on education is its most stunning and unexpected quality.
With the goal of inciting a love for nature and music in younger generations, Björk worked with a diverse team of scientists, engineers and other artists to devise an interactive app that blended her musical expertise with her collaborators' varying fields of study. The app has even been adopted by schools in numerous Scandinavian countries — a pretty staggering feat for an oddball musician widely known for her swan dress.
The success of the app resides in its interactive, hands-on approach to education. It encourages children to write musical compositions and contemplate the consequences of their creations by displaying the ways in which nature reacts to the music.
Students can form connections between multiple seemingly unrelated subjects –– a skill that grows increasingly vital as we tackle complex, worldwide issues like climate change, or as we delve further into the implications of technological advancements like artificial intelligence. They also become accustomed to working with topics outside their comfort zone while developing a confidence in their own creative contributions.
Instead of boxing herself in as a mere entertainer, Björk has proven herself a limitless thinker and defender of an exciting, dynamic education. The American school system could learn a thing or two from this program that emphasizes and embraces harmony between science, technology and art.
In the case of Biophilia, all it took was one woman with a vision.
Written by: Taryn DeOilers — tldeoilers@ucdavis.edu