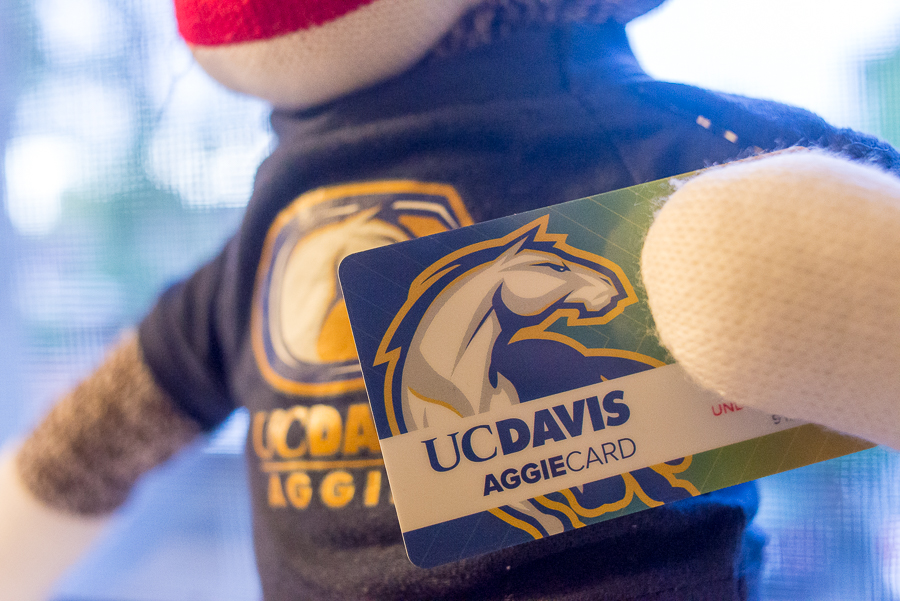 Card now available for freshmen, transfer students
Last fall, UC Davis students voted on four different designs to determine the look of the newly-designed AggieCard. ASUCD President Alex Lee's student staff members, third-year design major Melanie Zelaya and third-year communication major Juliana Luna, created these four designs, which were voted on by 3387 students. The winning design won with 1911 votes, a 60.1 percent majority.
First-year and transfer students have since received the newly designed ID cards. Continuing students will keep using the old cards, unless they lose their current AggieCard, in which case they have to pay a $15 replacement fee and will receive the newly designed card. If replaced, an updated photo will also need to be taken due to new photo requirements.
Undergraduate students can still use their ID cards as a library card, membership card to the Activities and Recreation Center and free Unitrans bus pass, regardless of whether they have the new or old AggieCard.
The process to make the designs took eight months. It required the use of Marketing Toolbox, an all-accessible free resource that outlines UC Davis standards, to find which designs would work best. After meeting with Vice Chancellor Adela de la Torre, the team was put in contact with members from Strategic Communications, who introduced senior designers to give feedback and help integrate UC Davis' upcoming "One of a Kind" marketing campaign.
Besides the aesthetic change to the front of the card, the back of the card's design is now more streamlined, color-coordinated and includes the UC Davis Counseling and Psychological Services (CAPS) phone number.
"You can see how everything [in the old card] is mono-color and all the contact information is scrunched together," Lee said. "The new one is more differentiated. The new one has a CAPS counseling phone number added. So the back is now more user friendly […] [Zelaya] and [Luna] redesigned it so if you needed it in an emergency you could see it more at a glance."
Zelaya realized during her first year at Davis that she wanted to improve the Aggie ID card.
"As design students, we're trained to be on the lookout for problems that we see need to be fixed or finding things that could be improved upon," Zelaya said. "Right off the bat, as a freshman, the AggieCard was something I wanted to change. I saw that it could be improved upon […] using my knowledge as a designer."
Zelaya was inspired to incorporate notable UC Davis landmarks and mascots. Additionally, Lee said that the new AggieCard design was influenced by bank cards to make a more transactional, modern and sleek look.
"My roommate told me she thought her co-worker's new AggieCard was a credit card when he tried to use a swipe, so I guess that means we were successful," Zelaya said. "It's a design that has the sleekness and professional aspect we were looking for and yet, it is able to communicate a lot of important information on the back as well."
Lee said that despite the "generational gap" of new AggieCard design holders versus old design holders, there is an overall positive student body reaction to the new card.
"It's certainly a little difficult because of the generation gap," Lee said. "When the holders of the new card look at the old cards they think 'we lucked out,' [but] then there are those of us who have the old one's thinking 'when am I getting mine?' I definitely think there's a great shift towards it […] I think people are really excited to have this new mark of Aggie pride."
Meghan Garfink, a first-year undeclared major, likes the new design.
"It looks good," Garfink said. "I think these numbers are useful and it is definitely more aesthetically pleasing."
Sarah Morrow, a first-year animal biology major, especially enjoys that the card fits with the UC colors.
"I do think it's more aesthetically pleasing," Morrow said. "I really like the school color gradient in the front."
Zelaya is proud that her AggieCard design has been implemented.
"To anyone who is wondering how we were able to create something that 35,000 plus students would use, I think it's more of a question of how bad you want it," Zelaya said. "Nothing is impossible […] Ideas can be crazy, but they're never impossible."
Written by: Yvonne Leong – campus@theaggie.org