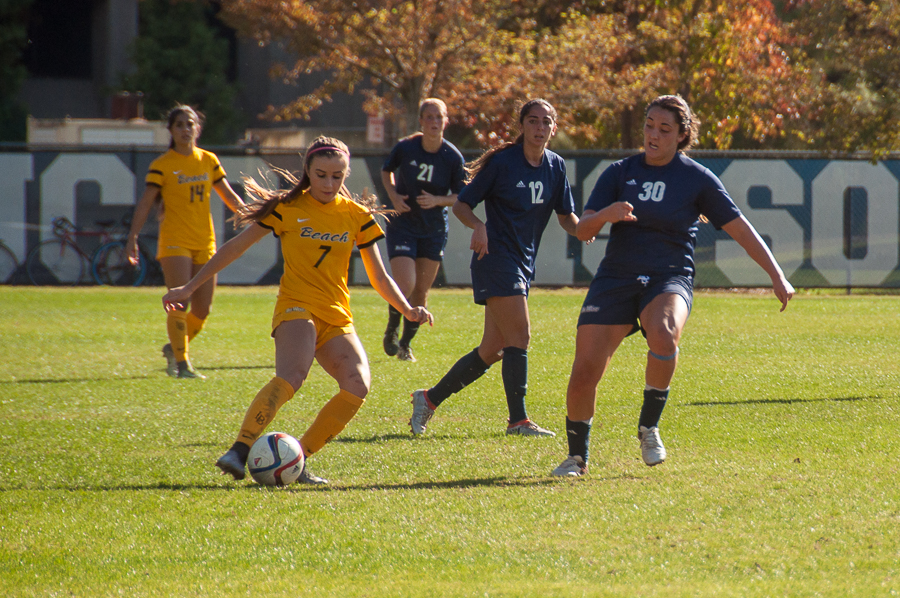 Aggies fall short, 2-1, late in the game
More than 400 fans came out to support the UC Davis' women's soccer team last Friday in their final home game of the season against Long Beach State, helping to send off the team's graduating class of six: senior forwards Rachel Ahr, Andi Damian and Celina Minissian, junior forward Zuzu Romano, and senior defenders Nicole Bouvia and Nicole Smolinksi.
Going into the matchup, the Aggies were tied for fourth place with four other teams in the Big West Conference. In order to advance to the Big West Women's Soccer Tournament, the Aggies need to claim the fourth and final spot.
UC Davis and Long Beach State played neck-and-neck in the first half, with both teams taking two shots on goal. However, the 49ers picked it up in the second half, scoring in the 66th minute to take a 1-0 lead.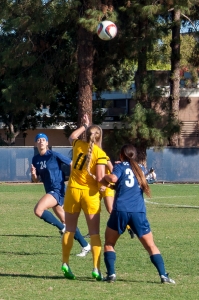 The Aggies responded in the 75th minute with a long ball from freshman midfielder Hinsseenee Regassa to Bouvia, who beat the Long Beach State goalkeeper to the ball and sent it into the back of the net, which brought the score to a tie at 1-1.
Ahr then tried a shot on goal, but the Long Beach State goalkeeper grabbed it and sent it downfield. The 49ers then capitalized with a decisive goal in the 79th minute to take the game 2-1.
Head coach Twila Kaufman said the team still has hopes for the playoffs going into the final two games on the road.
"[With this loss], we're right in the middle of everything," Kaufman said. "We have two more opportunities on the road […] to compete for the final spot in the tournament."
UC Davis hits the road to try to stay in playoff contention and finish off the regular season at UC Santa Barbara on Oct. 27 and Cal Poly San Luis Obispo on Oct. 30.
Written by: Nicolette Sarmiento — sports@theaggie.org