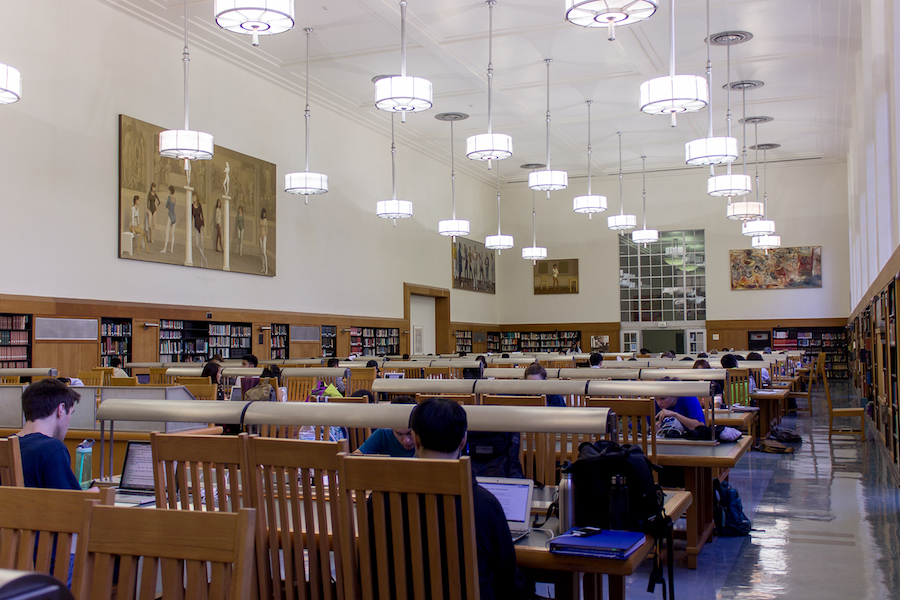 The stories behind the art murals found in the Peter J. Shields Library
It's the night before a midterm and dozens of students are hard at work, reviewing their textbook and lecture notes at the library. After studying for a solid five hours straight, one student decides it's time for a break. They stand up, take a relaxing walk around the first floor, and are suddenly greeted by a group of ducks swimming toward them on a splash of water.
With a 24-hour study room, two computer rooms and five floors of desks, chairs and books, it's no wonder that the Peter J. Shields Library was voted the "Best Place to Study" by readers of The California Aggie last spring.
Aside from providing a quiet study environment, Shields Library is also home to a wide array of gifted, donated and loaned artwork for the community to enjoy. Most pieces were created by alumni or artists who were once part of the UC Davis faculty, many of whom have gone on to become celebrated artists with pieces displayed throughout the world.
"We're really excited to […] have such a vast collection of art to help enhance the experience of anybody that comes and visits the library," said Jean Korinke, director of development for the UC Davis Library and UC Davis alumna. "[The pieces are] a main focal point for tours that we give […] and one of the more popular things [the visitors] see and hear about."
Upon stepping into the Shields Library lobby from the main entrance, visitors see two sculptures near the main staircase. The sculptures were created in 1991 by David Gilhooly, who attended UC Davis as both an undergraduate and graduate student in the 1960s. Gilhooly's ceramic works significantly contributed to the Bay Area's Funk Ceramic Movement.
"The Funk art movement of California […] was born during this period in the '60s and early '70s," said Jessica Nusbaum, associate director of communications and marketing for the UC Davis Library. "The core art faculty [and students] who were [at Davis] at that time were […] a community of artists who were constantly challenging each other, building off of each other's work, providing creative inspiration and really pushing the frontiers of their art to new places."
Correlating to the library's staircase beside them, Gilhooly's sculptures explore a common motif of stairs: one of them features a flock of ducks swimming down a staircase; the other displays food spilling down a flight of stairs.
Other notable artists whose work can be found in the library are George Longfish and Wayne Thiebaud. Longfish taught as a Native American studies professor at UC Davis for 30 years until 2003, and much of his art centers around Native American identities, history and heritage.
His artwork can be seen on the right side of the library from the main lobby, including the vibrant mural near the computer lab. Longfish's personal painting style includes bright colors and incorporation of text.
Thiebaud, a world-renowned northern California artist whose work can also be seen at Sacramento's Crocker Art Museum, began as a UC Davis assistant professor in 1960 and taught for almost 40 years. In 1994, he was presented the National Medal of Arts by President Bill Clinton.
Thiebaud is known for his paintings of everyday items, from lipsticks to diner desserts — one of his works portraying a candy counter can be found by the elevators on the first floor of Shields Library.
"It's really impressive how important the artists and the teachers at UC Davis were during that period of time," Korinke said. "When we were primarily still thought of and focused on agriculture, the art department that was here was phenomenal, and they really made an impact [on California art]."
The artwork in Shields Library affects the UC Davis community in various ways, creating a more relaxed, pleasant atmosphere in a studious environment.
"I really like that [the art pieces] are vibrant," said Ivan Munkres, third-year biochemistry major and Shields library employee. "They bring life into the library in a place where everybody's just studying. [The art is] something nice to look at when you look up from your math homework."
The artwork has also proven to be a way for alumni to emotionally reconnect with the campus. A few months ago, a campus organization formed in 1964 called the Art, Garden and Literary Society hosted a reunion at UC Davis.
As the alumni toured Shields Library and viewed the artwork together, many of them told personal anecdotes about the artists themselves, having taken classes with the artists while they were students at UC Davis.
"[The tour] was really a nice way to re-engage alumni, [and] they remembered [the artists] very fondly," Korinke said. "Many of them had pieces […] by the artists because […] before [the artists] were overly successful, a lot of the people that worked with them collected their art or bought their art."
Shields Library is also home to the Department of Special Collections, which gathers and preserves historical documents owned by UC Davis, and is closely linked to the University Archives. Both Special Collections and the library artwork make Shields Library an area carrying much of UC Davis' history and legacy.
Students who wish to learn more about the these art pieces can go on one of the library's tours. The next opportunity will be on Nov. 5 for Parents' Weekend.
"The library [has a] role [of] being historian and storyteller for the university," Nusbaum said. "The art in the library is another way that [the] history of this university comes to life."
Written by: Jennie Chang — features@theaggie.org